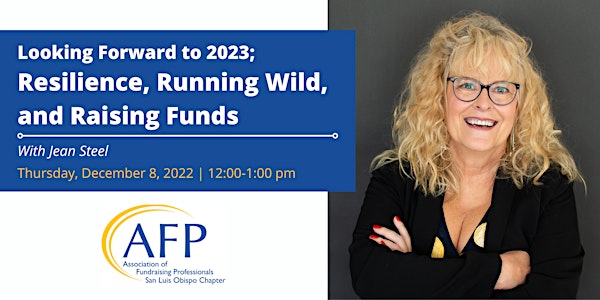 Looking Forward to 2023 – Resilience, Running Wild, and Raising Funds
Join AFP San Luis Obispo County for our monthly educational program to help further your fundraising career.
Refund Policy
Contact the organizer to request a refund.
Eventbrite's fee is nonrefundable.
About this event
Looking Forward to 2023 – Resilience, Running Wild, and Raising Funds
Join us on December 8th for our Annual Chapter Meeting followed by an inspiring presentation from motivational speaker, Jean Steel, President of Happy People Win.
Members of the SLO County Chapter - use your promo code for FREE registration!
Happiness – it's a very simple topic, yet one that we tend to struggle with the most in our adulthood, and Jean Steel has devoted her life's work as a speaker and author to help people not only find their happiness but thrive in it. Her experience growing up overseas with her family in Africa and Asia, as well as her extensive education in mind-body health and wellness have led a life full of gratitude, vast perspective, and joy that she so thoughtfully and humorously shares with the world through motivational keynotes and books. Her timeless messages and universal appeal are unforgettable and just what you need to find you happy!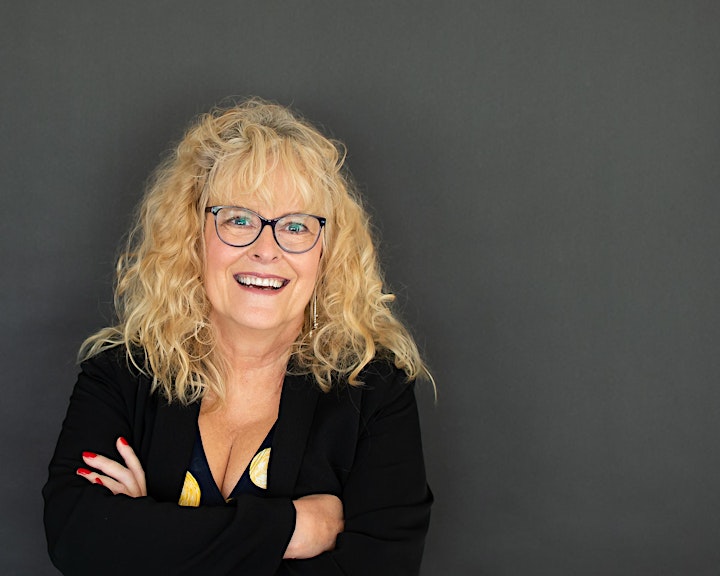 Jean Steel
Jean is an engaging, fun and enthusiastic speaker, whose universal appeal makes her message timely and timeless. Attendees say, "Jean is delightful, interesting and funny as a presenter. She knows just how to deliver those hard-hitting bits of advice."
Jean was raised in Africa and Asia, learning from a young age about resilience, gratitude and grit. Jean received her Master's Degree in Wellness/Mind/Body health with the understanding the integration, balance and harmony of an individual's mental and physical, results in a positive state of well-being. She has been speaking and working nationally for the last 20 years.
She continues to travel the world on her time off, following her passion of animal conservation.