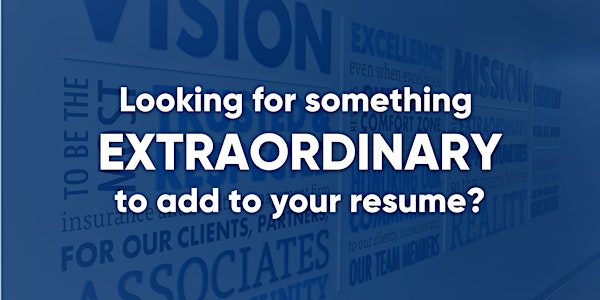 Looking for something EXTRAORDINARY to add to your resume?
At MMGP, we create extraordinary opportunities so that dreams become reality.
About this event
An internship that gives you hands-on experience.
If you're looking to roll up your sleeves and discover what our work is all about – we have an internship for you! An internship with our firm provides hands-on learning and builds the foundation you'll need to become a full-time Financial Professional.
Supported by experienced professionals, you'll be part of a team that will guide you as you develop and sharpen your sales skills and expand your knowledge of the financial services landscape.
Join us to learn more about MassMutual Greater Philadelphia's 2023 Summer Internship Program!
Who: College students graduating December 2022 and May 2023
Where: Virtual Online Event
Date & Time: Friday, December 9th @ 12 Noon
Send all resumes to: Katie Murphy, kmurphy@financialguide.com
Securities, Investment advisory, and Financial Planning Services are offered through qualified Registered Representatives of MML Investors Services, LLC. Member SIPC (www.sipc.org).  2 Bala Plaza, Suite 901, Bala Cynwyd, PA 19004 (610) 766-3000. Local sales agencies are not subsidiaries of MassMutual or its affiliated companies. Agency officers are not officers of MassMutual. CRN202409-918555