About this Event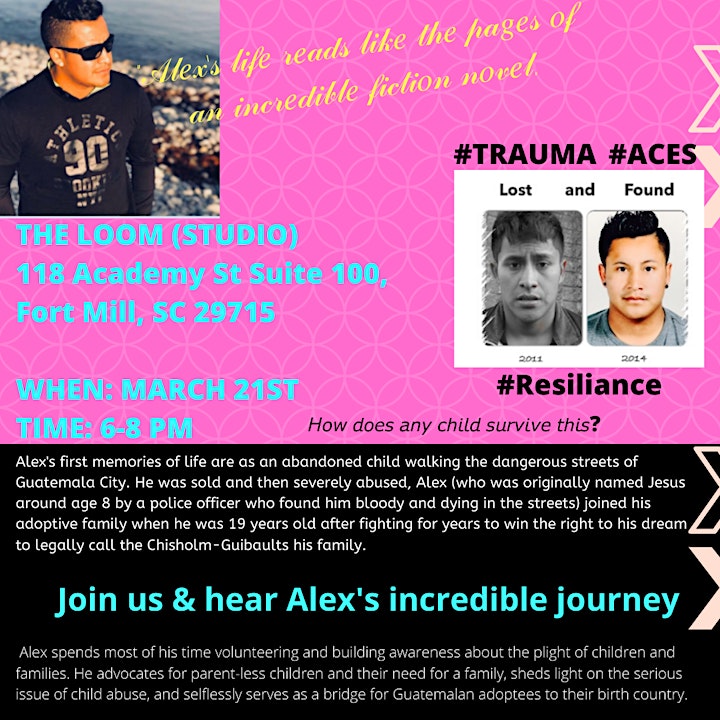 Alex has a powerful story to tell...
Alexander Chisholm Guibault has a mission to bring a voice to those who can't speak for themselves, sharing his story is part of that mission. Unless we truly understand the plight of an orphan child, how can we even begin to help? The more you listen, the more you know!
"Alex's life reads like the pages of an incredible fiction novel. Except this is far from fiction. Alex's first memories of life are as an abandoned child walking the dangerous streets of Guatemala City. No family. No home. No name. And no hope. After spending his life on the streets, and in orphanages where he was severely abused, Alex longed for a family. Volunteer missionaries from the US and Canada came and went to the orphanages, and each time, Alex dreamed of being swept away from the abuse and mistreatment, and into a family where he would feel worthy and loved. But it never happened. Enter Leceta Chisholm Guibault. She is a Canadian woman who, along with her husband, had previously adopted two children from Guatemala and Colombia. When she met Alex (who was originally named Jesus around age 8 by a police officer who found him bloody and dying in the streets) he was 19 years old. But his desire for a family never waned. Canada had closed adoptions from Guatemala in 2001. But determined to become a part of a real family, Alex fought for years and won the right to his dream. At age 23, Alex legally called the Chisholm-Guibaults his family. Now he travels all over telling his story to large groups. With his family's help, Alex incorporated a small travel agency, where he welcomes groups from around the globe who desire a meaningful volunteer experience in Guatemala. Alex spends most of his time volunteering and building awareness about the plight of children and families. He is also an incredible support to non-profits, involved with initiatives such as student scholarships, supporting projects aiding youth at risk, and supplying beds to approximately 2500 families." Wanda Lauren Taylor non-fiction author, filmmaker and producer. She also has a background in Social Work and Journalism, winning awards for her work in arts and culture.