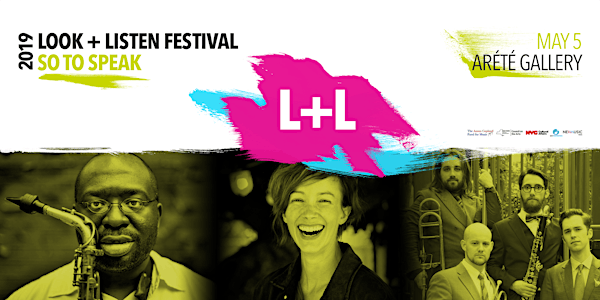 LOOK + LISTEN FESTIVAL: Loadbang, Majel Connery, Darius Jones
When and where
Location
Areté Venue and Gallery 67 West Street Brooklyn, NY 11222
Description
The 2019 Look + Listen Festival continues May 5 with "So To Speak" — a curation of performances featuring experimental songwriting and contemporary chamber music focused on the relationship between music and the written word.
Composer/saxophonist Darius Jones joins singer Amirtha Kidambi to present his Myth: Angels and Demons, musical adaptations of cosmological writings by iconic composer, improviser, and bandleader Sun Ra.
Vocalist and composer Majel Connery presents new songs with "repressed classical influences" from her upcoming EP Anything Chartreuse on sonnets by Oracle Hysterical composer Brad Balliet, and interdisciplinary performances with poet Jeff Dolven based on collected poems from his Speculative Music and A New English Grammar.
Chamber quartet Loadbang rounds out the evening with contemporary text settings that push the boundaries of vocal and instrumental music, including New York's own neo-baroque composer Jonathan Dawe.
Co-presented by Arété Gallery, performances are accompanied by the exhibition "The Universe, How Vast, How Small" with microcosmic artwork from the gallery's flatfile collection.

Loadbang
Ya-jhu Yang - Three Pieces*
Haukur Harðarson - Blind*
Jonathan Dawe - Ship of Fools
ZongYun We - Flower*
Adam Zahler - Ledascape

Darius Jones, saxophone
Amirtha Kidambi, voice
Darius Jones - Myth: Angles and Demons**

Majel Connery, voice & electronics
Jeff Dolven, poetry
Majel Connery - Anything Chartreuse
Majel Connery & Jeff Dolven - A New English Grammar

*NY Premiere
** US Premiere