Event Information
Refund Policy
Refunds up to 7 days before event
Description
Chai for All is the Bristol based jazz-tinged klezmer and Middle Eastern music ensemble
Quaker musician and script writer David Mowat says "I was struck seeing at first hand as a human rights worker how vulnerable heavily armed young Israeli soldiers looked next to Palestinian civilians they controlled: how could this be?". Delving into this thought, years later, came Chai for All's latest project a musical re-telling of the Balfour Declaration story of 1917 in its centenary year. Arthur Balfour then wrote to Lord Rothschild saying the British government looked with favour on the establishing of a homeland for Jews in Palestine whilst promising to safeguard the rights of Palestinians: this part of the promise was cynically disregarded as Israel came into being. (Pic above: British General Allenby enters Jerusalem conquered from the Ottomans Dec 1917, ushering in the British Mandate that made Balfour's Declaration possible to enact)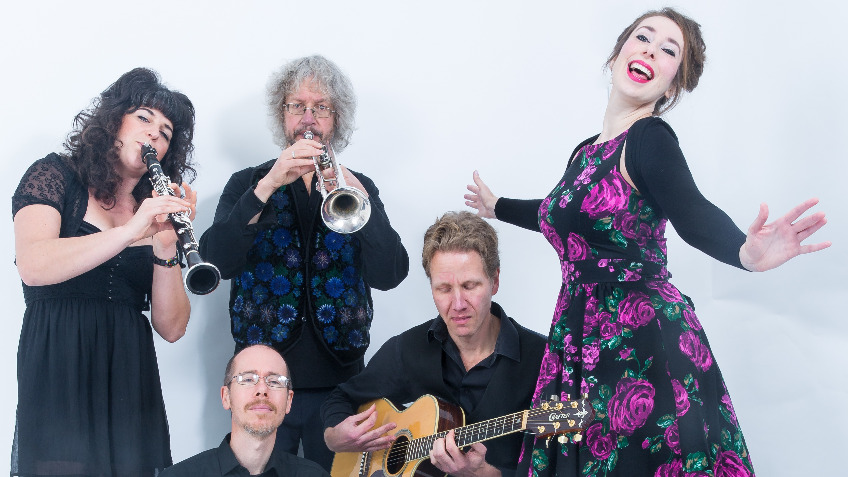 Chai for All comprises trumpeter and show writer/producer David Mowat, virtuoso clarinettist and kaval (Bulgarian flute) player Katie Stevens, renowned storyteller Michael Loader, multi-linguist Dutch actor-singer Marianna Moralis, German composer guitarist and extraordinary oud player Knud Stuwe, multi-instrumentalist Simon Leach, highly regarded violinist Flora Curzon (on some performances) British-Israeli platinum record producer Mark Smulian and the voice of Palestinian poet Alissar Amali – melding klezmer Arab music and other idioms together.
Sue Cooke, York host for the show said, "We are delighted to have the chance to present this new musical perspective on the Balfour Declaration of 1917, the letter which can be said to have set in train the facts on the ground in today's occupied Palestine"
International art therapist and mediator Marian Liebmann reviewed the Premier in July writing: "This show is a brave attempt at 'squaring the circle' and bringing together the disparate strands of the story in such an approachable and moving way. The meticulous research and imaginative production marks this out as a show not to be missed"
There are pre-show workshops open to all to explore different perspectives on the Balfour Declaration. Also an opportunity after the show interval audience members can share their personal stories evoked by the performance. Full booking details for the show and workshop are available on eventbrite, putting in the date and location you want and details of the project are on facebook.com/ChaiForAll ENDS
David Mowat, the Director-Producer of Longing, Belonging & Balfour, is available for interview. Contact David bigbromo@yahoo.co.uk mobile 07804363170 fb.com/ChaiForAll
Longing, Belonging & Balfour - NOTES The show draws from Israel President Chaim Weizmann's autobiography Trial and Error to hear a Zionist narrative which explains the longing for a return to the ancient homeland in the face of pogroms and cultural distinctiveness. The letters and speeches of Conservative politician and landowner Arthur Balfour help us to understand something of the British Empire angle. Palestinian Gazalla Mohamed Abu 'Eid of Al Ja'una village in Galilee near Safad tells her story of the main consequence of the Declaration to her people, the Nakba (catastrophe) as she is terrorized away just as Israel, incubated through the British Mandate that followed the Declaration, is declared a nation state. Her translator, Bristol-based Syrian-Palestinian poet born of Al Ja'una villagers, Alissar Amali is heard describing what it is to be a Palestinian today. At intervals we hear also the voice of The Land herself, looking askance at these human longings and belongings. We address the relationship between the holocaust and Israel's creation.
Date and Time
Location
Refund Policy
Refunds up to 7 days before event