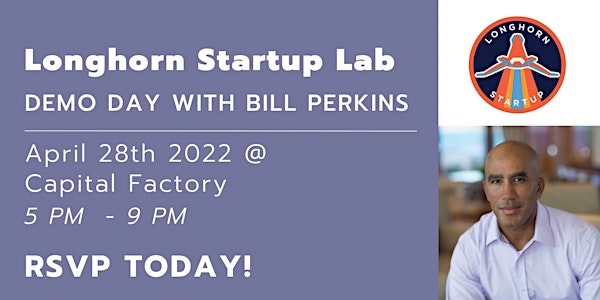 Longhorn Startup Lab Demo Day with Bill Perkins
A dozen student startup pitches. An interview with Bill Perkins, author of Die with Zero and founder of SkyFi. One $25,000 investment!
When and where
Location
Capital Factory Omni Hotel 701 Brazos Street Austin, TX 78701
About this event
Agenda
5:00pm - 6:30pm Reception and Startup Showcase
6:30pm - 7:30pm Bill Perkins & Joshua Baer
7:30pm - 8:30pm Startup Pitches
8:30pm - 8:45pm $25,000 Investment Prize
What is Longhorn Startup Lab?
The Longhorn Startup Lab is an intensive project-based course in the Spring semester that identifies student entrepreneurs who are building scalable technology companies and gets them real course credit for working on their startups while still in school. These students receive weekly one-on-one mentoring sessions with successful entrepreneurs and free coworking memberships at Capital Factory.
What is Demo Day?
On Demo Day, the latest batch of Longhorn Startup founders will present their companies and the progress they've made this past semester. Spring 2022 Demo Day will be an IN-PERSON event.
One student startup at Demo Day will win a $25,000 investment from Capital Factory!
About Bill Perkins, author of Die with Zero and founder of SkyFi
"The Last Cowboy" according to the Wall Street Journal, Bill Perkins is one of the world's most successful hedge fund managers and entrepreneurs. After studying electrical engineering at the University of Iowa, Bill trained on Wall Street and later moved to Houston, TX where he made a fortune as an energy trader. Perkins is currently the CEO of BrisaMax Holdings, a consulting services firm based in the U.S. Virgin Islands.
Now at age 52, Bill views his career as an engine for personal growth and spends his time exploring the world, savoring his relationships, and taking in all that life has to offer.
Die with Zero is a labor of love project. Bill has been developing the principles outlined in the book since his first job making $16,000 a year in the 90's as a screen clerk for the New York Mercantile Exchange.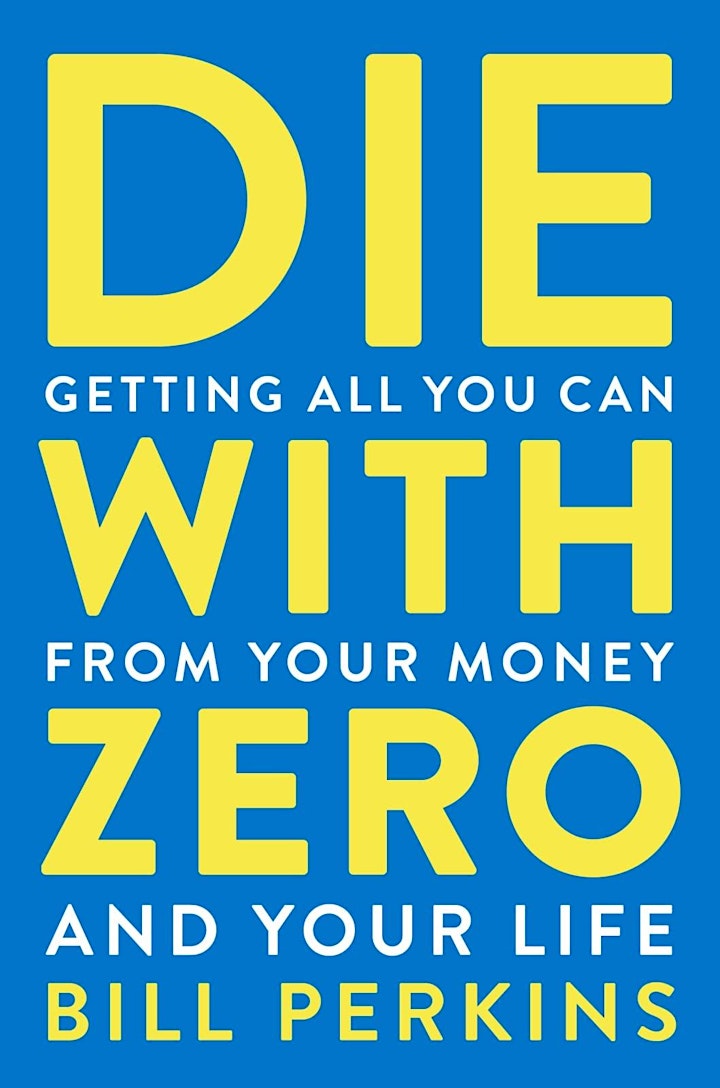 Meet the Startups
You'll see a dozen 5-minute pitches in rapid succession.
aurelje: Meet aurelje, the necklace that holds your favorite memories, accessible with a tap of your phone using NFC technology. Think tech meets your grandma's locket! It is our mission to help people connect to their experiences, the people they love, and the causes they care about through the jewelry they wear every day. Our necklace is the first project within our mission to build a community of like-minded travelers, artists, entrepreneurs, adventurers, and dreamers. Get excited about the future - we are working on a web3 project and your necklace is the key to it!
Bonsai: Our mission at Bonsai is to redefine the future of workplace knowledge solutions. Imagine an automated Google search for a company that looks through all company knowledge sources and finds the perfect answers. Through personalized, lightning-fast ticket resolution and accelerated lead generation, Bonsai is creating order, removing redundant work, and providing efficiency for businesses everywhere. Bonsai works across verticals in areas such as customer engagement, legal, HR, and customer/employee onboarding. Bonsai leverages proprietary deep learning architectures with company knowledge bases to instantly present the right knowledge to the right person at the right time.
FireBot: Federal regulations require firefighters to search all structural fires for signs of human life, regularly exposing firefighters nationwide to life-threatening situations, leading to tens of thousands of injuries, fatalities, lifelong health illnesses, and billions of lost dollars. The FireBot is the world's first, high-temperature thermal insulated, wirelessly controlled, obstacle-climbing, unmanned robot that can be deployed into burning buildings to efficiently search for and locate human life and identify any hazardous situation, without necessitating firefighters to physically enter structural fires and risk their lives. FireBot's nationally recognized award-winning technology revolutionizes firefighting, providing a rugged, reliable, and accessible platform to help keep millions of our brave firefighters safe.
Galapagos: We are building blockchain infrastructure on the Internet Computer (IC), a blockchain protocol with the value proposition of being able to run web 3.0 applications at web 2.0 speed. These include NFTs, Launchpad, Marketplace, and analytics tools. We also sell auxiliary technology to NFTs such as breeding, DAO governed treasuries, P2E game integrations, and staking systems. We also research and release code to advance the technology on the IC as a whole such as NFTs with mutable metadata and customizable art. We have also been awarded a $25000 grant from DFINITY (the core developer team of ICP) to build out our vision
Kelped: KELPED offers seaweed-fed beef through an e-commerce platform to those who want to make a positive impact in the environment and are willing to make a healthy change in their diet. Seaweed supplemented cows have shown to decrease methane emissions by over 70%. By eating this type of beef, the consumer can reduce greenhouse gas emissions equivalent to that of a small car.
LP Alpha Software: LP Alpha creates software that helps institutional investment allocators (e.g., endowments, pension funds) automate tedious aspects of PE / VC fund diligence. Our first application is a manager track record analyzer; it allows users to import any manager's deal-level track record (no template required) and instantly receive a comprehensive analysis. Our paying clients, including The Wallace Foundation, The George Kaiser Family Foundation, and Children's Health, tell us that our software provides transformational improvement in efficiency for manager screening and diligence processes.
Storm: Storm is a decentralized NFT Marketplace built on the Ethereum Network that puts the community first. Users who buy and sell on the Storm Marketplace get rewarded in tokens, which they can then use to earn a share of the platform revenue. 100% of platform revenues are distributed back to the community, unlike other marketplaces that keep all the revenue. Additionally, the platform is governed by a DAO, meaning that the community votes on important decisions for the platform. Storm aims to compete and grow using its community-first focus, as well as by continuing to innovate using cutting edge technology.
Prometheus: The first question a patient asks a plastic surgeon: What am I going to look like? Prometheus empowers plastic surgeons and patients to iterate and agree upon a desired aesthetic future using 3D scanning and deep fakes. Our technology creates high-fidelity scans of patients and allows them to make adjustments with a single click, so they can put any features that they want and visualize their outcome with incredible precision. Our product is less than 1/10th the cost of our competitors, but what sets us apart is the following insight: Patients should be in the driver's seat of their aesthetic future.
Psykhe: Psykhe is a data-driven matching service that facilitates the therapist search process for college students. Young adults have the highest prevalence of diagnosable mental illness of any age group, and while over half of college students don't seek mental health treatment, a third of them are unsatisfied with university resources. Psykhe helps students seamlessly go through the initial intake process to a booked appointment with therapists that best fit their needs. Psykhe's goal is to become the go-to service for mental health services across universities around the country.
Readr: Reading can be tough. It does not come easy to many, and some just simply do not have the time to sit down and read. Reading is meant to entertain, but it can be hard to incorporate in ones busy schedule. Introducing, Readr. Readr is a platform that turns any reading material into high quality and interactive audiobooks. With the highest level of technology, we cloned real people's voices that allows any text to be read by real people's voices. Students with any forms of readings can submit them to have natural voices turn them into a narration. With the capabilities of listening on the go or choosing what speed to listen at, we are putting a new level of enjoyment on something no student has ever liked, reading.
WalkThru: WalkThru combats social isolation among the elderly through an immersive Virtual Reality streaming platform. As the first truly mobile VR platform built out of long-term care, WalkThru offers a real alternative to bingo & cable TV as activity directors and community operators are increasingly burdened with keeping residents happy and healthy. Partnered with over 90 individuals and studios across 15 countries, WalkThru has sourced a library with hundreds of engaging VR tours enabling folks in nursing homes to do everything from virtually touring the Louvre to exploring the Amazon rainforest as we re-connect folks to the world around them. Since launch, WalkThru has impacted thousands of seniors across the US at all levels of care.
VibeView: VibeView is a two-sided platform for on-demand virtual neighborhood tours. It allows long-distance movers to see what an area is really like without having to physically be there, saving them time and money typically spent on an in-person visit. We match users with a "Viber" in the area who serves as their local eyes and ears by collecting videos based on their individual needs. Movers can see various properties, traffic on surrounding roads, nearby attractions, liveliness, noise level, and more. Our goal is to become the go-to platform for relocation by providing a cheaper, easier, and faster way to navigate the moving process.
$25,000 is on the line!
At the very end, one of the twelve startups will be awarded a $25,000 investment from Capital Factory. Who will it be?