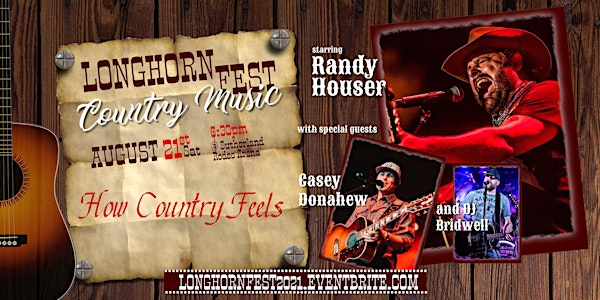 Longhorn Bar Music Festival
The Sutherland Longhorn Bar presents country music superstar Randy Houser & Casey Donahew at the Sutherland Rodeo Arena for Longhorn Fest
When and where
Location
Sutherland Rodeo Arena 930 South St. Sutherland, NE 69165
About this event
Longhorn Bar Country Music Fest 2021 at the Sutherland Rodeo Arena
August 21. Gates open at 5pm. Showtime 6:30.
Country Superstar Randy Houser with special guests Casey Donahew and local favorite DJ Bridwell Band
All ages show. Tickets $45 in advance, $55 day of show.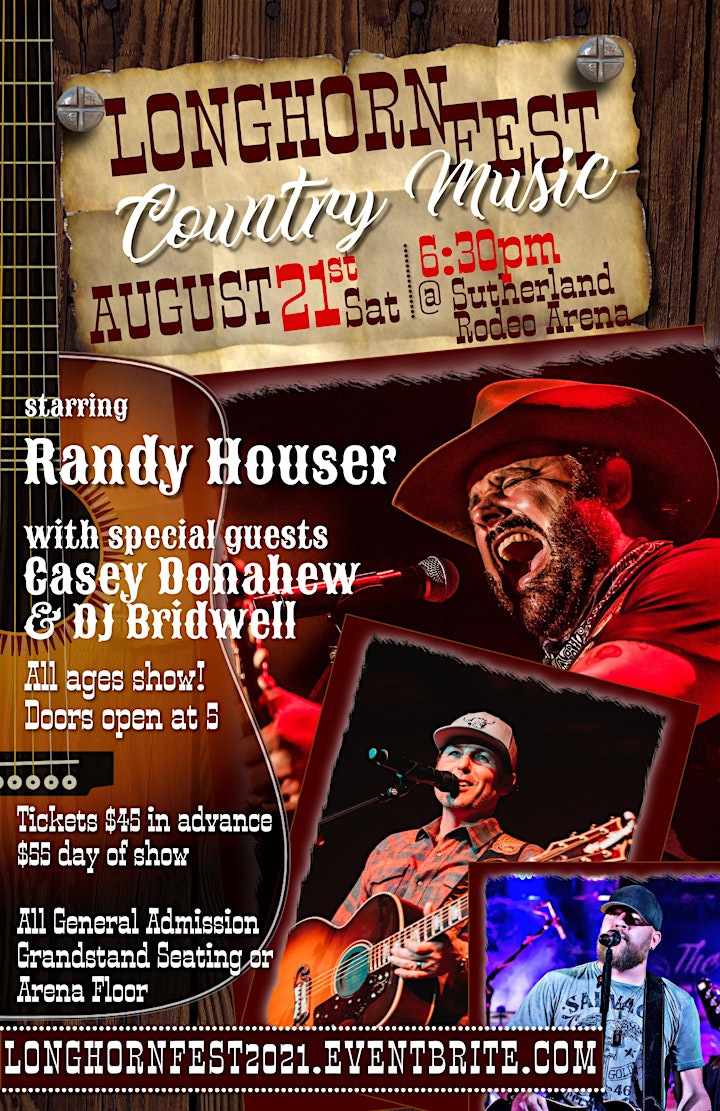 Start whistlin' Dixie, put your boots on like a cowboy chasing down a good time and you might find that anything goes if you leave no stone unturned and give your sweetheart a goodnight kiss when the night is runnin' outta moonlight. If that sentence makes sense to you, then you just might be a Randy Houser fan!
The Sutherland Longhorn Bar announces the Longhorn Music Festival August 21, 2021 at the Sutherland Rodeo Arena starring Randy Houser with special guests Casey Donahew and Nebraska favorite DJ Bridwell.
Over the last 18 years, Casey Donahew has risen from a favorite on the local Texas music scene, racking up 21 #1 singles, to a nationally hot touring act who consistently sells out venues all across the country. He will be joining country music rocker Randy Houser and local favorite DJ Bridwell on the stage at Sutherland's Longhorn Music Festival scheduled for August 21st at the Sutherland Rodeo Arena following the cancelation of Mark Chesnutt for emergency back surgery.
Tickets are on sale now at LonghornFest2021.Eventbrite.com. Tickets for the all-ages show are $45 in advance and $55 at the gate. Gates open at 5:00 p.m. on August 21 and the show starts at 6:30. Beer, cocktails and food concessions will be available on the grounds.
Randy Houser
With a voice the New York Times describes as "wholly different, thicker and more throbbing, a caldron bubbling over," Randy Houser racked up three consecutive No. 1 hits and more than four million in singles sales to date with his Stoney Creek Records album, How Country Feels.
He topped the charts with the title track, "Runnin' Outta Moonlight" and "Goodnight Kiss" (also his first No. 1 as a songwriter) and earned critical acclaim for his powerful delivery of the Top 5 smash and CMA Song of the Year-nominated "Like A Cowboy." Houser added a fourth No. 1 to his catalogue with "We Went" from his 2016 album, Fired Up.
Randy Houser's fifth studio album, Magnolia (available now), is his third album with current label home, Stoney Creek Records and marks a new era for the singer/songwriter which many have called "Houser at his best." Listeners got their first taste of Houser's critically-acclaimed rootsy project with the Top 30 hit "What Whiskey Does," which debuted at Country radio as #1 Most Added and Rolling Stone immediately dubbed "a classic tears-and-twang drinking song." The album which NPR claims is home to "some of the most expressive performances of his career," also includes his current single, "No Stone Unturned," a gypsy-hearted traveling song that Whiskey Riff calls "the best song, from the best album of 2019."
Casey Donahew
For Casey it has always been about the song, whether he was singing about colorful, hilarious characters that might live down the street from you or come to Thanksgiving dinner every year, or the painful devastation of something as serious as addiction. Fans flock to his shows to revel in the zany, wacky tales of pot-selling grannies and shotgun-toting girls whose bras don't fit, along with the more somber stories of heartbreak, failure and redemption that Donahew weaves so well. Drawing from real life and its roller coaster highs and lows has provided him with plenty of rich material over the last decade and a half, and resulted in eight wildly successful albums and 19 chart-topping singles. For Donahew, who was largely inspired by Garth Brooks and his mammoth live show and ability to whip a crowd into a frenzy onstage, the songs were always the main thing – and still are to this day. Maybe that's why they have continued to be fan favorites for a decade and a half and counting.
DJ Bridwell
Nebraska's own DJ Bridwell has been racking up acclaim for his music. Since 2012 DJ has been dominating the heartland with his own style of country rock while sharing the stage with artists such as the Eli Young Band, Aaron Watson, Whiskey Myers, Jacob Bryant and many more. Logging over 700 live shows in the last few years DJ has become a fan favorite and has solidified his singles "90 Mph," and "Think About Us" in regular rotation on country radio stations throughout Nebraska and beyond.
DJ was named Florida Country Radio "Top Artist of the Year" and LOZ Radio "Male Vocalist of the Year" in 2015 and has been nominated by the Rocky Mountain Country Music Awards as "Male Vocalist of the Year" and RMCMA "Song of the Year" for his single 90 MPH. Additionally, In 2018 Bridwell was chosen as the LOZ radio "Favorite Indie Song of the Year" also with 90 MPH. After a successful run as the front man of "The DJ Bridwell Band" in 2020 he signed as a solo artist with the independent country record label Third & James Records out of Denver, Colorado. DJ's first solo release, "Backseat" was released in October, 2020.
The Venue
The Sutherland Rodeo Arena has been hosting rodeos, ropings, demolition derbies, boxing smokers and other events for more than 80 years. Recently an aggressive refurbishing effort has been undertaken, including new bleachers, arena improvements and the addition of a new concessions building featuring a covered beer garden, meeting space, restrooms and contestant showers. The Longhorn Music Fest stage will be placed on the arena floor directly in front of the rough stock chutes. For those who enjoy their music stage-side, the Longhorn Music Fest will be a fantastic up-close-and-personal concert experience.