About this event

Long Story Short: Out There
Wednesday, March 9
Doors: 6:00 / Event: 7pm
All ages / Seated
Pay-what-you-choose (starting at $10)
Location: 3S Artspace
----
March Long Story Short theme: Out There
There's your every day, and then there are the things that go beyond the norm. A trip to a far-off place, a strange encounter with an eccentric person, an adventure with new people. This show aims to explore all things "Out There" and those times we step out of our comfort zone, challenge ourselves and gain a better understanding of our capabilities--and limitations.
Featured storytellers: TBA!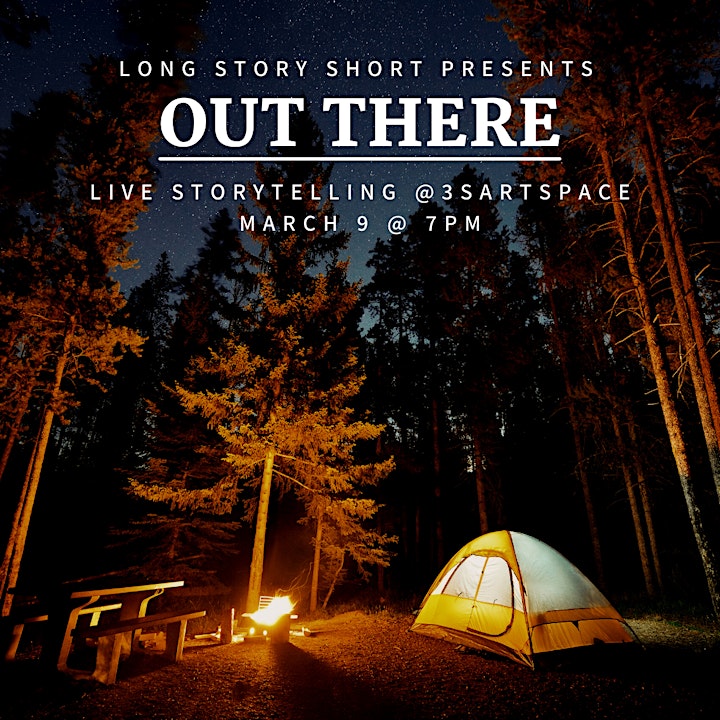 ----
Click here to learn about our Health & Safety policies and measures.
Per the City of Portsmouth mandate, masks are required during your visit to 3S Artspace in all areas of the facility. Masks must be secured over the mouth and nose unless actively eating or drinking.
Additionally, 3S Artspace requires proof of vaccination, or proof of a negative PCR COVID test within 72 hours of the event, for entry into all ticketed events inside the Performance Space.
About Long Story Short:
Long Story Short is not just a storytelling event. It's an opportunity to share the funniest moments life brings us, the deepest human emotions, and the strangest day of your life with complete strangers. This bare-bones storytelling series, hosted by Beth LaMontagne Hall, is free of pretense and over-rehearsed monologues. The show throws a mix of professional writers, performers, and average folks who have no public speaking experience whatsoever on stage with just a mic and a spotlight to tell a personal story based on that show's theme. What makes Long Story Short unique is the off-the-cuff feel many of the stories have, including each show's one open mic slot. A brave volunteer from the audience is selected at random and must take the stage in a moment's notice to open the second half, — not even the host knows what's going to happen.
Follow Long Story Short on Facebook: facebook.com/LSSat3S
Check out the LSS podcast: www.longstoryshortpod.com
Thank you to our year-round Lead Sponsors: Raka, PixelMedia, and The Stebbins Family.

3S Artspace is supported by the New England Foundation for the Arts through the New England Arts Resilience Fund, part of the United States Regional Arts Resilience Fund, an initiative of the U.S. Regional Arts Organizations and The Andrew W. Mellon Foundation, with major funding from the federal CARES Act and the American Rescue Plan from the National Endowment for the Arts.
Organizer of Long Story Short: Out There
3S Artspace is a 501(c)(3) non-profit grounded in an unwavering appreciation for the vital role that contemporary arts play in the health of a community, both locally and globally. We believe that art has the power to transform individual lives, bridge divergent perspectives, and establish meaningful connections between and across communities.
Please consider adding on a donation to 3S during checkout while making your ticket purchase. Thank you for your support!