About this Event

Long Story Short: It's All Relative (virtual) - CANCELLEDWednesday, December 97pmLocation: ZoomPay what you choose: $5, $10, $15, $20, or $50
Long Story Short has remained as a reliable presence for us throughout 2020, taking on different formats-- as a prerecorded virtual show back in July, and outside at the PopUp in September. We are excited to announce that the Long Story Short storytellers are returning to the 3S stage for their final show of the year! Join us by logging in from home as we bring this live storytelling event right to you!
December theme: It's All RelativeRelatives, for better or worse, are often the inspiration for stories at Long Story Short. This show will feature stories about family and the families we create.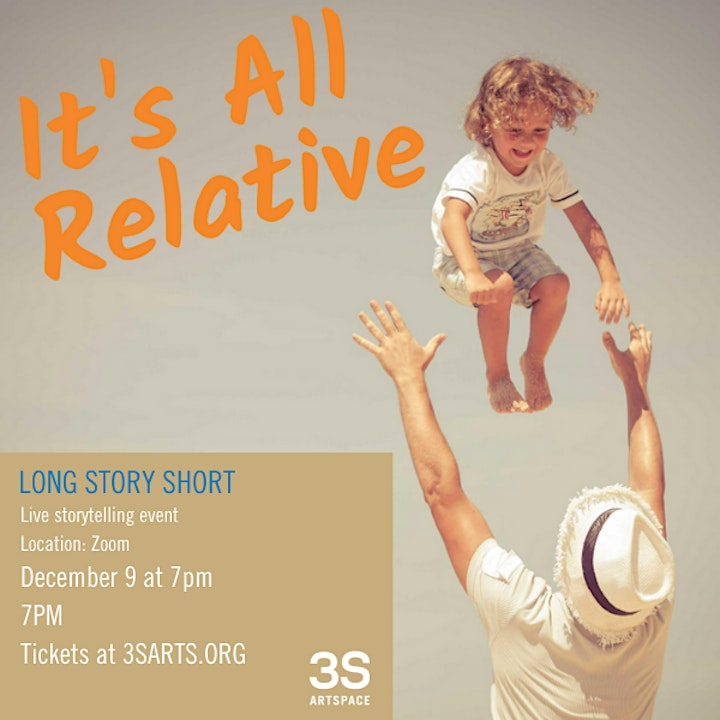 Featured storytellers:
Justin Kelcourse
Debbie Kane
Timothy Bassett
Erica Holthausen
Plus one lucky Pink Pumpkin!*
*About Pink Pumpkin:
One of the most popular parts of Long Story Short is the Pink Pumpkin. When we used to get together in person for live shows, Beth (host) would open the mic up once per show to one brave volunteer from the audience to tell a story based on the night's theme. Even though this show will be virtual, we'll be opening the mic to one audience member selected at random at the beginning of the show to tell their story based on the theme "It's All Relative." If you want to throw your name into the virtual Pink Pumpkin, email Beth before noon on December 9 : gardnerstate@gmail.com
About Long Story Short:
Long Story Short is not just a storytelling event. It's an opportunity to share the funniest moments life brings us, the deepest human emotions, and the strangest day of your life with complete strangers. This bare-bones storytelling series, hosted by Beth LaMontagne Hall, is free of pretense and over-rehearsed monologues. The show throws a mix of professional writers, performers, and average folks who have no public speaking experience whatsoever on stage with just a mic and a spotlight to tell a personal story based on that show's theme. What makes Long Story Short unique is the off-the-cuff feel many of the stories have, including each show's one open mic slot. A brave volunteer from the audience is selected at random and must take the stage in a moment's notice to open the second half, — not even the host knows what's going to happen.
Follow Long Story Short on Facebook: facebook.com/LSSat3S
----
Ticket purchases are non-refundable.


Date and Time
Location
Refund Policy