About this event

Long Story Short: Crushed
Wednesday, September 8
Doors: 6:00 / Event: 7pm
All ages / Seated
Pay-what-you-choose (starting at $5)
Location: 3S Artspace
----
September Long Story Short theme: Crushed
These stories about breakups and young love are for all the heartbroken-- and even the heartbreakers-- out there!
---
Featured storytellers: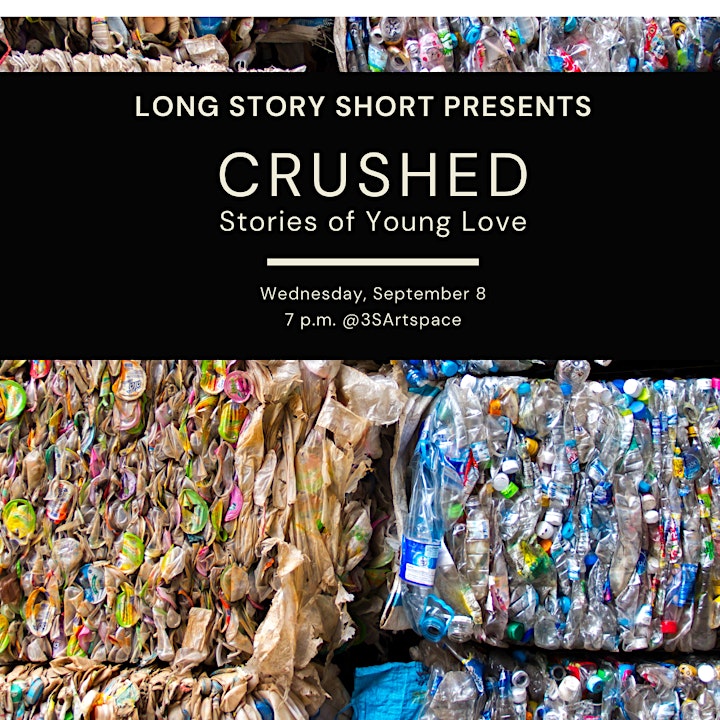 ----
Health & Safety - visiting 3S Artspace:
This event is held indoors inside the Performance Space at 3S. For fully vaccinated guests, masks are optional. For non-vaccinated guests, masks are strongly encouraged.
----
About Long Story Short:
Long Story Short is not just a storytelling event. It's an opportunity to share the funniest moments life brings us, the deepest human emotions, and the strangest day of your life with complete strangers. This bare-bones storytelling series, hosted by Beth LaMontagne Hall, is free of pretense and over-rehearsed monologues. The show throws a mix of professional writers, performers, and average folks who have no public speaking experience whatsoever on stage with just a mic and a spotlight to tell a personal story based on that show's theme. What makes Long Story Short unique is the off-the-cuff feel many of the stories have, including each show's one open mic slot. A brave volunteer from the audience is selected at random and must take the stage in a moment's notice to open the second half, — not even the host knows what's going to happen.
Follow Long Story Short on Facebook: facebook.com/LSSat3S
Check out the LSS podcast: www.longstoryshortpod.com
----
Ticket purchases are non-refundable.
Thank you to our year-round Lead Sponsors: Raka, PixelMedia, and The Stebbins Family.

Organizer of Long Story Short: Crushed