Event Information
Performers
Meredith Monk And Vocal Ensemble, Bang On A Can, Bang On A Can All-Stars, Dither, Ashley Bathgate, Ronin, Nik Bartsch, Ken Thomson, Bearthoven, Horse Lords, Jenny Lin, Synaesthesis, Tristan Perich, Zoë Keating, Michael Gordon, Caroline Shaw, Vox Clamantis, John Luther Adams, Glenn Branca Ensemble, David Lang, Julia Wolfe, Ian Chang, Matt Welch, Anthony Braxton, Michael Pisaro, My Brightest Diamond, Vicky Chow, Mary Halvorson, John Dieterich, Asphalt Orchestra, Brooklyn Youth Chorus, Tomeka Reid Quartet, Matmos, Kris Davis, Craig Taborn, Laraaji, Todd Reynolds, Frode Andersen, MUCH MUCH MORE, L'Rain, Adam Cuthbert, Reg Bloor
Refund Policy
Refunds up to 7 days before event
Over the May Day weekend of 2020, LONG PLAY brings 50+ performances at 10 venues over 3 days to Ft. Greene and Gowanus Brooklyn.
About this Event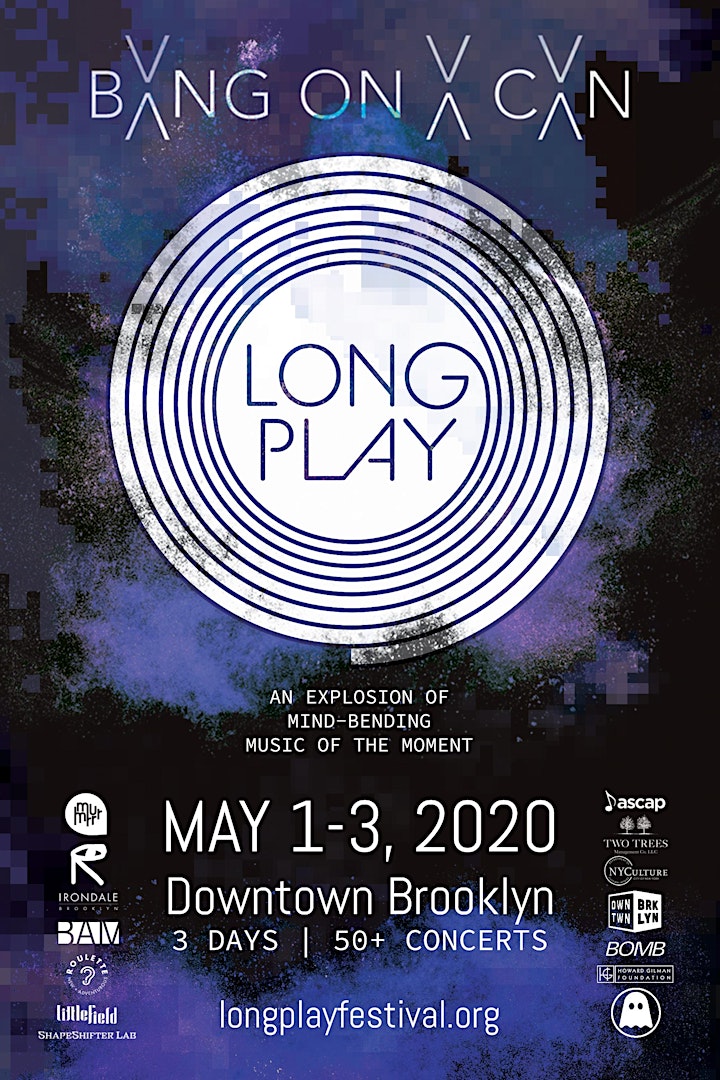 AN EXPLOSION OF MIND-BENDING MUSIC OF THE MOMENT
Special student discount tickets available on April 1 per availability.
Bang on a Can announces the launch of LONG PLAY, a new, three-day destination music festival, presented for the first time from Friday, May 1 through Sunday, May 3, 2020. Featuring dozens of concerts, LONG PLAY also showcases a dense network of pioneering music venues in Brooklyn – with performances at Roulette, Public Records, ShapeShifter Lab, Littlefield, Murmrr, BAM's Opera House and Lepercq Space, outdoor events at The Plaza at 300 Ashland, and more.
Bang on a Can's Co-Founders and Artistic Directors Michael Gordon, David Lang, and Julia Wolfe, say:
"For over 30 years, Bang on a Can has dedicated itself to working the frontier – bringing together the most innovative voices in music and building new audiences for new work. Right now – this minute – is an amazing time to be a musician. Musicians from every corner of the music world are pushing beyond their boundaries, questioning their roots, searching and stretching for the new. There has never been a time when music contained so much innovation and diversity, so much audacity and so much courage. And we want to show you all of it. With the creation of LONG PLAY we are presenting more kinds of musicians, playing more kinds of music, bending more kinds of minds. LONG PLAY expands and enlarges our scope and our reach, and puts more new faces on stages than ever before. It's a lot of music!"
Fueled by more than three decades of Marathon concerts, LOUD Weekend at Mass MoCA, countless world tours and staged productions, Bang on a Can's LONG PLAY is a supercharged ride through right now – for musicians and audiences alike.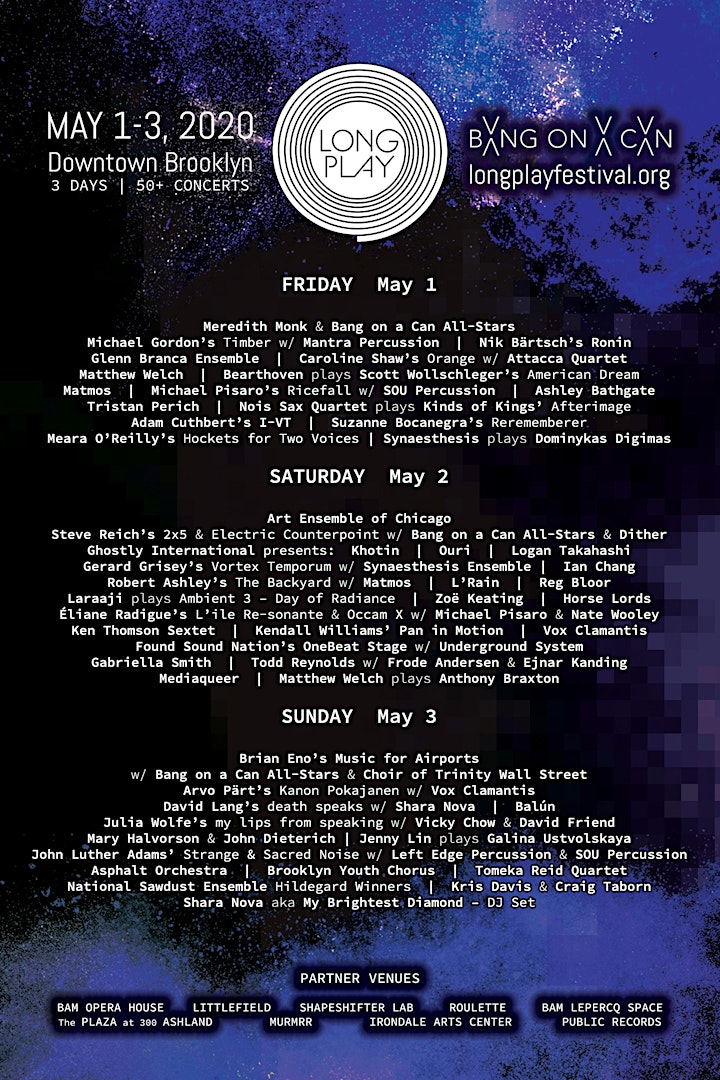 Performers
Meredith Monk And Vocal Ensemble, Bang On A Can, Bang On A Can All-Stars, Dither, Ashley Bathgate, Ronin, Nik Bartsch, Ken Thomson, Bearthoven, Horse Lords, Jenny Lin, Synaesthesis, Tristan Perich, Zoë Keating, Michael Gordon, Caroline Shaw, Vox Clamantis, John Luther Adams, Glenn Branca Ensemble, David Lang, Julia Wolfe, Ian Chang, Matt Welch, Anthony Braxton, Michael Pisaro, My Brightest Diamond, Vicky Chow, Mary Halvorson, John Dieterich, Asphalt Orchestra, Brooklyn Youth Chorus, Tomeka Reid Quartet, Matmos, Kris Davis, Craig Taborn, Laraaji, Todd Reynolds, Frode Andersen, MUCH MUCH MORE, L'Rain, Adam Cuthbert, Reg Bloor
Date and Time
Location
Refund Policy
Refunds up to 7 days before event