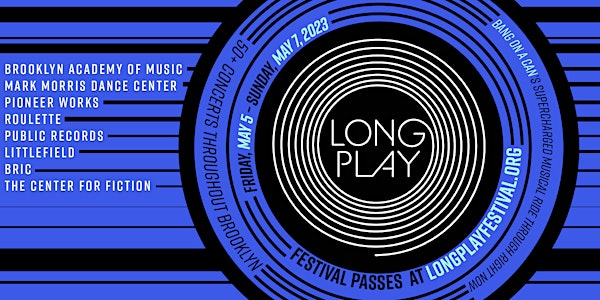 LONG PLAY FESTIVAL 2023
Long Play returns to Brooklyn with 50+ concerts May 5-7, including Meredith Monk and Bang on a Can All-Stars MEMORY GAME May 5th!
Date and time
May 5 · 7pm - May 7 · 10:30pm EDT
Location
DOWNTOWN BROOKLYN 80 Hanson Place #301 Brooklyn, NY 11217
Performers
Meredith Monk
Bang On A Can All-Stars
Michael Gordon
David Lang
Julia Wolfe
Annea Lockwood
75 Dollar Bill
Adam O'Farrill
The Art Ensemble Of Chicago
Philip Glass Ensemble
Dave Liebman
Kenny Werner
Greg Davis
Gyan Riley
Krishna Bhatt
The JACK Quartet
Jessica Moss
Taylor Deupree
June McDoom
Lori Goldston
Nailah Hunter
Spencer Zahn
Dawn Richard
SO Percussion
Caroline Shaw
Nathalie Joachim
Mary Halvorson
Michael Formanek
Tyondai Braxton
Jefre Cantu-Ledesma
Ben Vida
Ian Chang
Time Wharp
Conrad Tao
Tyshawn Sorey
Alarm Will Sound
LITURGY
Momenta Quartet
Alvin Singleton
The Hands Free
Yarn/Wire
Morton Subotnick
Quince Ensemble
Harriet Tubman
Mount Eerie
Shabaka Hutchings
Joseph Branciforte
Nu Jazz
About this event
2 days 3 hours

ALL AGES

Mobile eTicket
Bang on a Can's Long Play festival returns in 2023 with 50+ adventurous concerts over 3-days at 8 venues in downtown Brooklyn. Featuring the Art Ensemble of Chicago, the Philip Glass Ensemble, Meredith Monk and Bang on a Can All-Stars, Caroline Shaw, Dawn Richard + Spencer Zahn, Mount Eerie, Tyshawn Sorey, and many more.
A 3-Day Pass includes entry to all 50+ concerts, including Meredith Monk and Bang on a Can All-Stars MEMORY GAME opening night concert, May 5th co-presented by Town Hall at Pioneer Works.
A 3-Day SUPPORTER PASS also includes an exclusive afterparty with Meredith Monk and Bang on a Can in celebration of Meredith's 80th Birthday. Supporter Passes also FULLY subsidize the purchase of one LONG PLAY 2023 day-pass for persons unable to pay for the cost of a full priced ticket. So you'll get to see 50+ great shows and feel the warm glow of buying someone else a ticket too! Supporters will also access festival meet and greets with composers, artists and a celebratory toast with the performers at the culmination of the festival.
Daily lineups now announced!
Friday, May 5th @ Pioneer Works:
Meredith Monk & Vocal Ensemble + Bang on a Can All-Stars: MEMORY GAME
Saturday, May 6th:
Philip Glass Ensemble performs Glassworks
Mount Eerie
Ganavya + Shabaka Hutchings
Michael Gordon's Field of Vision performed by University of Michigan Percussion Ensemble led by Doug Perkins
David Lang's love fail with the Quince Ensemble
75 Dollar Bill Little Big Band
Alarm Will Sound performs Tyshawn Sorey's For George Lewis
Jack Quartet plays Catherine Lamb, Christopher Otto, Iannis Xenakis
Julia Wolfe's My Lips from Speaking performed by David Friend and Vicky Chow
Dave Liebman + Kenny Werner
David Sanford Big Band featuring Hugh Ragin
EXO-TECH
Greg Davis
Harriet Tubman
Iva Bittová
James Brandon Lewis + Chad Taylor duo
Jessica Moss
Joseph Branciforte + Taylor Deupree
Liturgy
Momenta Quartet plays Alvin Singleton
Morton Subotnick performs Silver Apples of the Moon
Nailah Hunter
Nathalie Joachim, Vân-Ánh Võ & Sō Percussion
Nu Jazz
Scarcity
Take Off Collective
Thumbscrew (Mary Halvorson, Michael Formanek, Tomas Fujiwara)
Tyondai Braxton/Jefre Cantu Ledesma/Ben Vida
Žibuoklė Martinaitytė's Hadal Zone (US Premiere) performed by Synaesthesis Ensemble
Sunday, May 7th:
Art Ensemble of Chicago
Dawn Richard + Spencer Zahn: Pigments
Caroline Shaw + Sō Percussion
Conrad Tao and Tyshawn Sorey perform Morton Feldman's Triadic Memories
Very Very Circus: the music of Henry Threadgill
David Murray + Marta Sanchez
Adam O'Farrill's Stranger Days
Yarn / Wire plays Annea Lockwood
Ash Fure
big dog little dog
Brandon Lopez and Fred Moten duo
Eliana Glass
Gyan Riley + Krishna Bhatt
Ian Chang
June McDoom
Kalbells
Lori Goldston
Nailah Hunter
Patricia Brennan Quartet
Susie Ibarra and Alex Peh
the Hands Free
Time Wharp
Henry Threadgill in conversation with Brent Hayes Edwards (talk)
Sam Greene & Annea Lockwood (talk)
More info and full festival lineup at Longplayfestival.org
Agenda
Full Schedule Coming Soon!
Frequently asked questions
What does a 3-Day LONG PLAY Pass Include?
What does a 3-Day SUPPORTER Pass Include?
Where exactly is this taking place?
Which venues are participating this year?
Are there any age restrictions? Can I bring my kids?
Are these concerts seated, or standing room only?
Will 2-Day passes and 1-Day passes be made available?
I love music, but this festival is too expensive for me. Any discounts?
Can I volunteer for the festival?
What does a 2-Day LONG PLAY pass include?
About the organizer
Bang on a Can is dedicated to making music new. Since its first Marathon concert in 1987, Bang on a Can has been creating an international community dedicated to innovative music, wherever it is found. With adventurous programs, it commissions, performs, presents, and records new works, develops new audiences, and educates the musicians of the future. Bang on a Can is building a world in which powerful new musical ideas flow freely across all genres and borders.