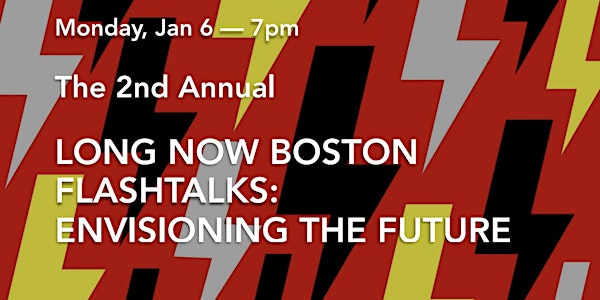 Long Now Boston FLASH TALKS 02020 | Selected talks announced!
On January 6, 02020, Long Now Boston will host its Second Annual FLASH TALK FOR MEMBERS, starting at 7PM at the CIC Venture Café in Kendall
When and where
Location
CIC Venture Cafe 1Broadway Venture Cafe 5th floor Cambridge, MA 02142
About this event
Doors open @ 6pm -- Come early and meet other Long Now thinkers
Admission is FREE.
Presentations start @ 7pm
A Long Now Boston Community Conversation with 5 fascinating presenters.
The following five selected presentations will serve as the starting point for conversation and discussion about the future of humanity.
Post or Perish: In the future, celebrities will be from STEM fields. Will you be among the first? Presented by Fredo Darling, Creative Director and freelance Media Producer.
The secret sauce for human thriving! Promoting human empathic virtue to ensure a brighter, happier future. Presented by George Gantz, writer, philosopher, retired business executive and grandfather of eight.
Dark Instincts: Resist Tribal Adaptations and Move Toward Utopia. Presented by Robin Harper, with many interests including Researcher and Infographic Writer on human nature, health, and politics.
The idiots guide for killing monopolies and creating star trek economies. Presented by Nathan Towianski, Business consultant working on DAO and collaborative business models and software.
Mirrors for Earth's Energy Rebalancing (MEER:ReflEction): Resource-driven engineering for leveraging Earth's chemistries to immediately offer remediation. Presented by Ye Tao, Fellow at the Rowland Institute at Harvard.
Bring your enthusiasm, your questions and your ideas for a thought-provoking evening, from the perspective of Long Now thinking. The program will be highly interactive, and the audience will be asked to select their favorite presentation! The winner will receive a $100 reward!
Join the conversation and be part of the solution.
Audience participation is encouraged.
Admission is FREE but tickets are required.
We're proud and excited to welcome Ye, Nathan, Robin, George and Fredo to the podium at this Long Now Boston community conversation.
Cambridge Innovation Center is an in-kind sponsor of this Long
Now Boston conversation. We are very grateful for their support.
Note: there is no ticket charge for this event. Bring friends to vote on the presentations and learn more about Long Now Boston.