Long lives and Big Changes: David Ewing Duncan

Wednesday, December 12, 2012 from 6:30 PM to 9:30 PM (PST)
Event Details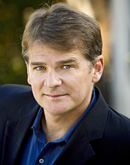 When I'm 164: The new science of radical life extension, and what happens if it succeeds 
(TED Books, 2012)
How long do you want to live? That is the question that bestselling science writer David Ewing Duncan asked 30,000 people in his new TED Book, When I'm 164.
While riffing on the Beatle's song "When I'm 64," the book surveys the increasingly legitimate science of radical life extension—from Healthy Living and Genetics to Regeneration and Machine Solutions—and considers the pluses and minuses of living to age 164, or beyond; everything from the impact on population and the cost of living to what happens to love, curiosity, and health. He shares classic stories and myths of people determined to defeat aging and death, and offers real-life tales of the techno-heroes and optimists who believe that technology can solve the "problem" of aging. Concluding that anti-aging technologies will probably succeed in the next 30-50 years despite his earlier skepticism, he brings us back to the age-old question: "will you still need me, will you still feed me, when I'm..."
MUSIC provided by:
Renee Wilson 12/12 jazz singer www.reneewilson.org
When & Where
2678 California Street
San Francisco, 94115


Wednesday, December 12, 2012 from 6:30 PM to 9:30 PM (PST)
Add to my calendar
Organizer
LoveSpring is a community of people who care about each other, not for what we do, but who we are. This is a place of acceptance, where everyone is welcome to join an environment of curious, thoughtful, open seeking individuals. 

People who gather here are bright, kind and interested in transforming their lives. If this appeals to you, please join us. 

LoveSpring hosts dinners and community members organize special events to explore meaning, discover boundaries and have fun together. 

Children are welcome at most events, although occasionally we host adult-only experiences. Check our current calendar for upcoming events.