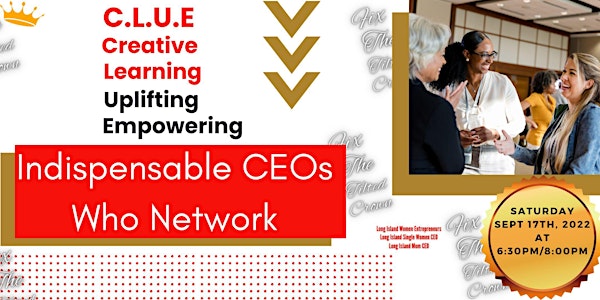 Long Island's Indispensable CEOs Who Network
Come Join Like-Minded Women CEOs of Color who Boss Up day-to-day to talk about the: STRUGGLES, COURAGE, STRENGTHS, RESILIENCE, AND WINS.
About this event
Hello CEOs...let's find the C.L.U.E
Step into your Zone of Genius with other confident, bold and tenacious Queens to learn, brainstorm, mastermind ideas and give each other positive support.
As Indispensable Women CEOs who have entered the world of entrepreneurship, we want to experience leadership at a higher level. We want to be supported, seen and heard and highly valued. An Indispensable CEO is the one who believes in developing institutional practices that produce leaders au lieu of followers.
We too are the ones who think outside the box. We have the ability to lead, teach and motivate others in all aspects of their lives. If you're feeling strong about this, come mingle and network with other like-minded CEOs, every Third Saturday of each month at 6:30pm to 8:00pm Eastern Time Zone.
Who We Are
We are the women who Fix The Tilted Crowns. We are black women entrepreneurs who continue to seek for strategies and CLUEs as we navigate our ways to the entrepreneurial world. Our visions are to help empower others by providing insights about business mindset, personal development, and financial stability.
We stand for success and innovation.
We believe in finding multiple opportunities.
We impact lives through stories that resonate.
Disclaimer:
Keep in mind that we are not a recruiting agency. We have no associations with recruiters, affiliate marketers scammers.
What We Do
Support women through networking. We create safe space to brainstorm and support others. Our intentions are to eventually transition from the virtual world to in-person networking.
Here Is What You Need To Know:
RESERVATION IS NON-REFUNDABLE.
For any questions contact me at 917-651-9468 or info@uslayconfidence.com
Please visit our website for more information about our services and offers at Uslayconfidence.com
*Anyone registered to attend this event is automatically added to our email list. We will send out reminders for future events and share valuable strategies for your personal and professional development. *