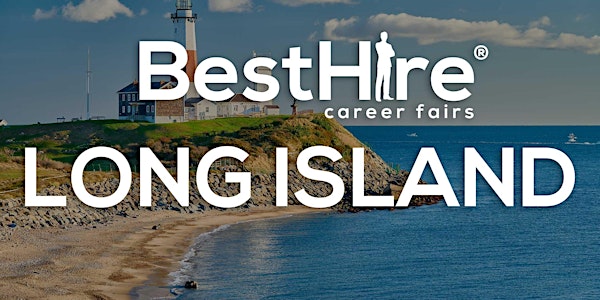 Long Island Job Fair November 3, 2022 - Long Island Career Fairs
Are you looking for a job in Long Island? If you are, this event is a must-attend. Meet with top hiring companies in Long Island.
When and where
Location
Long Island Virtual Job Fair Long Island, NY 11514
About this event
LONG ISLAND VIRTUAL JOB FAIR NOVEMBER 3, 2022
ABOUT THIS LONG ISLAND VIRTUAL JOB FAIR
Are you looking for a job in the Long Island area? If you are, then you need to register and attend this event. Best Hire Career Fairs has provided the best hiring events in the country for the last five years. What sets us apart from our competition is that we identify what employers are looking for and match them with the best candidates. If you're in the market for a new job or advancing your current career, you will want to be at this event. Make sure you log on early.
GET READY FOR LONG ISLAND VIRTUAL JOB FAIRS
A job fair is a great place to interview with hiring managers in your area who are the decision-makers. Stop spending hours sending resumes out to no response. Update your resume and bring your A-game to stand out in the crowd.
COST OF ATTENDING BEST HIRE LONG ISLAND VIRTUAL JOB FAIRS
There is no cost to attend this event if you are a job seeker. If you are an employer looking to participate in this event as a hiring employer, call us toll-free at (888) 899-8802. One of our awesome team members will get you the information needed to register.
INFORMATION ABOUT JOB FAIRS ON LONG ISLAND
JOB FAIR LOCATION
TIME OF THIS EVENT
10:00 am – 2:00 pm
EMPLOYERS LOOKING TO ATTEND THIS EVENT
Job seekers will start arriving and lining up. Are you interested in attending this event as an employer? Call us toll-free at (888) 899-8802 or visit our Long Island Job Fairs.
INDUSTRIES THAT HIRE AT OUR LONG ISLAND JOB FAIRS
Accommodations, Accounting, Advertising, Aerospace, Agriculture & Agribusiness, Air Transportation, Apparel & Accessories, Auto, Banking, Beauty & Cosmetics, Biotechnology, Chemical, Communications, Computer, Construction, Consulting, Consumer Products, Education, Electronics, Employment, Energy, Entertainment & Recreation, Fashion, Financial Services, Fine Arts, Food & Beverage, Green Technology, Health, Information, Information Technology, Insurance, Journalism & News, Legal Services, Manufacturing, Media & Broadcasting, Medical Devices & Supplies, Motion Pictures & Video, Music, Pharmaceutical, Public Administration, Public Relations, Publishing, Real Estate, Retail, Service, Sports, Technology, Telecommunications, Tourism, Transportation, Travel, Utilities, Video Game, Web Services.
For more information about this event, visit our website. Best Hire Career Fairs