Description
DROP IN A SINGLE SESSION FOR JUST $40
FULL MINI SPRING SESSION $100 REGISTRATION INCLUDES
- FOUR CLASSES MAY 20, JUNE 3, 10, 17 6-8pm
- PERFORMANCE SHOWCASE JUNE 24 6-8pm (Dress Rehearsal/Performance)
- FREE TICKETS TO COMEDY SHOW FOR THE WHOLE FAMILY JUNE 30 in NYC
Email Walt Frasier for more answers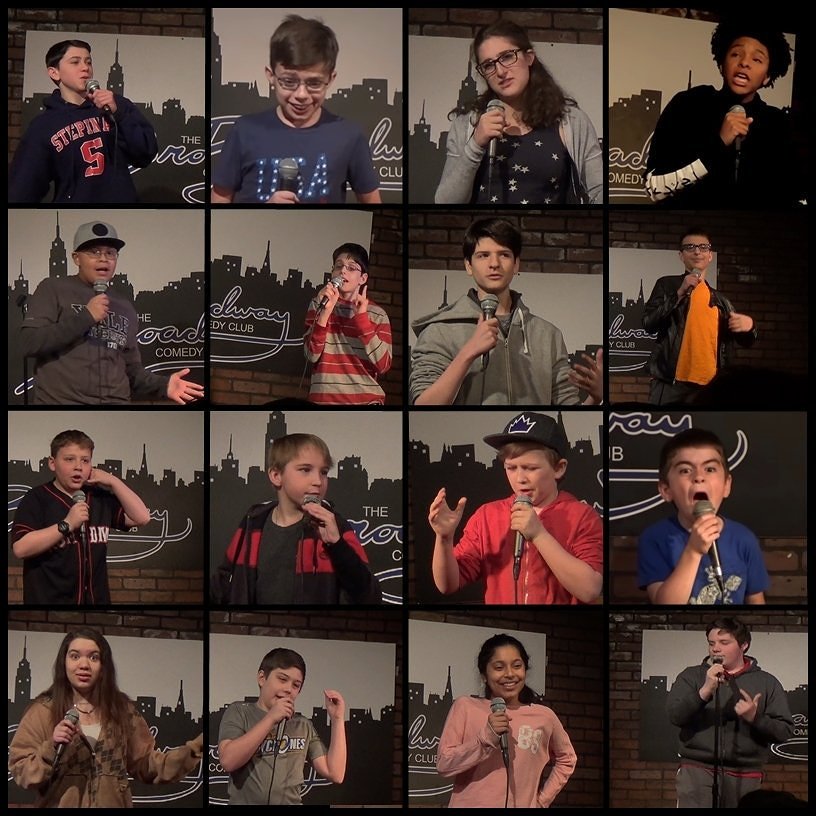 SUMMER 2018 COMEDY CAMP CLICK HERE
MANHATTAN COMEDY CLASSES CLICK HERE

A divisision of EIGHT IS NEVER ENOUGH and IMPROV 4 KIDS

SUNDAY May 20
6pm Sharp MINI Improv Showcase by the cast of EIGHT IS NEVER ENOUGH / IMPROV 4 KIDS- with Walt Frasier Laurice Fattal Steven Prestia Evan Schultz invite friends and family
6:30-8pm Improv Class
SUNDAY June 3, 10, 17 6pm Warm-up 6:30-7:30 Improv 7:30 Stand-Up Comedy Open Mic
SUNDAY June 24 6pm Warm Up and dress rehearsal, 7pm Showcase
SATURDAY June 30 SPRING Student Appreciation Day FREE tickets to 3pm - NYC show at @Broadway Comedy Club $25 tickets and pizza on us There is a 1 drink minimum.
STAFF
Evan Schultz
Director of Long Island Operations
Evan Schultz has been performing with the Eight Is Never Enough Improv troupe since 2009! This New York native is a graduate of Wagner College with a BA in Theatre Performance as well as Voice and Speech. Off Broadway: LMAO, Isabelle and the Pretty-Ugly Spell, The Gayest Christmas Pageant Ever. Off-Off Broadway: Lost Boys or an Awfully Big Adventure, JAR'D, Isabelle and the Pretty-Ugly Spell, Hollywood-Hollywood!, Booth! The Musical, Dickens Condensed. Regional Theatre: Jekyll and Hyde. A Wonderful Like, Grand Hotel, Into The Woods, Sleeping Beauty, Charlie and the Chocolate Factory. Touring Theatre: Improv4Kids, Charlotte's Web, 1776, A Christmas Carol. TV/Film: 30 Rock, Law and Order, Gossip Girls, Fringe, Cupid, When in Rome. Thank you to The Entertainment Group, friends and family for the love and support.
Steven Prestia
Steven was just 13 when he attended our first public comedy class for kids/teens. For two years, Steven served as an Intern often helping with public shows & classes. Now in college Steven regularly performs with the professional comedy and team teaches our Long Island programs. You can also find Steven on the Long Island Comedy CLub stages. Previously, Steven has appeared in various local plays and musical theater productions in addition to his comedic talents. He can be seen in the indie film "The Great Kevini" and will soon appear on the HonestlyAmelia.com web series (S2 E4).
Laurice Fattal
Co-Producer / Co-Founder
Laurice Fattal has been performing in theatre, music concerts, and stage shows since the age of 10. She originally began writing scripts and composing music through her own vocal group in high school. She continued to pursue her passion for the performing arts in college through studies in theatrical production, acting, music and opera. She has worked in casting, directing, and writing with professional companies based out of NYC, MD and DC. Laurice has written and performed in dozens of sketch comedy digital shorts for LMAONYC. Other credits include the Indie short mockumentary: P.O.O.P: The Movie, Writer/Director of The Top 8 at Eight (original web series), Fox & Friends. Musicals/Operas: Amahl and the Night Visitors (Riverside Opera NYC), 27 Santa's & and Elf Called Kevin , Alice in Wonderland – A New Musical, The Phantom Tollbooth – By Sheldon Harnick, The Lounge @ Under St. Marks. In addition to developing the concept for "Eight is NEVER enough!", she is thrilled to be the co-founder of "IMPROV 4 Kids!" and Bully Assemblies NY – both are outreach programs that currently tour K-12 school.
Catch Walt Frasier this Spring on TruTV's "Friends Of The People" now in their 2nd season. Go to Netflix – RIGHT NOW!!! – to see Walter in Lilyhammer (Season 3, Episode 8) as the American comic performing at Steven Van Zandt's Norwegian club. Also now on Netflix – Blue Bloods (Season 3, Episode 8) see Walter in spandex body suit in first 5 minutes as Arnie the Homeless Avenger. Royal Pains (Season 6 Episode 3) as the Choking Victim. Past credits include sketch bits on Letterman (9 episodes), Stakervision (MTV2), Naked Brother's Band (NICK), Hair Trauma (WE) and numerous commercials including Dr. Oz's Fat Pants. Theater Credits include Off Broadway, Touring and Regional Theater plus over 4000 professional Improv Comedy Shows with EIGHT IS NEVER ENOU
GH (AKA LMAO Off Broadway. Improv 4 Kids, Improv 4 Teens, Absent Minded Comedy).
Follow Walt on Twitter – IF YOU DARE
https://twitter.com/waltfrasier