Lone Star Real Estate Expo - Give Thanks, Give Back for the Salvation Army

Saturday, November 12, 2016 from 8:30 AM to 6:00 PM (CST)
Who's Going

Loading your connections...
3 of your friends are going.
Share it to get more people on board!
Share

Sara Haughty
San Francisco, California

Luke Picard
London, United Kingdom

Rick Vespucio
Florence, Italy
Event Details
JOIN US AS INVESTORS FROM THROUGHOUT THE NATION UNITE IN TEXAS!
Give Thanks, Give Back - A Benefit for the Salvation Army!
Help us raise awareness for the local Salvation Army. Let's exceed last year's donations! We are uniting investors from around the nation for this SPECIAL ONE DAY of networking, education and motivation!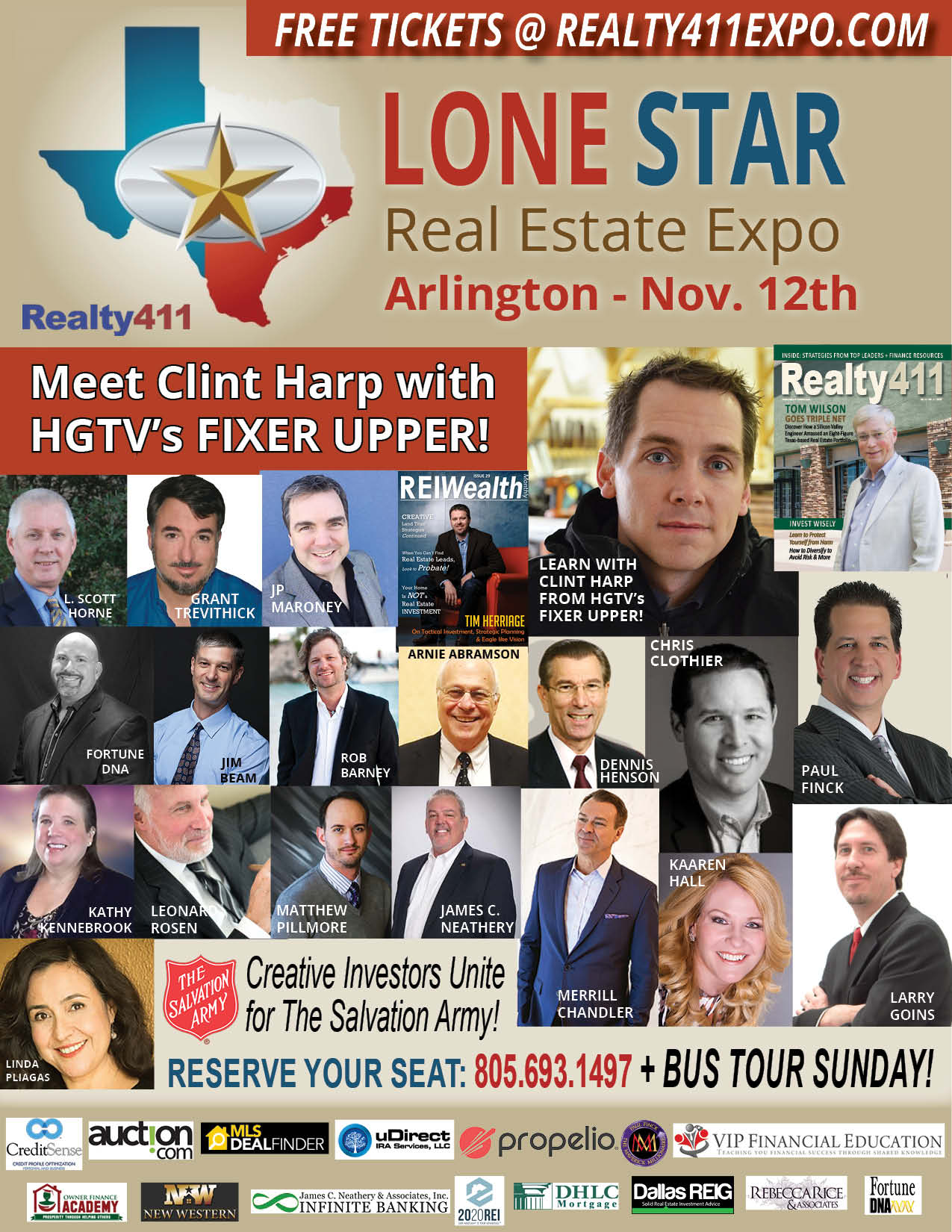 This COMPLIMENTARY EXPO is Designed for YOU, to Help You BUILD Collaborations with Industry Leaders. Your Donation to the Salvation Army Pays for Your Admission!
Special Thank You to Our Host Dennis Henson, Director of the Arlington Association of Investors (AREA)

FEATURING AN INCREDIBLE LINEUP OF SPEAKERS!

CHRIS CLOTHIER, Partner of Memphis Invest, Dallas Invest, and Houston Invest
Chris Clothier manages the development and implementation of sales and marketing processes for Memphis Invest. Chris serves as the external voice for the company, working with the team to help potential investors define their purpose for investing in real estate and educating peer companies on best practices in the emerging turnkey real estate industry.
Chris is an experienced real estate speaker and addresses small and large audiences of real estate investors and business professionals nationwide several times each year. Chris is also a contributing columnist for BiggerPockets, the nation's leading real estate educational forum. He also oversees the weekly publication of the Memphis Invest Weekly Article Roundup.
Expo Discussions Include Commercial & Residential Real Estate
* Private Lending * Raising Capital * Networking Tips to Grow Your Influence * Strategies to Increase ROI * Gain Perspectives on TOP Local & National HOT Markets * Fix & Flips *
Buy & Hold + Wholesaling, Mobile Homes, Credit Repair, Investing in Land, Notes & More.

---
 YOUR NET WORTH IS EQUAL TO YOUR NETWORK We are hosting this event to help increase your contacts and to further your potential in this industry, so don't miss out!
Also, Inside Our Publications Discover FINANCE Leaders:
Our advertisers Include: Asset Avenue, CenterStreet Lending
Zinc Financial, B2R Finance, Colony American Finance,
Security National Mortgage, Zinc Financial, CIVIC Private Lending
Join Us to Learn About These Companies and More!
---
Meet Powerful Leaders! Here is our list of participants:
Chris Clothier from Dallas Invest - Dennis Henson, Single Family Fortunes - Propelio - Arnie Abramson, Discover Tax Liens - Hector Padilla, HP Capital Investments - Tom Wilson, Investing in Texas from CA - Kaaren Hall, uDirect IRA Services - Joe Boston, Dallas REIA - Tim Herriage, 20/20 REI Companies - Todd Dotson, Get In, Get Out, Get Paid - Pam Blanco, PamTexas.com - Civic Financial Services - Texas Investor Circle and More!
~~~~~~~~~~~~~~~~~~~~~~~~~~~~~~~~~~~~~~~~~~
In tradition with past Realty411 Expos, The Lone Star State Real Estate Expo requests that funds/supplies be donated directly to charity in lieu of an admission price. The expo charity of choice is The Salvation Army in Dallas. The organization will be onsite to receive donations, discuss their local aide efforts, as well as to answer questions about volunteer opportunities available. The Salvation Army will be onsite to also receive donations of canned-food items and much-needed supplies. Companies and individuals who are interested in learning more information about assisting, can reach Realty411 at: 805.693.1497
Learn from the Top Names in Real Estate and Celebrate Our Publications! Mingle & Network with Awesome Companies from Around the Nation at the Largest and Still Absolutely Free Real Estate Expo in Arlington. Learn from Our TOP Educators Joining Us from Both Locally & Around the Country!
Create Massive Shift - Begin Your Journey to Real Estate Success
YOUR HOST DENNIS HENSON
Dennis Henson is President of Vanguard Marketing and Investments and the Arlington Real Estate Association of Investors(AREA). He is the author of "Becoming Wealthy in Real Estate," an Investors Guide to Riches. He is an expert at controlling property for profit without ever taking title and many other creative techniques. With over 38 years in the real estate investing experience Dennis has done numerous profitable real estate transactions throughout the Southern United States.
Dennis specializes in single family investing and is experienced in all aspects of real estate investing—options, rent to own, installment land contracts, contracts for deeds, pre-foreclosure, foreclosure, bankruptcy, probate, contracts for purchase and sales, subject to, wrap around mortgages, seller carry back notes, land trusts, leases, creative financing and other areas of real estate investing. As a mentor and teacher Dennis has helped hundreds of investors get off to the right start in this business. He also works with many experienced investors helping them take their business to the next level. Examples of his training can be seen on his website at http://www.dennisjhenson.com/.
While many people start investing in Real Estate to become wealthy—Dennis' goal was to improve his lifestyle. Real Estate has allowed him to live the life of his choice. He left behind his nine to five job, the long commutes and the need for a coat and tie. As a result he works when he wants to work and plays when the spirit moves him. Wealth has just been a by-product of his real estate pursuits. Armed with both a bachelor's and a master's degree in education–Dennis offers a unique, personal–one on one–mentoring system that provides individual training to new and experienced real estate investors throughout the United States. He has been helping students put their real estate investing businesses on steroids for many years.
Learn About Tim Herriage from 20/20 REI Companies and Our Real Estate Wealth Cover Feature!
Who Is Tim Herriage... Here is the 411 on One of the Most Active Real Estate Investors in Texas and the Nation. Tim explains in his own words his mission and message: Here is everything else about Tim Herriage.

"Who am I? I am a simple man from Texas that has been successful in little bitty houses in Dallas, and boardrooms in Manhattan.  The smallest deal I've ever done was a $3,000 house in Dallas – but I've been a part of a $230,000,000 transaction.

I am the Founder & CEO of the 2020 REI Group, a collection of entrepreneurial real estate investment companies specializing in brokerage, acquisition, consulting, disposition, private equity, nationwide financing, and advisory services. I have always tried to be on the leading edge of the real estate investor space for over a decade, founding the REI Expo and previously serving as Managing Director for Blackstone's B2R Finance and Franchisee & Development Agent for HomeVestors® of America. I have acquired more than 1,400 single-family investment properties and completed more than $1 billion in real estate transactions, predominately in the North Texas area.

In addition to being a seasoned entrepreneur, I am extremely passionate about creating and spreading opportunities for others to succeed in real estate investing by providing innovative financing offerings, quality education programs, and reliable structured investments. Through our private equity and fund management firm, Elevate Private Capital, my team and I source and invest in strategic real estate assets, with the current fund focusing on providing investors with exceptional opportunities to benefit from the rapidly growing Dallas/Fort Worth residential real estate market. In 2015, we established Investable Realty to provide investors of all sizes with specialized brokerage and investment property finding services. Through DFW Investors, we host resource-rich events for the local Dallas / Fort Worth investor community, providing guidance and support for investors in all stages of the investment life-cycle.

I have been extremely blessed to have a fantastic team, and great partners."

Learn from Tom K. Wilson, a California Investor Who Built His Eight-Figure Portfolio in the DFW Market!!
Tom K. Wilson is a five-decade investor who began building his personal real estate portfolio in the 70's. He first invested as a part-time activity, and then after thirty years managing manufacturing and engineering in some of Silicon Valley's pioneering technology companies, he put his business and management experience toward full-time real estate investing. Since then Mr. Wilson has executed over $120M and 2,500 units of real estate investment transactions, including 7 apartment buildings, 4 commercial properties, 3 condo conversion projects, 7 syndications, over 500 house flips, and has many long term hold units in his personal portfolio. One of his businesses is Wilson Investment Properties, a company that provides high quality residential and commercial properties to investors.
Active in real estate associations, Mr. Wilson is a frequent speaker on real estate investing where his candor and competency makes him an audience favorite. As part of his outreach, Tom provides mentoring to new investors. Mr. Wilson is also a weekly radio host of Real Estate Radio LIVE on San Francisco's KDOW 1220 am every Wednesday at 2 pm and his programs are also podcasts on his website (tomwilsonproperties.com), iTunes, and YouTube. Tom and his wife of 47 years, Weegi, are long time residents of Saratoga where they are active in their local church and community.   [gallery columns="4" ids="606,589,592,657,593,604,562,588,587,558,557,656,703,414,370,89"]
Learn About Owning a Self Storage Facility with Kevin Rollings, joining us from Indiana.
Are you looking to purchase a self storage facility but don't want to run it or really know how to get started in the Self Storage Business? You have come to the right place!! Kevin Rollings has over 25 years rental experience at various levels of management and ownership. He earned his CSSM (Certified Self Storage Manager) with Self Storage Association of which he is a member. Kevin is now dedicating his time to helping other Self Storage Owners and Management get the best potential ROI as possible by training and teaching his expert Management tools and tricks of the trade! Browse through the site or give us a call and start now getting the training that you need for Success in Self Storage!
Special IRA Education with Kaaren Hall, President of uDirect IRA Services
Despite being in the midst of a recession and mortgage market collapse, Kaaren Hall founded and made a resounding success of uDirect IRA Services. The single mom discovered a strategic way to put her 20+ years in mortgage banking, real estate and property management to use. The solution was an untapped market for both her skills and for investors – self-directed IRAs. Because self-directed IRAs can have a dramatic impact on retirees' quality of life, Hall brings her full passion to educating Americans about the little-known investment vehicle. She has educated tens-of-thousands of investors and professionals on how to build wealth by taking control of self-directed IRAs. She says, "Financial literacy is not taught in schools, but our future depends on understanding it.
Only about 4% of U.S. investors have a self-directed IRA. Why? Because most investors and many advisors simply aren't aware of it." Prior to her years at Bank of America, Indymac Bank and Hall's own mortgage brokerage experience, she was an on-air news and traffic reporter and radio host. Now Hall broadcasts how to invest IRAs in real estate, land, startups and more. She takes pleasure in demystifying the subject via webinars, YouTube videos, live events, social media and her free weekly newsletter. Through uDirect IRA, she has guided thousands of Americans through the process of diversifying their investments using self-directed IRAs. Learn more about Hall and her thriving company at uDirectIRA.com.
Learn the Difference Between Tax Liens vs Tax Deeds-- Hype vs Reality with renowned investor Arnie Abramson!
What are the UNKNOWNS? How to make them KNOWN What about Redemptions? Learn Everything About Tax Leeds Here!
Discover SELLER FINANCING SECRETS from Hector Padilla, GRI, Realty411 magazine's publishers own Personal Broker and Long-Term Business Partner
FEATURED TOPIC: LEARN ABOUT SELLER FINANCING - And, no, we don't mean convincing a seller to carry a note back on a little, tiny house in the middle of nowhere - How long will it take for you to grow your wealth that way? Our Seller-Financing speaker, Hector Padilla, knows you can do more. We want you to TAKE MASSIVE ACTION and Buy a MULTI-MILLION Dollar Commercial Building in the BEST AREA of So Cal with SELLER FINANCING. Hector Padilla, a Westside Accredited Investor, Broker/GRI just did that. He JUST CLOSED on his own Personal Transaction a few weeks ago. The Deal Was Sweet... He purchased a $6 Million Multi-Family property in Los Angeles. Learn from an ALL NEW presentation on how we structured this deal.
Open Your Eyes and Ears and Learn How to Put Together Deals Like This...
TERMS OF THE TRANSACTION
Price: $6 Million
Downpayment: 20%
( Funded by a Partner with 3.5% Interest-Only payments )
80% Seller financing fixed for 4.5 years
LEARN HOW TO STRUCTURE DEALS LIKE THIS TODAY! HOW WOULD YOU LIKE TO DO DEALS LIKE THIS? IN CALIFORNIA, THE GOLDEN STATE...
Folks, this is the state where you can make it BIG in one transaction!
Don't you think you need to FOCUS and learn from MASTERS who are REALLY making it happen in your own backyard? Meet the real estate masters here... MASTERS who are GENERATIONAL investors... We didn't just get "Lucky", this is a LIFESTYLE, a way of LIFE, a Purpose and Passion to Pass On...
GROW YOUR PIG FARM (PASSIVE INCOME GENERATORS)
Learn from Hector Padilla who mentored the publisher of Realty411 magazine when she started as an agent in real estate 16 years ago. Hector has personally purchased nearly $72,000,000 worth of real estate; and as a GRI Broker has successfully closed over 1,000 transactions. Another one of his PRIZED DEALS: He flipped a PARKING LOT in Los Angeles, which he purchased for $75K. He made $1.3 Million in 13 months -- with no tenants nor no rehab. This Los Angeles Investor reveals how he just closed an Apartment Deal in Downtown Los Angeles with an "After Repositioning Value" of $9,500,000.00 for only $6M with Seller Financing with only 20% Down & at 3.5% interest only. And yes he used a "Funding Partner" to close. And the loan is Non Recourse! He's closed over $75,000,000.00 using these unconventional techniques right here in Los Angeles even though Real Estate Brokers & his own attorneys say it's, "That's not possible!" He will share the brutal & honest truth about investing in RE using unconventional techniques & Mindset.
Don't miss this opportunity. He is brutally honest & doesn't "F" Sugar Coat"!!!
Meet Author Rebecca Rice and Discover her "Living Benefits" Strategy
At age 37 Rebecca Rice suddenly became single with three small children. Without any source of income, Rebecca faced food scarcity and homelessness. "I know what it's like to be without," Rebecca said. "I made it my goal to never let that happen again." She started working—and worked hard! She learned and advanced to the point where she started her own business. Along the way, she kept that passion for financial security for herself and for her clients. "I was drawn to financial services because it's such a concrete, specific way to prepare for the difficulties life throws at you," Rebecca said.
For 24 years she read and studied books, journals, newsletters, and the leading trends to best help her clients secure their financial future. In 2003 Rebecca discovered Nelson Nash's book, Be Your Own Banker. She stayed up all night reading it. It just didn't seem possible. So she asked her CPA to read it. He had never heard of the strategy either. Together they tried to punch holes in the theory behind Nash's book. They ran the numbers.
They ran the numbers again. And it worked! When her CPA called and said he wanted to set up four accounts for his family, she knew they were on to an amazing secret. How could she not have known about this incredible wealth-building strategy before now? Rebecca fully used this "Living Benefits" strategy. She tried it herself and found success. She used it more and more. To date she is fully vested in this strategy and has the comfort, control, and peace that financial security brings. As of 2014, Rebecca has written over 3,000 uniquely designed policies. She's gained certification in the knowledge and application of "Living Benefits" strategies. She's used the "Living Benefits" for herself and her clients in every way possible. She stands as the go-to expert for the "Living Benefits" strategy.
Matthew Pillmore - VIP FINANCIAL EDUCATION
Matthew Pillmore built a successful wholesale residential mortgage company in 2000. During that time he began investing in real estate. At age 23 he hired a creator of the original FICO score and the Nation's leading credit attorney to build the 760 Club. One year later, he discovered a revolutionary cash flow formula which allows real estate investors to own real estate free and clear far more quickly & safely by turning the banks' rules against themselves. Today, Mr. Pillmore has been featured on hundreds of radio and television programs and is considered the foremost leading expert on the subjects of cash flow, debt, and both personal & business credit. He has a unique ability to accelerate nearly anybody's financial goals, using a simple 3 step recipe.
Michael Poggi - The Millionaires Investment Group
Michael Poggi is a nationally recognized public speaker, established author, and professional investor, with nearly two decades of experience. Michael speaks on advanced wealth strategies and how to invest in Real Estate and Businesses the right way .He presents topics such as: house flipping, purchasing apartment buildings, and building new construction homes, development projects, purchasing vacant lots in fast growing areas and buying businesses in your IRA or your old 401K plan. He teaches people how to make their IRA self-directed in the true sense, so you can use it for real estate. He also teaches people and mentors students on how to make their IRA cash flow monthly tax-free as well as how to invest properly. In addition, Michael is the president and founder of The Millionaires Investment Group, based in Ft. Lauderdale, Florida.
There are 10,000 members of the Millionaires Investment Group and 2500 Active Investors. The Millionaires Investment Group holds a meeting on a monthly basis to network and partner on real estate ventures, and businesses. Michael's company specializes in many aspects of commercial real estate, vacant land, development projects, new construction home projects and businesses. The group attracts top notch speakers from all around the country, who are featured monthly to provide additional education. Michael is often a featured guest on the Money Talk radio show. His company, Build Wealth with Land, LLC, is one of the largest land providers in the U.S., providing hundreds of vacant lots to investors and builders yearly. Michael has bought and sold over 1000 vacant lots and houses in the last 10 years, TAX FREE.
Thank you to Our Pink Sponsor: Little Pink Houses of America - LEARN EXCELLENT REAL ESTATE EDUCATION HERE Mike Mathe - Little Pink Houses of America Michael Mathe is a native of Columbus, Ohio and a serial entrepreneur who has started and sold 2 separate businesses in multiple industries before turning 40. He has over 20 years of experience in business start-up/scaling, direct marketing, sales, sales training/speaking and has done about every type of traditional and non-traditional real estate deal out there. His most recent venture is as Co-Founder of Little Pink Houses of America, a real estate investment firm based in Jacksonville, FL with offices in over 20 markets nationally in less than 3 years. They specialize in Executive Lease Purchases that match sellers that can't go to the bank with a retail based seller (typically a FSBO) that is willing to sell on terms in order to make more money than selling traditionally.
Their strategy targets higher dollar homes ($150-500K+ depending on the market), therefore giving investors the ability to make money on houses that were never considered a lead before. Investors that utilize this strategy make a minimum of $10,000-$25,000+ per transaction without using any money or credit and don't have the fierce competition that exists in today's wholesale and fix/flip market. Little Pink Houses of America also has affiliate opportunities available in markets around the country and they will be discussing that at the upcoming event for those investors that want the support and branding of a corporate office in order to achieve greater success. These partnerswork for themselves but not by themselves.
Meet Sensei Gilliland with BLACK BELT INVESTORS
Black Belt Investors' Real Estate Master, Sensei Gilliland, has been honored as the nation's leading real estate expert and business mogul by Real Estate Wealth Magazine, and has now expanded his capacity for granting speaking engagements across the US. Real estate investors frequently flock thousands of miles for words of wisdom from Sensei. His live training and coaching events are known for being value packed, overflowing with practical, quick to implement tactics, and energizing for both white belt and black belt level real estate investors and business owners.
Any real estate investor seeking to increase their own knowledge with a highly recognized and sought out industry will find Sensei packs a real punch when on the bill. In a sentence, Sensei's education is - "No fluff, just hard hitting, real tactics investors can put into action effectively, delivered by a real estate master that has proven his mettle over two decades." Come hear one of the most powerful leaders in today's real estate industry.
ARE YOU A VIP REALTY411 MEMBER YET? IT'S FREE CLICK HERE No matter what, please mark your calendar so you don't miss out on this fantastic real estate and finance expo. Our goal is to provide fantastic resources to help you learn about real estate or grow as an investor. We know your time is valuable, so we have wonderful books, magazines, and other gifts to give away. Start the year off right with spectacular networking!!! Build NEW friendships and business collaborations with some of the industry's TOP Leaders. Plus, guests will discover new resources to FUND deals. Joining us are incredible speakers, sophisticated investors, and VIP Industry Leaders from across the country.
Meet Powerful Leaders! Here is our speaker list from last year:
Phil and Shenoah Grove, REI Matcher Ben Caballero, USA Homes, Inc. Ben is the #1 Sales Agent in the U.S.! Reggie Brooks, Teaches Probate Dennis Henson, Single Family Fortunes Nick Malis, Fortune DNA Brad Sumrock, Multifamily Investments Arnie Abramson, Discover Tax Liens Anthony Patrick, New Harvest Ventures Tom Wilson, Investing in Texas from CA Randy Hughes, Mr. Land Trust Pat James, Learn How to Reduce Taxes John Jackson, Creative Lease Options Kaaren Hall, uDirect IRA Services Joe Boston, Dallas REIA Tim Herriage, 20/20 REI Companies Gene Guarino, ALF Academy Todd Dotson, Get In, Get Out, Get Paid! Pam Blanco, PamTexas.com Colony American Finance and More! Save Save
Save
Save
Save
Save
Save
Save
Save
Save
Save
Save
Save
Save
Save
Save
<span style="border-radius: 2px; text-indent: 20px; width: auto; padding: 0px 4px 0px 0px; text-align: center; font: bold 11px/20px 'Helvetica Neue',Helvetica,sans-serif; color: #ffffff; background: #bd081c url('data:image/svg+xml;base64,PHN2ZyB4bWxucz0iaHR0cDovL3d3dy53My5vcmcvMjAwMC9zdmciIGhlaWdodD0iMzBweCIgd2lkdGg9IjMwcHgiIHZpZXdCb3g9Ii0xIC0xIDMxIDMxIj48Zz48cGF0aCBkPSJNMjkuNDQ5LDE0LjY2MiBDMjkuNDQ5LDIyLjcyMiAyMi44NjgsMjkuMjU2IDE0Ljc1LDI5LjI1NiBDNi42MzIsMjkuMjU2IDAuMDUxLDIyLjcyMiAwLjA1MSwxNC42NjIgQzAuMDUxLDYuNjAxIDYuNjMyLDAuMDY3IDE0Ljc1LDAuMDY3IEMyMi44NjgsMC4wNjcgMjkuNDQ5LDYuNjAxIDI5LjQ0OSwxNC42NjIiIGZpbGw9IiNmZmYiIHN0cm9rZT0iI2ZmZiIgc3Ryb2tlLXdpZHRoPSIxIj48L3BhdGg+PHBhdGggZD0iTTE0LjczMywxLjY4NiBDNy41MTYsMS42ODYgMS42NjUsNy40OTUgMS42NjUsMTQuNjYyIEMxLjY2NSwyMC4xNTkgNS4xMDksMjQuODU0IDkuOTcsMjYuNzQ0IEM5Ljg1NiwyNS43MTggOS43NTMsMjQuMTQzIDEwLjAxNiwyMy4wMjIgQzEwLjI1MywyMi4wMSAxMS41NDgsMTYuNTcyIDExLjU0OCwxNi41NzIgQzExLjU0OCwxNi41NzIgMTEuMTU3LDE1Ljc5
When & Where

Hilton Arlington
2401 East Lamar Boulevard
Arlington, TX 76006


Saturday, November 12, 2016 from 8:30 AM to 6:00 PM (CST)
Add to my calendar
Organizer
Realty411 Magazine & Marketing

* Event Organized by Realty411 *
Based in Santa Barbara County, Calif., Realty411 publishes online and print magazines, e-newsletters, produces expos, and mixers around the United States. Their mission to educate and empower everyone from all walks of life to invest in real estate. The media/marketing company is owned by a real estate investor and licensed California real estate sales agent. Realty411 currently reaches more personal investors around the nation with their in-house expos and events than any other realty investor publication in the world. Many expos are charity events where awareness and donations are raised for numerous worthwhile organizations, which focus on children, assisting the homeless, victims of domestic violence, and animal welfare.
For information, call: 805.693.1497 or visit http://realty411guide.com/events or
our new expo website: http://realty411expo.com
To contact us directly, call: 805.693.1497 or realty411magazine@hotmail.com
Save
Lone Star Real Estate Expo - Give Thanks, Give Back for the Salvation Army