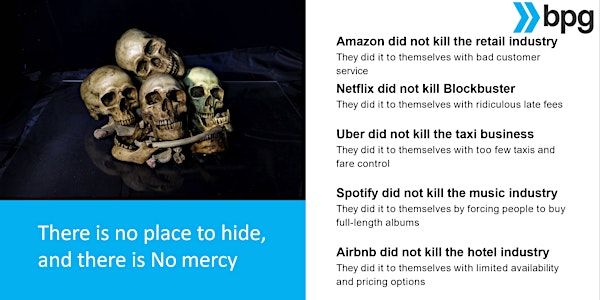 LONDON, The Accredited Customer Experience Master® (ACXM) - 4 DAYS to CX Excellence
When and where
Location
The 2019 ACX MASTERS® Liverpool University in London 33 Finsbury Square London EC2A 1AG United Kingdom
Refund Policy
Refunds up to 30 days before event
Description
ACCREDITED CUSTOMER EXPERIENCE MASTER - FOUR DAYS to CX EXCELLENCE
The BPGroup & IQ Business Accredited Customer Experience Masters (ACXM) Program

takes BPM & CEM Training to an entirely new level.
Become an Accredited Customer Experience Master (ACX Master) through learning and experiencing the most practical, successful and proven toolkit for customer-centric change
For 2019...
> New Case Studies > 60+ takeaway techniques > 90+ help videos > Fully revised CEMMethod (version 11) > CX Rating (4E's) integration > All material provided > Dedicated Professional User Group > Ongoing webinars
The Accredited Customer Experience Professional/Master difference
This premier series is designed for those seeking advanced professional skills in customer experience and process management, CX improvement, CX alignment, customer centricity, and innovation.
These are the Outside-In Customer Experience Management, BPM Methods, and Techniques that Deliver!
Uncover CX/Process Improvement opportunities in just hours

Identify Actions

that will improve customer experience and associated processes by 15% to 40% within 20 days of deployment

Integrate and

Evolve methods such as BPM, Lean, Six Sigma and Operational Excellence Outside-In

Delight your Customers (making them your greatest advocates) through

Successful Customer Outcomes

and Customer Experience Management

Innovate to compete

, set the market trend and even dominate your industry

Advance Net Promoter Score and Customer Satisfaction to the next level

Release

significant costs, improve revenues and enhance service (win the Triple Crown)

immediately

The Accredited Customer Experience Master's® program builds your professional competency in delivering these essential benefits in literally everything you do. Unleashing the power of customer centricity in your organization today.
CONTENT
A dynamic and comprehensive approach to creating and managing enterprise customer centricity that delivers sustained high performance, encompassing the full range of management systems and practices. Content based on the experiences of hundreds of companies and the BP Group (www.bpgroup.org) networks and partners ongoing research since 1992.
Download the ACXM overview: http://bit.ly/LondonACXM

WHO SHOULD ATTEND
Senior executives, operating managers, customer service e-leaders, CX Executives, process leaders and owners, resource managers, members of CX design teams and program management offices, business analysts, systems analysts, Six Sigma belted people, Lean experts, Agile professionals, functional managers, key front-line personnel, and everyone else with a stake in getting the most out of customer-centric thinking and practice.
RESULTS
Session attendees will learn how to:
exploit CX management for triple crown* benefits with sustained high performance

integration with an evolution to Lean Six Sigma and BPM approaches

develop performance metrics for the complete Customer Experience lifecycle and end-to-end processes

link customer experience to enterprise business goals and objectives

coach and align people for Successful Customer Outcomes, performance and process management

improve business performance immediately (15-40% within 20 days) and

establish a method to sustain continuous improvement (ongoing annual improvements 15-40%)

achieve the tactical and strategic payoffs of customer centricity and process
*triple crown = reducing costs, enhancing service and improving revenues at the same time
WHAT YOU GET
Hands-on instructor-led WORKSHOP by world recognized personality and Coach

All Materials electronically (for your own internal use) and online support

Sixty plus techniques and Toolkits (comprehensive templates and resources) to 'take away'

Certification as an Accredited Customer Experience Professional & ACX Master (ACXP-M)

CEMMethod™ and the associated toolkits. 12 months' license for distribution and updates

Membership in the world's premier CX, Process & Professional business club - Direct, Linked-In (private groups) and online communities.

Ongoing resources (videos, webinars, articles) and Annual Refresher (direct and via interactive webinar)

A unique one to one telephone support (dedicated telephone number)

Four best-selling books

Hard and soft copy of Outside -In the Secret.
Steve Towers book that kindled the flame of Outside In (2010).

An electronic copy of The Foundations of Customer Centricity (2015), James Dodkins

An electronic copy of The Process Tactics Playbook (2016), Towers & Dodkins


Simply the most ADVANCED TECHNIQUE for process improvement; typically producing extraordinary improvement results on processes in LESS THAN 30 DAYS
OVERVIEW OF THE CONTENTS OF THE FOUR DAY ACXM SESSION

i. OVERVIEW OF THE PROGRAM
Background and discussion of the Accredited Customer Experience program, its usefulness for individuals and corporations, the underpinning framework and methods of deployment.

ii. CUSTOMER CATEGORIZATION (exercise 1)
Understanding the different types of customers and establishing a structure to categorize and prioritize them. The objective being to enable the corporation to align strategically and operationally to 'real' customer needs. The need to understand the customer cannot be understated – without this everything may be built on sand.

iii. OUTSIDE-IN STRATEGIC MATRIX (OISM) (exercise 2)
"The Customer Experience is the process" (Steve Jobs) was an early clarion call for organizations shifting their focus towards customer centricity. The model to achieve this evolution is now codified and includes the OISM which frames the current (process) state against the future (customer experience).

iv. SUCCESSFUL CUSTOMER OUTCOME CANVAS (SCOC) (exercise 3)
Building a clear picture of customer needs to be measured and aimed at the triple crown (simultaneously lower costs, higher revenues, and improved service) is the objective of the canvas. The SCOC helps to reveal customer needs even when the customer doesn't know them!

v. CX LIFECYCLE – ABACUS FRAMEWORK – THE WHAT
Understanding the customer experience lifecycle provide in-depth insights into the hidden potential of processes and emergent customer experiences. Walking through a structured technique the hidden gems of the customer experience emerge and can be balanced in either current or future states.

vi. CX LIFECYCLE – ABACUS FRAMEWORK – THE HOW – INCLUDES THE CXLM (THE WHAT) (exercise 4)
Systematically restructuring the Customer Experience to deliver Triple Crown benefits (without exception) produces remarkable results. The mechanism including the Customer Experience Lifecycle Management (CXLM) is part of that means to the end.

vii. CONNECTING THE DOTS - CUSTOMER PERFORMANCE LANDSCAPE (exercise 5)
Phrases like Disney's 'True North" talk to the connection of everything the enterprise (and its partners) goes through to a successful customer outcome. This can be articulated with the Customer Performance Landscape (CPL) showing business outcomes, customer outcomes, outputs, activities, interactions (external and Internal) with supporting rules and digitization. The exercise develops this model that provides the line of sight for everyone in the organization to both the strategic objectives and day to day operational activities that deliver them.



viii. CX MATURITY – CXLM (THE HOW) (exercise 6 & 7)
Processes and Customer experiences may be thought of as the 'habits' of an enterprise. There is also the 'habitat' the organization operates within and includes the culture, the rewards systems, the ability to change and innovate, the overarching philosophy and so on. CX Maturity modeling establishes the 'where we are' versus 'where we need to be' at the Habit (exercise 6) and Habitat (exercise 7) levels.



ix. CX DASHBOARDING (FROM THE BOARDROOM TO THE LUNCH ROOM) (exercise 8)
The customer-centric enterprise requires a measurement system that transcends old style key performance indicators that tended to measure what was being done, rather than emphasizing the results and business outcomes that needed delivery. The CX Dashboard operates from an individual level to the 'corporate view' capturing 100% of all activity in real time. Rather like flying a plane the information presented real-time allows immediate course correction for the complete enterprise.



x. CX ABC (ATTITUDE, BEHAVIOUR, CULTURE) (exercise 9)
Successful 21st-century organizations act quickly and decisively with all employees pulling in the same direction. Creating that framework is about rethinking and retooling the levers of power, and then focusing on those things which enable the most beneficial sustainable change. The CX ABC framework highlights the elements requiring proactive management and attention.



xi. DEVELOPING TOMORROWS ENTERPRISE – TEAMS AND STRUCTURES (exercise 10)
Outside-In enterprises create team structures and skill sets aligned to successful customer outcomes. Gone are the rigid industrial age pyramids to be replaced by agile innovative teams, operating across the entire customer lifecycle. What structures are proven? By the way, the key to success is knowing the how to migrate from the silo thinking functional specialisms quickly and seamlessly to a new operating model, that may indeed be unique to your industry.



xii. CX LAUNCHPAD – WHERE TO START? The CEMMethod & CXMO (relate back to exercises)
The Customer Experience Management Method (CEMMethod™) now in version 11, brings together over 60 discrete tools and techniques to help the customer-centric enterprise navigate to a successful future. Combining the CEMMethod with the approaches within the Customer Experience Management Office (CXMO) provides a framework to transform the complete enterprise Outside-In. With deliverables directly contributing towards the Triple Crown, the CXMO becomes the catalyst for transforming with significant results from the get-go.



TESTIMONIALS


A year after training in London just wanted to shoot a note of my continued gratitude. Hope to remain involved in the CX events and work with you again..that training was beyond invaluable.
Juliana Coates - Member Services, University of Albany, New York
Thanks very much for an amazing course! You are a fantastic facilitator and I'm truly blessed to have you share your wisdom with us.
Jenny Simpson, Senior Consultant, Business Improvement, National Australia Bank


I'm writing to endorse BPGroups Certified Process Professional Masters program. It completely changed the way I think about a process. Steve Towers and the BPGroup taught us amazing secret techniques of process improvement.

The program provided me with the ability to apply all the learnings immediately after the training. Very effective training with a wealth of knowledge to share. This is a must training for everyone who's interested in making a process better!
Maria T Ferreira AVP - Client Experience Process Improvement at Citi

Thanks for your time and the fantastic course, delivered in Auckland recently.
Looking forward to attending the CPP Masters in June - will see if I can bring some colleagues!!
Neal Ross, Chief Information Officer at Konica Minolta Business Solutions New Zealand Limited
The detail was very relevant and extremely well presented.
Steve is a great communicator and spoke extremely well.
Paul Botes, Standard Bank
Brilliant Workshop. The speaker was awesome and gave great guidance on matters I am finding in the workplace.
Cindy-Lee Muller, Planning & Roadmap Manager, MTN (Pty) Ltd
The workshop is highly recommended for anyone who wishes to simplify and expedite processes thereby enhancing customer satisfaction. The speaker is immensely knowledgeable and demonstrates vast experience in the subject.
David Mulovhedzi, DPSA (South Africa)
I did the CPP Masters 2 weeks ago and it completely changed my world. Since then things are going really fast within our organization. The rest of the guys in our executive team are completely sold on the concept.
I am now taking the rest of the staff through some sessions. We plan to work on and optimize 6-10 key processes in the near future.
We are also:
• Revamping our organization structure to go to the "customer inclusive" model.
• We are going away this weekend to re-think our business plan (which was based on old thinking)
• We are actively considering getting rid of all our titles and silos in the organization and only having "the business we really are in" on the business cards.
• We are completely changing the KPI model to only focus only on and rewarding for an increase in revenue, cost savings, good service and most of all successful customer outcomes.
• We have appointed a staff member to begin talking to clients and to start understanding and managing their expectations.

To be honest I did not think it would happen that quick.
Nachiket Gole, Chief Information Officer - PowerNET Computer Consultants

...you've fundamentally changed the way I think about every process.
And inspired me to try Outside-In (OI) in all walks of life.
The first two levels should be included in educational curriculums (yes, even at the junior levels).
If everyone started applying OI, the world would be... where it should be.
Mahesh Mirchandani, CEO at BhumiTech
If you are looking to improve your own professional skills in business process management and business process improvement, then I would recommend the Advanced Business Process Methods and Techniques of the Business Process Professional program by BP Group.
Stephen Nicholson, Certified Process Professional – Master, BPM Systems (see blog)
Excellent presentation, clear and concise. Absolutely Gripping
Devendra Maisnam, Business Analyst, National E-Health Transition Authority
"Thanks to you for a fantastic mentoring program … I am an Outside-In fan now !"
Jimmy Cuadra, Director Information Management, Akzo Nobel Paints, Singapore
"I was struck with awe on the versatile yet practical experience that you shared.
Thanks for the wonderful session on CPP this week"
Syed Raashid, Specialist, RasGas Co Ltd. UAE
"Thanks again for the fantastic course and insights you provided."
Sean Schurmann, Business Process Architect, Queensland Building Services Authority, Australia.
"Just a short note to say thanks again for the course. It was a truly mind-blowing experience and I will never think about the process the same way again."
Craig Reid, Senior Business Analyst, Gen-I
"I wanted to tell you how much I enjoyed the book! It really helped tie together various concepts and practices I have been evolving towards over a number of years, crystallizing them into a simple but powerful framework."
Steve Melville, Director, Oracle, USA.
"I would like to thank you for a wonderful experience for me to know the nuances of ABPM. Taking us to a new level on how to view processes & implement by way of sharing your wealth of experience and enlightening us with the case studies & exercises."
Director Quality Management Group, 3i Infotech Ltd., India
"Exceptional and life transforming. This training should be on every corporate agenda"
CIO Pharmaceutical, Florida
"Simple and different concepts which is path breaking and easy to understand and deploy" Director Business Consulting, Chennai
"Excellent - he is a very good leader"
Senior Quality Analyst, AEC, Saudi Arabia
"I want to thank you for the great content and coaching that you provided, the concepts resonated even more clearly when presented with your enthusiasm and experience."
Director, H&R Block, USA
"I really enjoyed last week and really learned a lot. I feel I had a Eureka moment yesterday when the whole process diagnostics suddenly clicked into place. I remember you saying that once you grasp this then you will never look at processes in any other way. I am now actively evangelizing the CEM approach with our team.
Senior Analyst, Investment Bank, London
"Steve led the best training sessions I have ever taken in my 20+ years as a professional. After those sessions I was able to have immediate impact on my organization. Steve is a very sharp, personable, interesting individual, and a real pleasure to work with. I continue to remain in regular contact with Steve and consider him an invaluable resource on BPM and on change management in general."
Mark Barnett , Director of Global Process Practice , ACN, Inc.
"Steve is an inspiring global thought leader in the Business Process Management (BPM) space. He is a creative visionary, working on the edge of breakthrough business change."
Kenneth Mortimer, Principal , MBA & Associates Ltd
"Having had a chance to read through all of the delegate feedback forms in full it has become apparent that your workshops, in particular, were amongst the most well regarded, so thank you once more."
VP EMEA GDS International
"I took BPM training back in December, and Steve Towers was the instructor. The training was simply fantastic, because Steve has that rare ability to connect with his trainees. Not only did I walk away from the training with a new perspective on Business Process Management, but I walked away with an invaluable analysis tool."
Senior Systems Analyst, Barclays Bank
"We have collated the scores from the event and you came out as the most highly regarded."
Conference Producer, IIR International

"Excellent, owned the knowledge, made the presentations fun, wealth of knowledge and practical examples. Upbeat, well paced."
Booz Allen Hamilton, Washington

"Steve presents the whole arena of transformation in a lucid and pragmatic way. I can not overstate how much these insights and profound new understanding will change our organization and its approach to the market. You want my endorsement? You get it a gazillion times over. Thanks."
COO, Fortune 500 Company, Washington DC

"You are the tops! Everyone in the field should be exposed to the techniques experienced in this course."
Director - Process Management

"...was so helpful. The ability of asking questions/having discussion after the days end was extremely good. I really appreciated the professional approach"
Telco Director, now CIO of CEU , Hungary

"Steve is a true guru and mentor in the field of Business Process Management. What I've learnt from Steve and The BP Group in a short space of time has greatly benefited my understanding of advanced process management. Always accessible for advice, always campaigning to change how organizations view how they operate, Steve is a real asset to the BPM community and long may it continue."
Theo Priestley, Head of Business Process Management , Psingularity
"Steve is one of the most tireless leaders in the field of business process management. While there are lots of technical folks and vested interests in the field, Steve's leadership rises above the crowd. As co-founder of the not-for-profit Business Process Group, Steve has traveled the world spreading the BPM message to business leaders and front-line workers, alike."
Peter Fingar, Industry Guru and author of many top selling Business books

"Transforming the planet , one person, one process, one organization at a time"
Example Recent Clients
A.W. Rostamani Holdings Co. (LLC) ABAAHypermedia Technologies LtdPT PertaminaABB Ltd.Hyperteam LtdPT ProABN AMROIafricaPT Sistemas InformaçãoABN AMRO Bank NVIBMPThrivent Financial for LutheransAbraaj Capital Ltd.IBS IntelligencePurac, a CSM companyABSAICICI Prudential LifePW Consulting,StationssingelAbu Dhabi Investment AuthorityiCSTPWCAccelerationIDAPZ CussonsAcerta-BelgiumIDPQRActelion PharmaceuticalsIDS ScheerQSuper LimitedAcumen Business ProcessesIDS Scheer UK LtdQuality Manufacturing TodayACPOIFESSQuarkAdiaiinet limitedQuest InformaticsAdornoIMD InternationalR2K Software IndiaAegon UKImpala Platinum LimitedRabobank InternationalAenishaenslin Consulting GmbHImplatsRas Gas Company Ltd.ÅF Infrastructure ABIn TouchRasGas Co LtdAFD technologies,GroupeINARath & StrongAir LiquideIndasaRBSAirbus UKIndusInd Bank LtdRBS InsuranceAkzo Nobel Coating Ltd.íÑepp Services, Inc.RCSAlbai-nexusRDWAlcatel LucentIDevelopment Authority of Singapore Red Cross & Crescent SocietyAlexer Pty LtdInformation TechnologyRed Hat Incorporated Alliance BootsInfosys AustraliaReed LearningAllianz Cornhill Insurance Plc.Infosys Technologies LtdReliance ADAAllianz Insurance Plc.InfoTech HelpLine India Pvt LtdReliance Communications Ltd.Allied Digital Services Ltd.INGRenault Nissan ConsultingAllied Irish Bank ingena group limitedResearch In MotionAllstate Consulting ServicesInn-LeanDEsignRevolution ITAlly ServicingInnovation groupRFMDALSTOM (Switzerland) Ltd. innoVIZIONRicoh EuropeAlstom PowerInpex Perth OfficeRising PointAmadeus Services LtdInstantisRiyad BankAmerican International GroupInstantis Inc.RM Asia-Pacific Pty LtdAMEXInstituto Aviação CivilRockwell CollinsAnantara Solutions Pvt. LtdInstituto informaticaRohan & AssociatesAnderson Pharmaceutical PackagingIntegrys Energy GroupRoundpeg AssociatesAndrew Network SolutionsIntelenet Global Services Ltd.Royal Bolton HospitalANZIntelligent Content ProtectionRS ComponentsAou hIntelligent Decision ProcessesRS Components UKAPI (Academy for Political Intelligence)Intelligent FinanceRSAAPM TerminalsIntelligent PathwaysRSA InsuranceApotex CorporationIntense Technologies LimitedRSIS (UK) LtdAppianIPAPIRussell InvestmentsAPQCInternodeRWE IT UKAreen Design Services LtdInterquad Learning LtdRWE npowerAREVA CompanyInvestec Asset ManagementS Clarke ConsultancyAreva NPInvestec BankSA PartnersAriba TechnologiesInvestor IQSAGE AutomationArista Management Group LLCiProcSalmat LimitedArkadin (Singapore) Pte LtdIQPCSaM Solutions B.V.ARM Embedded TechnologiesIris ConsultanciesSAMARCO MINERAÇÃOARVAL PHHIrish LifeSamarco Mineração S AASG GroupIrish Life & PermanentSanctuary Housing AssociationAsgard Wealth SolutionsIrish Life Corporate BusinessSanmarco MineracaoAsidua LtdISCTESantander Consumer Finance BeneluxAstraZenecaIskandar Regional Development Authority SANTOSAthlon Car Lease InternationalISTRATSAP Deutschland AG & Co. KGAtlantic IndustriesITC InfotechSAP UK LtdAtos IT Solutions and Services GmbHITC INFOTECH INDIA LTDSara LeeAtos Origin Nederland B.VITSSSaudi Telecom CompanyAuroscient outsourcing ltd Saxo BankAutodesk SCA Technologies India AutomaxJ.O.P. Consulting, Inc.Schenker Arkas Nakliyat ve Ticaret A.Ş.Autosocut24jardine lloyd thompsonSchlumbergerAviva InvestorsJJB Consultants IncSchneider Electric SAAvto TriglavJohannesburg Roads Agency PTY LTDScottish PowerAXA Investment ManagersJohnson ControlsSears HoldingsAXA SunlifeKainos Software LtdSEBAxispoint Solutions LimitedKareSecurities & Exchange Commission KAZ GoupSEEK LimitedBA Continuum India Pvt. LtdKennametal IncSella Synergy India (P) LimitedBAAKIT digital AGSellafield Ltd.BAE SystemsKlados Solutions UK LimitedSEMA ConsultingBalfour BeattyKM&TSercoBanco de PortugalKofax UK LtdSerco Group Plc.Banco Espirito SantoKoninklijke DSMService FundamentalsBanco Privado Português, S.A.KPIT Cummins INFOSYSTEMS Ltd.Service Petrolier SchlumbergerBank of AmericaKPMG International HQSetClear Pte. LtdBank of IrelandKraft Foods UK Ltd.Severn Trent Plc.Bank of New YorkKrauthammer International ABSHCBarclaysKuwait Gulf Oil CompanyShellBarclays BankKuwait Oil CompanyShell Chemicals LimitedBarclays CapitalKuwait Petroleum EuropoortShell Gas & PowerBarclays WealthL&T Infotech LtdShell International Petroleum Co LtdBarium ABL-3 TRL TechnologySherardBASFLa Roche AGSiemens AGBayer HealtCare AGlandcorpSiemens Building TechnologiesBayer HealthCare AGLawrence Berkeley National LabSiemens Pte Ltd Bayer Schering Pharma AGLDS Church - 8 delegatesSigmaFlowBbraunLean ReflectionsSiminn hfBDLearningSisconsultBDFLearning to See & Toyota KataSITA UKBE Army Department of StaffLee Maschinenbau GmbHSix Sigma CityBelimoLegal & GeneralSkandia UK Head OfficeBEM IncLehman Brothers Bankhaus AGSkelta SoftwareBemitech Technology GroupLeighton Contractors India Pvt. LtdSmiths AerospaceBendigo BankLek Pharmaceuticals d.d.SMS Management & TechnologyBentley SystemsLenovoSoftware AGBest BuyLeo Pharma A/SSolog SABetfair Ltd.Lera TechnologiesSonae Bhambi & AssociatesLevel3 CommunicationsSonkor InternationalBHP Billiton Iron OreLex Vehicle Leasing Ltd.SorecoBhumitechLexAutoleaseSouth African Reserve BankBluecycle.comLexis NexusSouth Warwickshire NHS TrustBME (A Member of the Omnia Group)LGCSBSouthpaw SolutionsBMGILibyana Mobile PhoneSPI GlobalBNP ParibasLifeware SaSports Surgery ClinicBord GaisLilly Pharma FertigungSRO (Victoria)Bord Gais EnergyLink Consultingst john of god health careBord Gais NetworksLink Consulting SASt Regis Paper CompanyBorsodChem ZrtLink, SAStandard BankBoston ScientificLinklatersStandard Bank LifeBoston ScientiificLloyd`s Register EMEAStandard LifeBPLloyds Banking GroupStandard Life BankBP International LtdLloyds RegisterStandard Life InvestmentsBPGroupLloyd's Register AsiaStaplesBradford & Bingley PlcLloyds TSBStellenbosch UniversityBre BankLocal Government HouseSteriaBrightRaven LimitedLockheed MartinStibo SystemsBrink's IncorporatedLockheed Martin UK-INSYS LimitedStorm TechnologyBristol-Myers Squibb CompanyLodestone Management ConsultantsStratis LtdBritish AirwaysLogicaStudent Loan CompanyBritish American TobaccoLombardiSumaBSkyBLottery CommissionSun Microsystems BTLSC Group LtdSuncorpBT Group plcLSG SkyChefsSUNY SullivanBupaM2 CommanderSwedbank RoburBusiness Agility!Maersk Line SwedCo LtdBusiness Dynamics Svenska ABMagirus UKSwiss ReBusinovationMail Newspapers Circulation Dept.SymbionicsBytes Technology Groupmanagecom systems limitedSyngene International Ltd. Manipal – City & Guilds Skills SysconsultC Banque Cramer & CIE SaManuel Paquim Sucessores, LDASysprove TechnologiesC I NMaple LeafSysteam ManagementCAMarel Townsend Further ProcessingTagStone TechnologyCable & WirelessMatthew ClarkTalk Talk TechnologyCablecom GmbHMBC GroupTATACahootMcLaren Automotive LtdTata AIGCaixa Geral de DepósitosMcMillan Shakespeare Pty LtdTata CommunicationsSantander Y CantabriaMDATataCanada LifeMDA nationalTata Consultancy ServicesCanadian Imperial Bank of CommerceMDS Nordion IncTawuniyaCapgeminiMEDASSIST - A Firstsource CompanyTaylor WoodrowCapita HartsheadMedia MonitorsT-Com Innovationsgesellschaft mbHCapital OneMercedes Benz UK LtdTCSCarphone WarehouseMercerTeknosaCastrolMeta-LucidTeleca Sweden South ABCatalent Pharma SolutionsMetcashTelecomCatalystMicrogenTelekom SloveniaCATMid Kent WaterTelenor Midland HRTelenor Global Services AS
We are sometimes asked about the small print: Here it is just in case.
BP Group reserves the right to postpone or cancel an event, to change the location of an event. In the event that BP Group postpones a conference, delegate payments at the postponement date will be credited towards the rescheduled date. If the delegate is unable to attend the rescheduled event, the delegate will receive 100% credit representing payments made towards a future BP Group event or you may send a replacement. This offer is valid for a period of 12 months from the date of the postponement. No refunds will be available for cancellations or postponements.

BP Group is not responsible for any loss or damage as a result of substitution, alteration, postponement, or cancellation of an event due to causes beyond its control including without limitation, acts of God, natural disasters, sabotage, accident, trade or industrial disputes, terrorism or hostilities.
Copyright (c) 1992-2019 The BP Group & Affiliates