London Slow Art Day - Tate Modern - April 27, 2013
When and where
Location
Tate Modern 53 Bankside London SE1 9TG United Kingdom
Description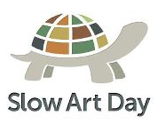 Tate Modern
Art viewing: 11:00 AM - 1:00 PM
We will be viewing the following works of art sl-ow-ly (allow 10-15 min. per piece)
1. Max Ernst
Celebes1921
Tate Modern: Level 2: Poetry and Dream
Room: Surrealism and Beyond-Room 2

2. Pablo Picasso
Nude Woman in a Red Armchair1932
Theme: Level 2: Poetry and Dream
Room: The Reclining Nude (Room 7)
3. Dod Procter
Morning1926
Theme: Level 2: Poetry and Dream
Room: Realisms (Room 10)
4. David Alfaro Siqueiros
Cosmos and Disasterc.1936
Theme: Level 2: Poetry and Dream
Room: Surrealism and Beyond (Room 2)

5. Asger Jorn
Letter to my Son1956-7
Theme: Level 3: Transformed Visions
Room: New Images of Man (Room 2)
Lunch: 1:00 PM - 2.00 PM
Lunch will be at the Founders Arms Pub
All of you are of course welcome to the post viewing lunch/pint/meeting. A very casual discussion of the day and your impressions of the art. I have booked two tables at the Founders Arm Pub for 1:15, a short walk from the museum.
FOUNDERS ARMS,
52 HOPTON STREET, BANKSIDE,
LONDON, SE1 9JH
http://www.foundersarms.co.uk/
Please do get in touch and let me know if you plan on attending lunch, so that I can adjust the reservation. We have two tables reserved, and then there is also a lovely outdoor area, so I figure we can have a few discussion groups going.
Host: Laura Lee Scott, contact Laura Lee via e-mail
Slow Art Day is a worldwide celebration of art that encourages people to look at art SLOWLY – and thereby experience art in a new way. You can see more about Slow Art Day and the mission behind it on our website: http://SlowArtDay.com.
As Slow Art Day approaches, you'll hear from your host with more information, as well as instructions about what to do when you arrive for Slow Art Day.
More info about Slow Art Day movement: facebook | twitter | tumblr