Description
Many thanks to Rise, Seldon and Rewired for hosting and sponsoring the TensorFlow meetup!
Agenda:
6:00 - Doors open. Networking. Wine, beer & snacks.
6:45 - Opening remarks.
7:00 - Multimodal Sentiment Analysis with TensorFlow by Anthony Hu, Ph.D. at the University of Cambridge, Computer Vision and Machine Learning

7:20 - Building a Data Science Platform by Joel Jacobson, Field Operations Engineer at Mesosphere and Emil A. Siemes, Sales Engineer at Mesosphere
7:40 - Q&A break
8:00 - Wrap-up
Please try to arrive promptly by 6:30 so you will have ample time to meet others and to enjoy the discussions.
_________________________________________________________
DETAILED AGENDA:
Talk #1
Speaker: Anthony Hu, Ph.D. at the University of Cambridge, Computer Vision and Machine Learning
Title: Multimodal Sentiment Analysis with TensorFlow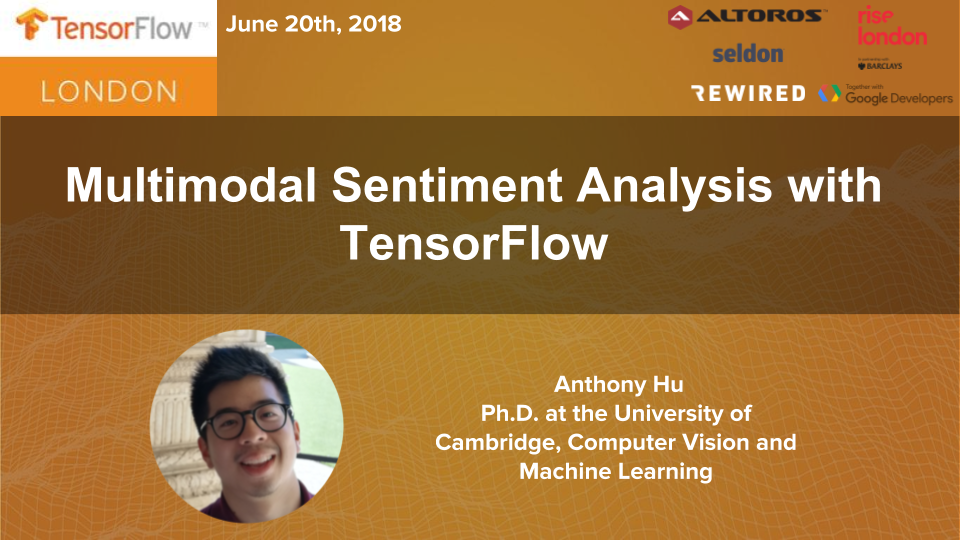 Abstract:
Anthony proposes a novel approach to multimodal sentiment analysis using deep neural networks combining visual analysis and natural language processing. The goal is different than the standard sentiment analysis goal of predicting whether a sentence expresses positive or negative sentiment; instead, his project aims to infer the latent emotional state of the user. Thus, it focuses on predicting the emotion word tags attached by users to their Tumblr posts, treating these as "self-reported emotions."
Containing both convolutional and recurrent structures, the model was trained on TensorFlow that allows flexibility in term of neural network design and training (with multimodal inputs and transfer learning for instance) using the new TensorFlow Dataset which is a high-performance data pipeline that can easily handle different sources of data (text, images).
Speaker Bio:
Anthony is joining Machine Intelligence Laboratory (Ph.D.) at the University of Cambridge to work on Computer Vision and Machine Learning applied to autonomous vehicles, more precisely in scene understanding, and vehicle's interpretability.
Previously, research scientist experience at Spotify where he worked on musical similarities at large-scale using audio.
MSc in Applied Statistics from the University of Oxford, prior to that went to
_______________________________________________________
Talk #2
Speakers:
Joel Jacobson, Field Operations Engineer at Mesosphere
Emil A. Siemes, Sales Engineer at Mesosphere
Title: Building a Data Science Platform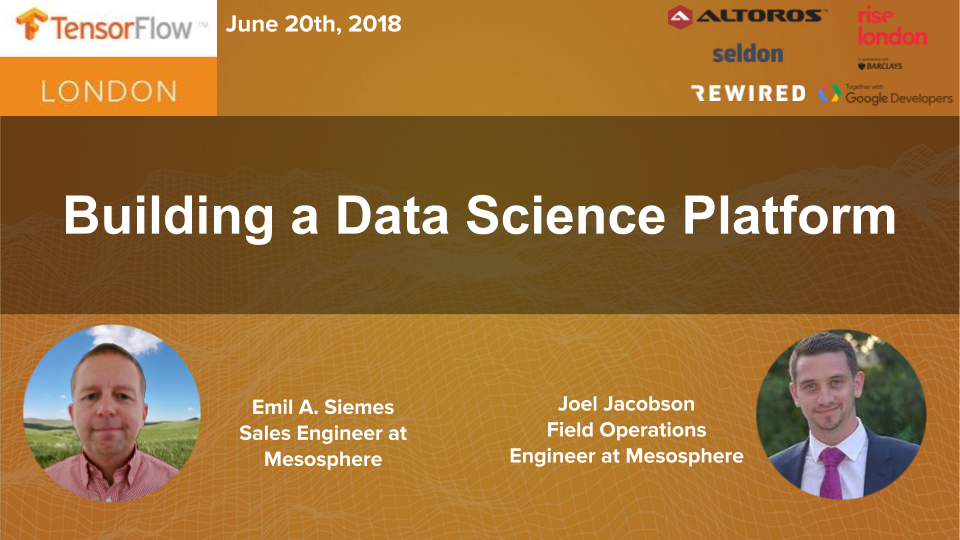 Abstract:
Machine and Deep Learning Frameworks such as Apache Spark, TensorFlow, MXNet, and PyTorch enable anyone to train deep learning models. It is relatively easy to get started on a laptop and train a basic, non-distributed model with sample at-rest data. However, moving from a single laptop setup towards a scalable, production-grade data science platform is a completely different challenge and, arguably, one of the most difficult ones, as it involves collaborating with different teams across an organization. Today, data scientists are dependent on the infrastructure and operations team, waiting for the compute resources to deploy models and then using different languages and tools in development and production environments.In this talk we discuss the challenges of moving from locally developing a model to deploying an integrated data science platform, including how to:
Store large training data sets;

Access multiple data sets from many sources and combine the data;

Cleanse and prepare data sets;

Provide a consistent interface for data scientist between the development and production environment;

Distribute the resource-intensive training across a large cluster, including special hardware such as Graphics Processing Unit (GPU) or even Tensor Processing Units (TPUs);

Store the trained models along with metadata;

Serve models at scale;

Leverage CI/CD to automate the training, testing, and serving cycle; and

Provide a multi-tenant platform on a shared cluster.
Speakers bio:
Joel is a systems engineer with a focus on NoSQL and distributed technologies. Working at Mesosphere Joel helps organizations adopt modern technologies including containers, streaming technologies, NoSQL, ML and AI.
Emil A. Siemes is a long-term Java veteran interested in building, running, and managing the next generation of data-driven web and mobile applications. After several years as Java Architect with Sun Microsystems, Aplix, Wily, SpringSource (VMware) and Hortonworks Emil joined Mesosphere, where he helps customers modernize their applications with container, fast- and big-data as well as ML & AI technologies.
TensorFlow meetup sponsors: