Description
Many thanks to Rise, Seldon and Rewired for hosting and sponsoring the TensorFlow meetup!
Agenda:
6:00 - Doors open. Networking. Wine, beer, champagne & snacks.
6:45 - Opening remarks.
7:00 - Use Cases of TensorFlow by Gema Parreno, Data scientist at BBVA
7:20 - Trends and Developments in Reinforcement Learning by Pierre Harvey Richemond, PhD student at the Data Science Institute with Imperial College
7:40 - Q&A break
8:00 - Wrap-up
Join us for the special edition of Tensorflow London with two amazing speakers and more networking to bring our community together for the festive season! Please try to arrive promptly by 6:30 so you will have ample time to meet others and to enjoy the discussions.
_________________________________________________________
DETAILED AGENDA:
Use Cases of TensorFlow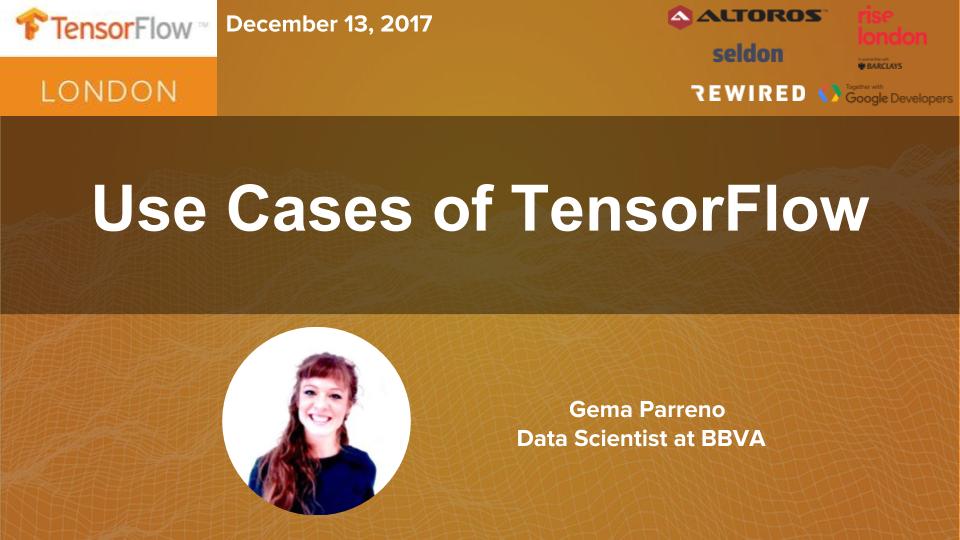 Speaker: Gema Parreno, Data scientist at BBVA
Gema has more than 10 national and international projects for digital product design and had her own videogame startup. She has developed significant cases of use for Tensorflow and have been awarded by NASA Space Apps Challenge 2016 for a Neural Network Architecture for Asteroid Classification and Impact prediction.

Abstract: The talk covers cases of use for TensorFlow, going from Convolutional Neural Nets for image classification, wide+deep learning for recommendation systems and NASA Space apps challenge project.

Twitter: https://twitter.com/SoyGema
_________________________________________________________
Trends and Developments in Reinforcement Learning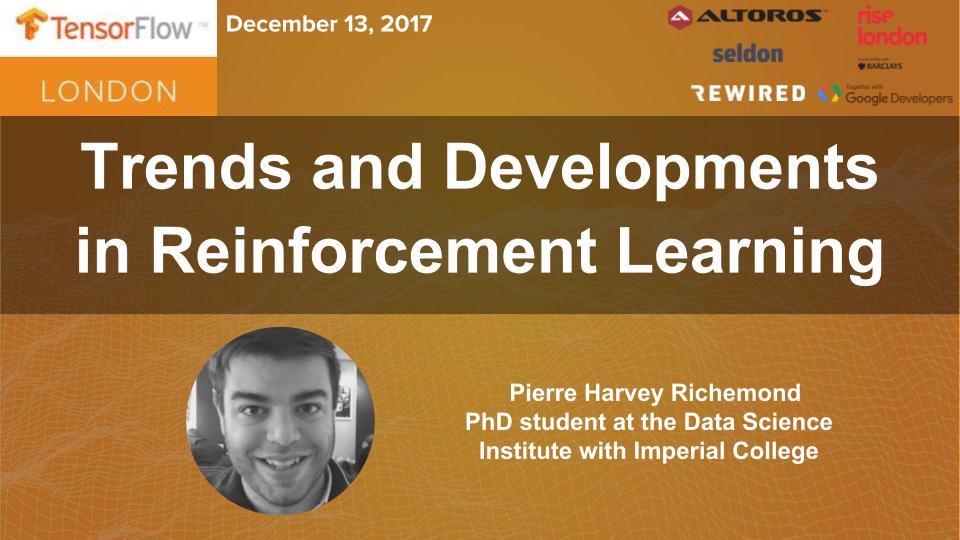 Speaker: Pierre Harvey Richemond, PhD student at the Data Science Institute with Imperial College

After a successful career in quantitative finance, Pierre is researching deep learning and reinforcement learning at Data Science Institute. He holds several degrees in mathematics and engineering.

Abstract:
In this high-level talk, he will go through the latest recent and significant developments in the theory of reinforcement learning. Topics will range from soft Q-learning to proximal policy optimization and the Monte-Carlo tree search used in AlphaGo Zero. He will discuss strategies to implement these methods in Tensorflow, combine and replicate them in practice, and highlight connections with other related fields such as convex optimization and optimal transport.

Twitter: https://twitter.com/kloudstrife
TensorFlow meetup sponsors: