Description
Many thanks to Rise and Seldon for hosting and sponsoring the TensorFlow meetup!
Agenda:
6:00 - Doors open. Networking. Wine, beer & snacks.
6:45 - Opening remarks.
7:00 - Word embeddings: GloVe, word2vec for similarity and recommendations by Kostas Perifanos, Machine Learning engineer at Argos
7:20 - The State of AI by David Kelnar, Investment director and head of research at MMC Ventures
7:40 - Q&A break
8:00 - Wrap-up
Please try to arrive promptly by 6:30 so you will have ample time to meet others and to enjoy the discussions, we will be starting 6:45 sharp. Looking forward to seeing you there!
DETAILED AGENDA:
Word embeddings: GloVe, word2vec for similarity and recommendations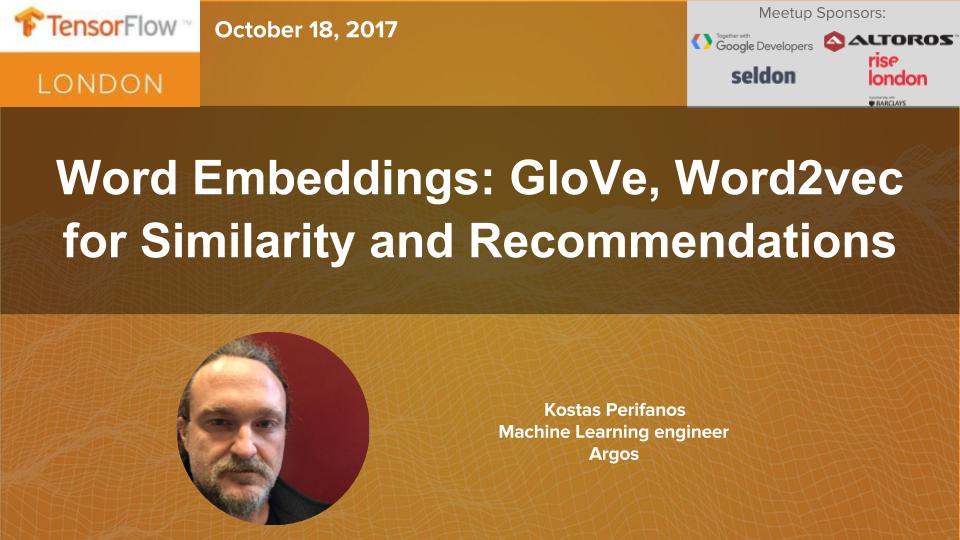 Abstract:
The term Word Embeddings refers to a set of NLP techniques where words or phrases are mapped to real-valued vectors. In this talk we will be exploring one of the most popular word embedding models, GloVe (for Global Vectors), and a very interesting application of embeddings in recommendations/product similarity.
Bio:
Kostas joined Argos in 2017 as a Lead Machine Learning engineer. Prior to Argos, he worked at Royal Mail, Mailonline, Pearson and in research; he was involved in a broad range of projects from European FP6 research programs to EdTech, Analytics, Search, Predictive Modelling using Machine Learning and AI. He is interested in Deep Learning, Distributed Computing, Optimisation, Search, Predictive Analytics and Natural Language Processing.
Twitter: https://twitter.com/k_perifanos
Github: https://github.com/kperi
_________________________________________________________
The State of AI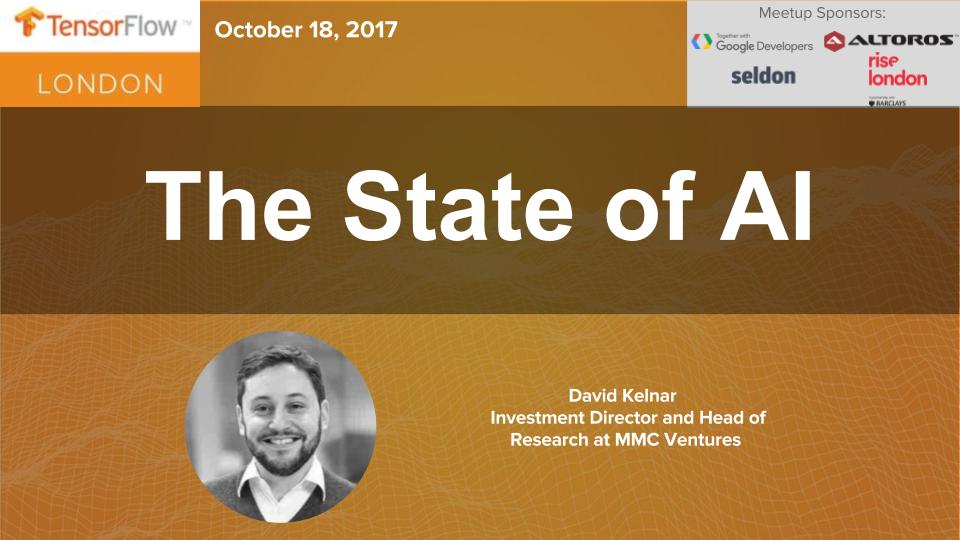 Abstract: In this talk David will share dynamics of UK AI startups and helpful context for people working in the field; Furthermore, how investors think about AI startups and what are the success factors for early stage companies.
Bio: David has eight years of entrepreneurial leadership experience in early stage companies, having served as the founding CEO and CFO, respectively, of two consumer service technology companies, and is an advisor to a range of early stage ventures. Previously, David was an equity research analyst and investor in the European technology sector, at Goldman Sachs in London and a hedge fund in New York. David graduated with double First Class Honours in Philosophy from the University of Cambridge. David has given evidence to the All-Party Parliamentary Group on AI and will be giving evidence to the House of Lords Select Committee on AI.
For more information: https://www.mmcventures.com/wp-content/documents/The_State_of_AI_2017_Inflection_Point.pdf
Twitter: @davidkelnar ‏
TensorFlow meetup sponsors: