KLUB KIDS LONDON presents THE MAD DRAG DINNER PARTY The drag dinner cabaret experience PROUD CITY
About this event
KLUB KIDS LONDON presents
THE MAD DRAG DINNER PARTY
The drag dinner cabaret experience
PROUD CITY
Saturday 3rd July 2021
(This event is a socially distanced dinner cabaret show)
The Klub Kids and Mad Drag events presents 'The Mad Drag Dinner Party'
A 2 course dinner event with a full evening of high class cabaret the one fabulous theme of the mad hatter. Each week will have a different cast but the same theme.
Confirmed acts
JORDON - As the mad hatter
BAGA CHIPZ - As the Queen of.Hearts
ALEXIS SAINT PETE - As Alice
GINNY LEMON - As tweedle Dee
(MORE ACT TO BE CONFIRMED)
Expect the unexpected as we take you through the key hole of wonderland, stopping off at Proud cabaret for an unusual dinner with the mad hatter and friends.
VIP DOORS OPEN 7:30pm
GENERAL DOORS OPEN 7:30m
DINNER AND CABARET BEGINS 8:30pm
Pay £20-£25pp now and pay £20 on arrival for your 2 course dinner and welcome drink.
Once you select your table please choose your ADD ON MEAL
(any questions please email Andrew@klubkids.co.uk)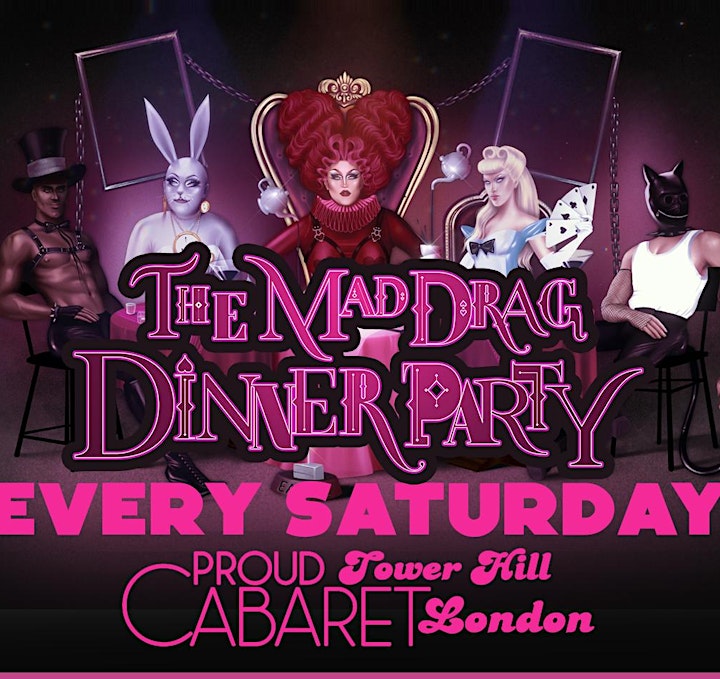 Organizer of LONDON - MAD DRAG DINNER PARTY (Baga Chipz & Ginny Lemon) Ages 18+