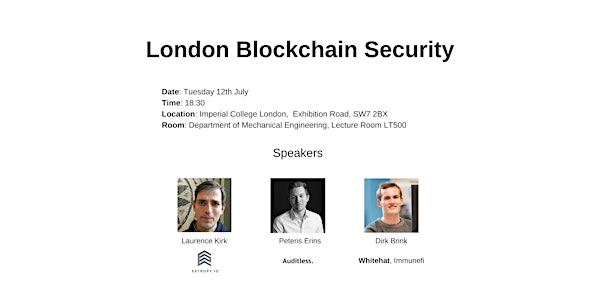 London Blockchain Security launch
Location
Imperial College London
Exhibition Road
London
SW7 2BX
United Kingdom
Launch of the Imperial Blockchain Security meetup, featuring technical talks and networking.
About this event
We're a vibrant community of blockchain security practitioners based in and around London. Each month or so a meetup is held featuring techincal talks and a relaxed environment to meet like minded people, everyone is welcome.
Details: 18:30, Imperial College London, Exhibition Rd, South Kensington, London SW7 2BX.
Room: Room LT500 , Mechanical Engineering Department.
Directions: Access the main entrance to Imperial College on Exhibition Road, turn left once inside to find the elevators. Take the elevator to the 5th floor where a sign will be for the room LT500.
Entrance pinpoint: https://www.google.com/maps/place/51%C2%B029'56.8%22N+0%C2%B010'27.9%22W/@51.4991013,-0.174954,242m/data=!3m2!1e3!4b1!4m5!3m4!1s0x0:0x1f2c6fd54afe8a18!8m2!3d51.4991013!4d-0.1744055
Telegram group: https://t.me/+EKeVjOkPkzU4MzQ0
--------------------------------------------------------
Talks (15 minutes + 5 minutes of questions) by:
Laurence Kirk (extropy.io) - Analysis of the $600m Poly network hack
Laurence is the founder of Extropy.io, a blockchain consultancy. Extropy offers auditing, software development services and technical workshops around Blockchain, Distributed Ledger Technology and Cryptography.
Peteris Erins (Auditless) - Securing ERC4626 implementations
Peteris is the founder of Auditless, a consultancy which partners with current and future crypto leaders
 to create novel smart contract systems. Previously he worked at QuantumBlack, McKinsey, Google, Twitter and other start-ups in various engineering/machine learning roles. He studied Mathematics in Cambridge University with an emphasis on discrete maths and probability.
Dirk Brink (whitehat) - Bug bounty 101
Dirk is a white-hat hacker, searching for bug bounties in blockchain projects via Immunefi. He studied Electrical and Electronic Engineering at Imperial College London.