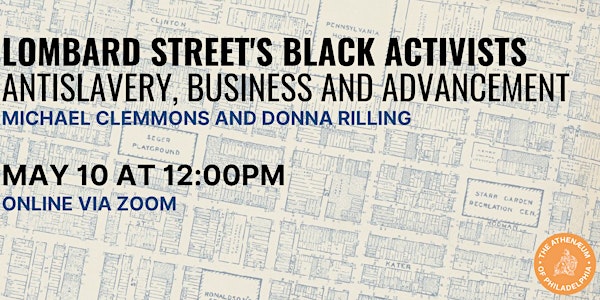 Lombard Street's Black Activists: Antislavery, Business and Advancement
Learn about the history of a recently nominated property for Philadelphia's Register of Historic Places
About this event
Stephen and Harriet Smith, and William and Harriet Whipper, were life-long friends and activists in the nineteenth-centuiry movements for the abolition of slavery and the uplift of their Black community. They built fortunes in business, funded and facilitated the flight of hundreds of freedomseekers to Canada, donated liberally to religious and charitable causes, and were at the forefront of community "betterment" efforts.
Michael Clemmons, a museum docent, and Donna Rilling, a history professor, collaborated to bring recognition to these central and daring men and women. They will discuss the diverse, extensive and laudable activities of the Smiths and Whippers, and the path to proposing their homes for listing on Philadelphia's Register of Historic Places.
Donna Rilling is Associate Professor of History at the State University of New York, Stony Brook. She is author of Making Houses, Crafting Capitalism; Builders in Philadelphia, 1790-1850 (University of Pennsylvania Press, 2001). Rilling is currently writing Foreclosed: The Struggles of a Black Community in Nineteenth-Century Philadelphia. She has co-authored nominations to Philadelphia's Register of Historic Sites, including the William and Letitia Still Underground Railroad Way Station and the 1416-32 West Girard Avenue District. She is sole author of the nomination of the African Friends to Harmony Burial Ground, which served the community she is exploring.