Description
LoLa 38 is inviting the West Philadelphia community to help select public artwork they would like to see in their community over the Spring and Summer months and to learn about each artists' process from the artists themselves.
Unlike a traditional Call for Artists where an artist's work is juried in private to determine participation or eligibility, submittors to the LoLa 38 Call for Artists will pitch their work in person to a jury of their peers: fellow artists, community members, curators, family members, and friends. One person, one vote.
In an exciting presentation style - Pecha Kucha - artists will have exactly 5 minutes (15, 20 second slides) to pitch to their peers why their work should be chosen to be included in a series of art installations.
Register today to participate and choose the artwork you may see on Lower Lancaster Avenue in the Spring and Summer of 2017 from the following artists:
Alice Thompson, Ameerah Khabir, Andrea Walls, BCASSO, Chanelle Hurst, Christopher T Wood, DEAR VOLUNTEERS , Ellen Tiberino, Emilia Brintnall, Emily Gold, Gabrielle Patterson, GloriaJean Martin, Karina Puente, Lucy Pistilli, Matt Giel, Melanie Booth, Melanie VanReymersdal, Oluwafemi, Pamela Chuang; Sarah Kim & Shell Myers, Sophie Sanders; Viktoriya Pozdnyakova, Nicholas Beardsley & Marina Stuart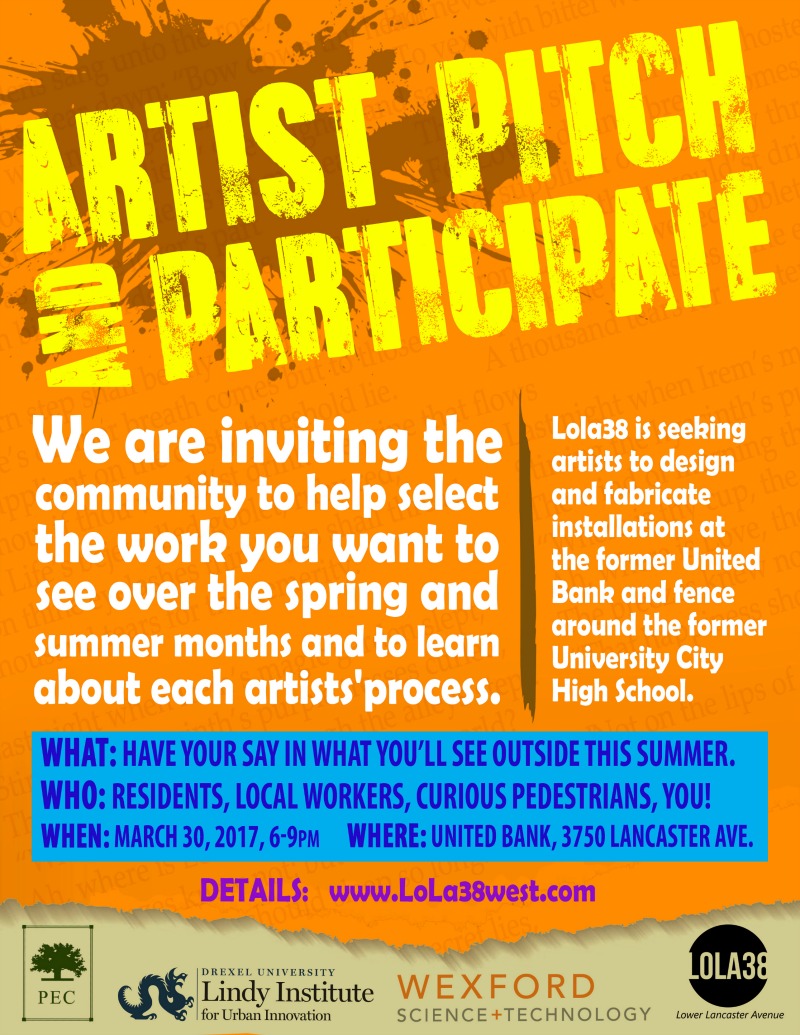 Organizer of LoLa 38's Artist Pitch & Participate
LoLa 38 is a Creative Placemaking project in West Philadelphia focused on the intersections of 38th st., Lancaster and Powelton avenues. Our mission is to encourage civic conversation through the artistic activation of the diverse social and geographic assets which make Lower Lancaster Avenue a gateway to West Philadelphia's arts, culture, and community.
This project is a partnership between Drexel University's Lindy Institute for Urban Innovation, People's Emergency Center CDC and Wexford Science + Technology.