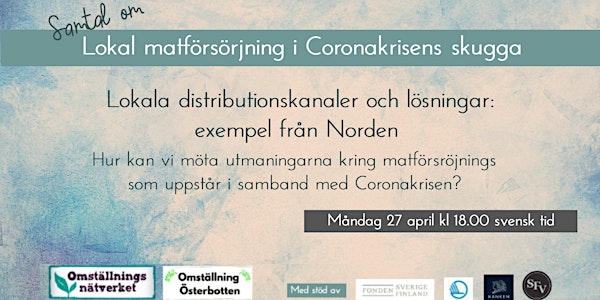 Lokala distributionskanaler och lösningar: exempel från Norden
Refund Policy
Contact the organizer to request a refund.
Description
Paneldiskussion med Ålands REKO (FI), Local Food Nodes / Albin Ponnert (SE), Michel Poulsen/Søtoftes Jordbrug (DK), Tore-Jardar Wirgenes/Virgenes Andelsgård (NO), Foodhub Nylands mat/Rikard Korkman (FI), Thomas Snellman/REKO-nätverket mm. (FI).

När du registrerar dig till evenemanget så får du en Zoomlänk skickad till dig via Eventbrite. Håll utkik!
Du kan välja att ge oss en valfri summa i donation för att hjälpa oss att bygga folkrörelse för en starkare lokal matförsörjning, men du kan också delta gratis.
Varför ordnar vi dessa webinarier? Jo, för att vi vill bygga folkrörelse tillsammans med dig, en folkrörelse för motståndskraftig lokal matförsörjning. Följ med oss i Potatisuppropet! Läs mer på www.omstallning.net/potatisuppropet