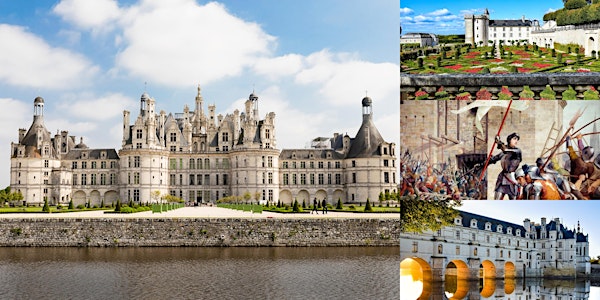 'Loire Valley Châteaux: The Pleasure Palaces of French Royalty' Webinar
Can't make it live? Register and get access to the full replay for one week! New York Adventure Club | www.AdventureClub.com
About this event
Every summer between the 10th and 18th centuries, the kings and aristocracy of France would escape from the hustle and bustle of Paris to their fairy tale castles and estates throughout the lush countryside of the Loire Valley. Who were some of the famed French figures who visited, or lived in, one of these pleasure palaces? And which ones had the most extravagant structures and gardens? It's time to virtually uncover the sights and stories behind some of the 300+ châteaux that still define one of the world's great empires at the peak of its power.
Join New York Adventure Club as we explore the incredible history, architecture, and stories behind some of the châteaux and estates throughout the famed Loire Valley in France — all of which are inextricably linked to hundred of years of French royalty.
Led by Edith de Belleville — French licensed tour guide, author, and attorney-at-law — our digital showcase of some of Loire Valley's most notable châteaux will include:
A brief overview of why French royalty began building their summer homes in the Loire Valley beginning in the 10th century
A close look at a curated selection of notable châteaux, both big and small, including Chambord, Amboise, Azay-le-Rideau, Chenonceau, Chinon, Le Clos Lucé, Loches, and Villandry
The life of charismatic characters who lived in these magnificent castles such as Catherine de Medici, Diane de Poitiers, Joan of Arc, Anne de Bretagne, King François I, and Leonardo da Vinci
What makes a French Garden and how Loire Valley castles played a role in their international reputation
Stories of passion, jealousy, and tragedy from within the castle walls between the Middle Age, Renaissance, and Enlightenment Era
Loire Valley today and why this region filled with UNESCO World Heritage-listed landscapes and award-winning vineyards is still a magical destination for French and tourists alike
Afterward, we'll have a Q&A session with Edith — any and all questions about the Loire Valley châteaux are welcomed and encouraged!
Can't make it live? Don't worry, you'll have access to the full replay for one week!
See you there, virtually!
*Once registered, you will receive a separate, automated email containing the link to join this webinar
**For the best possible viewing experience, please ensure you're using the latest version of your internet browser — Google Chrome is the most compatible. Exact technical requirements and a webinar user guide will be shared in the automated confirmation email upon registration.
***A full replay will be available after the experience for all registered guests
About Edith
Edith de Belleville is a native Parisian woman. She is a licensed tour guide, lawyer, author and a qualified French teacher for foreigners. She wrote a book about Beautiful Rebels of Paris in French ("Belles et Rebelles" , Éditions du 81) She is also a professor and teaches the Jewish heritage in Paris at Gustave Eiffel University (Marne-la-Vallée) She just published a new book in English about her memoirs in Paris "Parisian Life, adventures in the City of Light." And she spends so much time at Le Louvre and Orsay Museum that it's her second home.
Disclaimer
By attending a New York Adventure Club experience, you accept our terms of service.
Photo Credit: Main Photo - Dorian Mongel, Top Right and Bottom Right - AXP Photography
Categories: Virtual, Landmarks