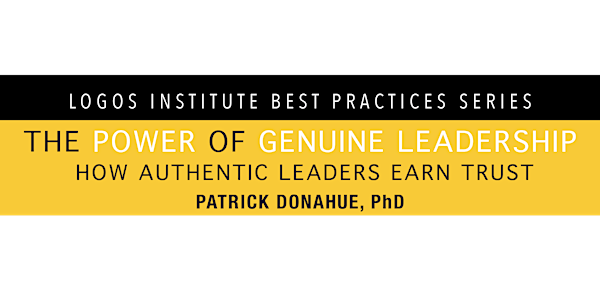 Logos Institute Press Book Launch for The Power of Genuine Leadership
Join us as we celebrate the publication of Logos Institute Press' third title, 'The Power of Genuine Leadership' by Patrick Donahue, PhD!
About this event
What does it mean to be authentic? How can leaders increase others' trust in their leadership? Based on his doctoral research and decades of coaching corporate leaders, author Patrick Donahue PhD cracks the code on how leaders can build trust through authenticity in The Power of Genuine Leadership: How Authentic Leaders Earn Trust, the third volume in the Logos Institute Best Practices Series.
Attendees of the book launch celebration will hear remarks from the publisher, the author, and endorsers of the book. The last 15 minutes of the event will be devoted to a live Q&A with the author, Patrick Donahue.
The Logos Institute for Crisis Management and Executive Leadership stands at the intersection of scholarship and practice, providing rigorous analysis and practical application of key leadership principles. The Logos Institute Best Practices Series showcases conceptual frameworks that help clarify complex issues, combined with insightful case studies, examples, and actionable tools, tips, and techniques that help leaders make smart choices and build competitive advantage. To learn more, please visit www.logosconsulting.net