Loganville Community Ministry Village's Annual Benefit and Silent Auction
Description
It is with great excitement we invite you to participate in The Ministry Village Benefit and Silent Auction on Thursday, September 29, 2016 at The Engine Room in Monroe, GA.
The Ministry Village is a 501(c)3 organization serving all of Walton County by bringing restoration to a community in need. We do this by identifying and helping to meet the actual emotional, physical, and spiritual needs in lives and families through programs in health, wellness, recovery, and compassion.
We offer four main services to our community: The Vine (foster care support), Family Restoration Center (restoring families through supervised visitation), Hope House (professional counseling center) andProject Jumpstart (poverty alleviation program).
From induvidual counseling, to marital counseling, to family counseling, to play therapy, to adolescent therapy, to anger management, to substance abuse counseling, to supervised visitation, to caregiver support for grandparents and foster parents, to court-mandated accountability programs, to accountability-based redemption programs for the truly desperate desiring a different path like Project Jumpstart, The Ministry Village is an invaluable resource to the Walton County community from which NO ONE IS TURNED AWAY.
Here's how you can help:
Please mark your calendar now and plan to attend the Benefit & Silent Auction on Septempber 29th at The Engine Room in Monroe. Tickets are $25 per person. We encourage you to bring a friend or colleague and your checkbook.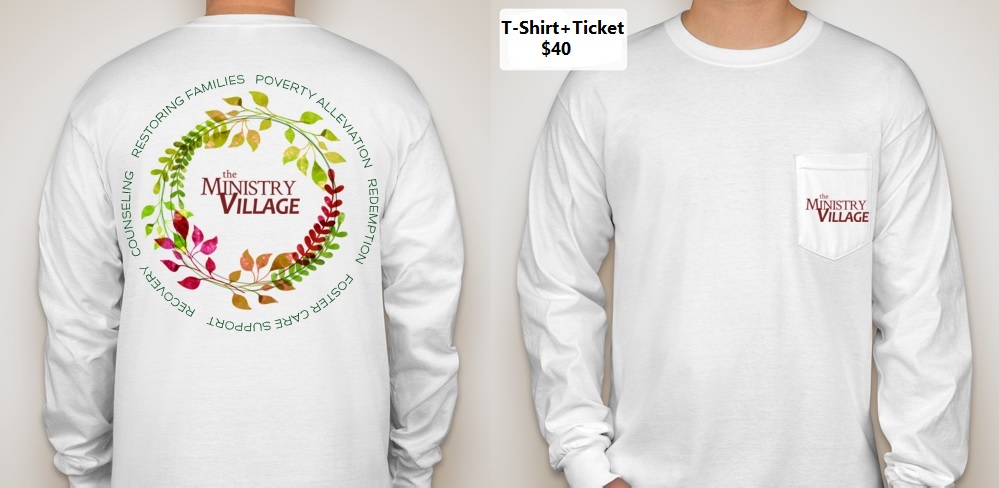 We look forward to the possibility of partnering with you to bring long-lasting positive impact to our community! 

Tickets to include a tshirt are avaialble for purcahse: