Sales Have Ended
Registrations are closed
Sorry you missed this one, please check for availability in our upcoming events at the Logan Startup Hub
Sales Have Ended
Registrations are closed
Sorry you missed this one, please check for availability in our upcoming events at the Logan Startup Hub
Description
Suddenly you find yourself approaching 50.
Inevitably, a few questions start to surface.
Have you started to realise that your superannuation is not going to support you the way you would like in retirement?

Are you still working for "The Man" and want to take charge of your own life?

Have you always wanted to do something for yourself, but have been afraid to try?

Are you sick of making somebody else wealthy while you simply make a living?
These are just a few of the questions that people ask. Yet very few do anything about it.
Why?
My experience is that the overwhelming majority of people succumb to a whole bunch of "reasons" why they have not achieved what they wanted. Those "reasons" are usually attached to beliefs that create a mindset of doubt.
I am here to say that those beliefs that have held you back can be overcome. Overcoming those beliefs will rid you of the shackles and limitations that have held you back. It is a combination of overcoming beliefs and having sufficient knowledge and confidence to step forward which separates those who are successful from those who just merely exist.
Let's use your experience to create a whole new set of opportunities! Alternatively, if you already have an idea or are in the first steps, let's expand upon that and help you put some structure and purpose around things you wish to achieve!
About Neville Stone
At 15 Neville Stone joined the Royal Australian Navy, and following that took up sales and management positions in the retail, insurance and real estate industries. He has successfully managed businesses, started businesses from scratch, and has also bought established businesses.
In his mid-50's while recovering from a major back injury he was made redundant from his main source of income. Faced with the special issues that people over-50 face when they are put "on the scrapheap", he observed the difficulties that many people face when they have to reset or restart their lives later in life.
Since then he has devoted himself to helping people grab a new lease on life through helping them navigate to a positive mindset. He has developed a pathway for people to reinvent themselves and launch themselves into successful futures.
Over the last 10 years he has studied and been on stage with some of the best minds in the Personal Development industry. When going through what he called his 'Karmic Apocalypse' he realised the challenge of living the principles he had been learning. Through this period of learning he wrote his book, "Retrenchment-Opportunity from Upheaval" to assist people navigating redundancy or retrenchment. He is also a featured author along with Dr John Demartini in "Success Uncovered".
He has successfully coached people starting up new businesses, and has also helped businesses expand and develop when they reached plateaus.
Neville is a man who has walked his talk when it comes to recovering from major physical and emotional events. He has reinvented himself as a successful Coach, Author, and Mentor.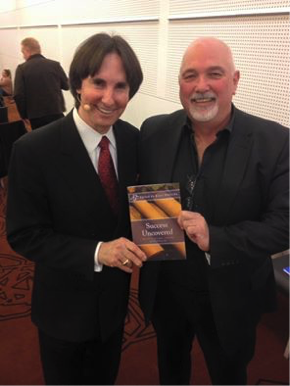 From Left: Dr John Demartini with Neville Stone and "Success Uncovered"