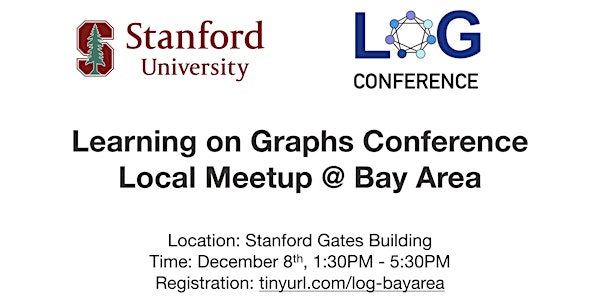 LOG Local Meetup - Bay Area
A bay area local meetup for the Learning on Graphs conference (https://logconference.org/)
When and where
Location
Fujitsu Lounge, Gates Computer Science 353 Serra Mall Room 431 Stanford, CA 94305
About this event
We are hosting a bay area local meetup for the Learning on Graphs conference (https://logconference.org/). If you are interested in learning what are people up to in the graph machine learning space, and mingle with like-minded folks, come join us!
Schedule:
1:30-2:00 Registration
2:00-2:05 Opening
2:05-2:20 Vassilis Ioannidis (AWS)
Impactful graph neural networks at AWS: A Tale of Research and Productization
2:20-2:35 Shiwei Liu (UT Austin)
You Can Have Better Graph Neural Networks by Not Training Weights at All: Finding Untrained GNNs Tickets
2:35-2:50 Daniele Gammelli (Stanford)
Graph Reinforcement Learning for Network Control via Bi-Level Optimization
2:50-3:05 Luca Franceschi (AWS)
ReFactor GNNs: Revisiting Factorization-based Models from Message-passing perspective
3:05-3:20 Yuhong Lu (UMASS)
Neighborhood-aware Scalable Temporal Network Representation Learning
3:20-3:35 Hongyu Ren (Stanford)
Large scale reasoning over knowledge graphs
3:35-5:00 Social + Poster session
Food and drinks will be provided!
The parking information will be sent out right before the event!