Log Cabin Day, a free, family-friendly festival presented by People for Palmer Park, NEEDS VOLUNTEERS for setup, arts for kids, cleanup, etc
About this event
VOLUNTEERS NEEDED! Log Cabin Day & Ice Cream Social Returns to Palmer Park
DETROIT – Log Cabin Day, a free, family-friendly festival presented by People for Palmer Park, will celebrate history, music, dance, theater, storytelling, and art on Sunday, June 27 from 1-5 pm. VOLUNTEERS ARE NEEDED from about 9 AM to 7 PM (2-3 hours shifts or all day) make this a successful event for the community.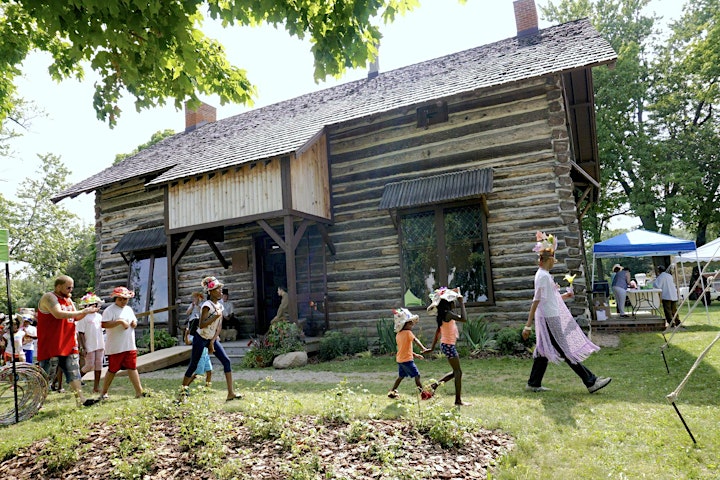 The event — which coincides with National Log Cabin Day — will be held in the beautiful outdoor setting next to the historic Palmer Park Log Cabin overlooking Lake Frances. Dressing-up in vintage attire and hats from the 1800s-early 1900s is encouraged. Palmer Park is located in northwest Detroit, just west of Woodward Avenue, between McNichols and Seven Mile Roads and bordered by Merrill Plaisance.
This beloved community event, held for the past decade (until Covid last year), transforms the grounds of the Palmer Park Log Cabin with vibrancy, fun, and enrichment with a variety of activities and presenters, including:
Meet the 102nd USTA Black Civil War History Group;
Learn about the history of the Log Cabin and Palmer Park from our Mrs. Lizzie Palmer actress and friends;
Enjoy free homemade ice cream and frozen desserts from Motor City Brewing Works for the first 500;
Arts and crafts for all ages; make a mini-log cabin!
Readings by author Barbara Allen, a sixth-generation descendent of famed abolitionist and suffragist Sojourner Truth, from her new children's book, "Remembering Great Grandma;"
Quilting demonstrations and quilt display with April Shipp of Griot's of Cloth;

Display of a collection of the historic, renown Gee's Bend Alabama quilts;
Weaving demonstrations by Michael Daitch of Coat of Many Colors Weaver;
Spinning wheels and knitting with Lynette Halaway of Knit So Fabulous and friends;
Musical theatre with Dreams Arts Company's gifted youth performing excerpts from Peter Pan;
Dance with Justin Alesna and students from ArtLab J Dance Studio;
Jazz, tango, classical, folk and more with accordionist Jessica Fligger;
The Wheelman on their penny farthings;
Food pop-up with the Pink Flamingo To Go
Built in 1885 for Senator Thomas and Lizzie Merrill Palmer by the renowned architects George D. Mason and Zachariah Rice, Palmer Park's extraordinary Log Cabin makes history come alive. The cabin, which looks like a rustic cabin on the outside and a Victorian-era home on the inside, was used by the Palmers as a place to host parties in what then was the countryside outside of pre-auto industry Detroit. Although it will not be open for tours this year, the impressive landmark with its restored stain-glass windows is an enchanting testament to historic preservation.
Sen. Palmer donated the land to Detroit in 1897 with the stipulation that it always remain a park for the enjoyment of all. The cabin lay dormant for some four decades until People for Palmer Park and the City of Detroit successfully raised funds to restore it. Log Cabin Day celebrates the rebirth of the cabin and of Palmer Park. People for Palmer Park's sponsors for this year's event include City of Detroit Parks & Recreation Dept., City of Detroit General Services, Motor City Brewing Works, and Integrity Shows.
Located between McNichols and 7 Mile Roads and west of Woodward Avenue in Detroit, Palmer Park has been a treasured nature park and recreation site for more than 130 years.
PFPP is a nonprofit 501(c)(3) organization committed to the revitalization of Palmer Park. The group helps to organize free classes for yoga and t'ai chi, weekly bike rides, a walking group, tennis programs for children and adults, a community garden and gardening workshops, and more. For more information, visit peopleforpalmerpark.org
Organizer of Log Cabin Day 2021 Volunteers
"A park for the good of everyone."
~Senator Thomas W. Palmer  
With the threat of park closings and budget cuts by the city, the People for Palmer Park (PFPP) arose from members of the community who love Palmer Park for the gem it was, is, and can be. 
PFPP is dedicated to the revitalization of Palmer Park and creating a safe, accessible and equitable place for everyone of all ages to enjoy nature, recreation and healthy opportunities. PFPP is a 501(c)(3) charitable organization and the official "Adopt-a-Park" Partner with the CIty of Detroit.
PFPP believes that with the collective energy, efforts, and talents of the people who use and love the park, it can be revitalized to its fullest potential and restored to what Senator Palmer envisioned when he donated the land for the park in the late 1800s: "a park for the good of everyone." Palmer Park is comprised of 296 acres of lawns and historic woodlands, new tennis courts, splash park, hiking and biking trails, Lake Frances, a historic log cabin, a community garden, playgrounds, and more. 
PFPP is a membership organization and new members and volunteers are necessary and welcome. Core members of the PFPP include residents and representatives from diverse neighborhoods and community organizations.
PFPP is committed to the preservation, recreation, and revitalization of Palmer Park, for the good of all. Our vision is to create an urban oasis, regional destination, and daily recreation site that will promote an active and healthy community. Our guiding values include preservation of park resources; restoration and preservation of the park's history; equal benefit and access to the park; creation of a safe park environment; responsiveness to park users and the community; timeliness in our actions; and collaboration and cooperation with city, community, and stakeholders.