2021 LoDo Limelight Awards - 30th Anniversary Celebration
About this event
The LoDo Limelight Awards celebration is back! Limelights is our opportunity to honor community members and business leaders who've made significant contributions to the Lower Downtown District and/or the greater Denver community. It is a fun-filled experience with guest speakers, live entertainment, and of course, delicious food and drink. Guests dress up in cocktail attire and embody the unique charm of Denver's oldest neighborhood while toasting to one another's accomplishments.
This year's event is sure to be a great time for all, with live music, an illusionist, and local drag queen legend Laura Menorah as MC! We anticipate having many of Denver's most involved community members in attendance. We look forward to hosting a wide cross-section of movers and shakers from the LoDo residential and business communities. We are thrilled to host Limelight this year at the newly-minted Rally Hotel at McGregor Square, featuring an outdoor terrace in addition to function space and incredible views.
Admission includes one drink ticket, heavy hors d'oeuvres, and a cash bar. Plus we'll have giveaways and door prizes inside! All proceeds from Limelight go 100% towards future LoDo District & LoDo Cares initiatives.
All ticket sales are eligible for a full refund if CDC recommendations or local public health guidelines affect the event.
*All event attendees must be able to show proof of a COVID 19 vaccine.
Sponsorship Opportunities:
The LoDo District is seeking event sponsors for this 2021 LoDo Limelight Awards. Get in touch with john@lodo.org to learn how to feature your business as a sponsor for as little as $500.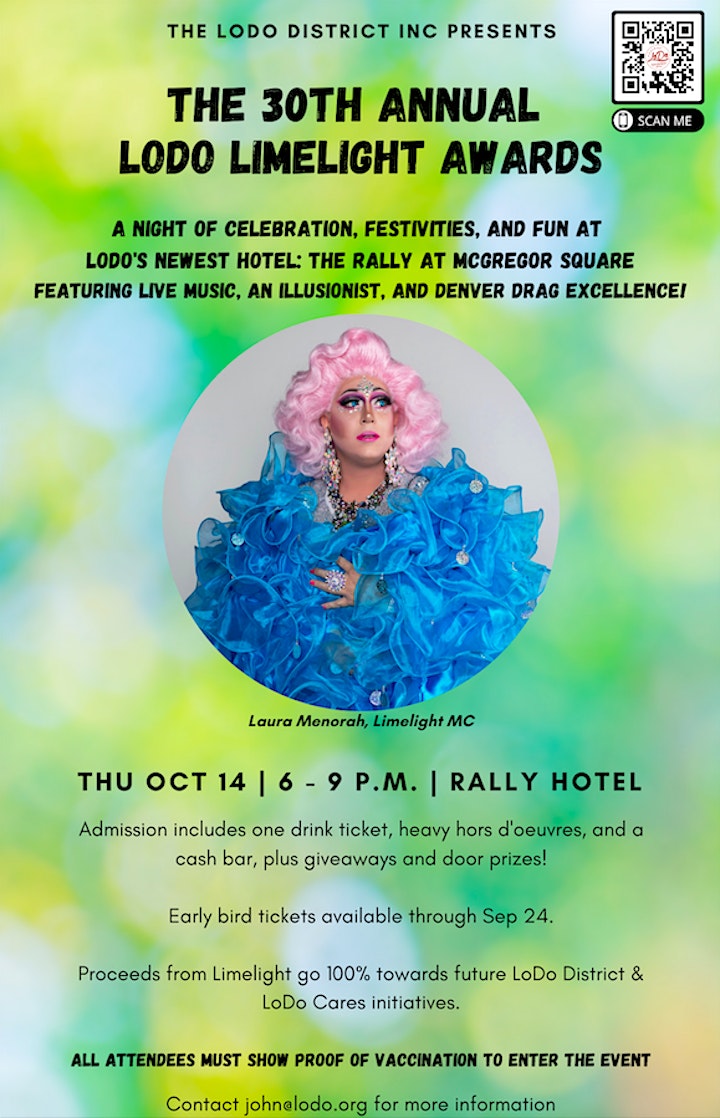 Follow Laura Menorah on Instagram: https://www.instagram.com/ms._lauramenorah