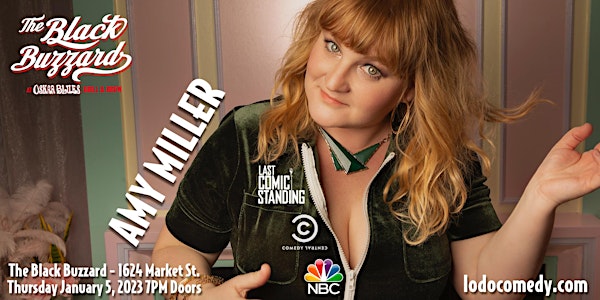 LoDo Comedy Show - Amy Miller - Black Buzzard Denver - January 5, 2023
LoDo Comedy Show at The Black Buzzard with Amy Miller who you've seen on Comedy Central and Last Comic Standing and at Ball Arena
When and where
Location
The Black Buzzard at Oskar Blues Grill & Beer 1624 Market Street Denver, CO 80202
About this event
LoDo Comedy show is kicking off with a bang! Amy Miller is HILARIOUS. You have seen her on Comedy Central and Last Comic Standing and oh itsy-bitsy humble brag, opening for Tom Segura at the Ball Arena for eighteen thousand people.
Would you rather we call it Pepsi Center? We like your style. Come join us at The Black Buzzard at Oskar Blues Grill & Beer. A perfect comedy environment! Subterranean. Low ceilings. Amazing sound system. Professional lights. Great staff and service. Delicious food and drink.
Bring a date, come solo, bring your Peruvian bobsledding team we don't care, just don't miss an incredible LoDo Comedy Show in the heart of Lower Downtown Denver.
Heads up if you are driving, weeknight evening parking is CHEAP. You can park less than a block away at 1560 Market St. for $8 (3PM-5AM) or Tabor Center for $5 (after 4PM).
Doors are at 7, show is at 8.
Great national and local acts. Lineup subject to change.
LoDo Comedy Show is brought to you by the team behind Vail Comedy Show and Vail Comedy Festival.
No food or drink minimum. No secrets.
Future shows and more information at www.lodocomedy.com
About the headliner:
Amy Miller was one of Comedy Central's "Up Next" comics, and has a Half Hour Special called Ham Mouth on Comedy Central. As a brand new comic she was a breakout favorite in the final season of Last Comic Standing. She has a half hour comedy special on Epix's Unprotected Sets and her Comedy Central Presents set has been viewed over 3 million times on Youtube and Facebook. Amy regularly opens for Tom Segura, Wanda Sykes, and several more of her comedy idols! She was also a featured comic on Viceland's Flophouse. On Last Comic Standing, Keenen Ivory Wayans said she had one of the "fiercest jokes he had ever heard." Originally from the East Bay, Amy found her comedy chops in Oakland and is still a regular at the SF Punch Line and Cobb's Comedy Club, as well as a paid regular at The Comedy Cellar, The Hollywood Improv and the Laugh Factory, and is in development at the World Famous Comedy Store. Her material is personal, political, and 100% authentic. The Laugh Button says "She found a wildly creative way to find empowerment while simultaneously sparking laughter" and Courting Comedy says "Miller juxtaposes an unassuming demeanor with unflinching assurance." After a move to Portland, Amy quickly rose to the top of the Pacific Northwest comedy scene, winning Portland's Funniest in Helium's 2015 contest, as well as being voted Portland's Funniest Comedian for 2013 and 2015 in the Willamette Week.
Amy's debut album Solid Gold is available on Kill Rock Stars, and was named one of the top 10 comedy albums of 2016 by The Interrobang. Her sophomore album California King is available on Blonde Medicine Records. You may have also seen Amy on Viceland or heard her on Sirius XM, NPR, Doug Loves Movies, The Adam Carolla Show, The Bennington Show, Put Your Hands Together, All Fantasy Everything, Keith and the Girl, or her own podcast "Who's Your God?."
Amy is a nationally touring festival and comedy club headliner, and she has performed in the Moontower Comedy Festival, Bridgetown Comedy Fest, SxSW, the High Plains Comedy Fest, Laughing Skull, Big Sky, San Francisco Sketchfest, the Bumbershoot Festival and more.
Additional comics:
AJ Finney
Noah Reynolds
Shanel Hughes
Hosted by Mark Masters
About AJ Finney - Stylistically manic, artistically brilliant, AJ Finney is an eclectic midwesterner with a passion for the psychedelic scene of the Sixties. Comedy, jam bands and Volkswagens — that's him. He's an eco-friendly, improvisational, sometimes philosophical, patchouli-soaked quipster. AJ's organic approach is refreshing and his poetic stream of consciousness style makes for a colorful and unforgettable comedic experience. His audience (much like the Deadheads) are finding him through alternative venues such as music festivals, head shops, and record stores. In 2014 AJ was crowned "Best of the Midwest" winner at Gilda's LaughFest in Grand Rapids, was featured on the FOX television show Laughs, and was one of the 100 performers chosen for Season 8 of NBC's Last Comic Standing. In 2013 he was a semifinalist in the Comedy Central talent search Up Next, as well as a finalist in the 2011 San Francisco International Comedy Competition. He was voted "Best in Fest" at the 2011 Detroit LaughFest and was a finalist in HBO's Lucky 21 comedy competition. AJ is an effective and engaging storyteller with a rhythm that quickly pulls you into his world. You'll laugh until you leave and then later you'll laugh again.
About Noah Reynolds - Noah Reynolds is a stand up comedian based in Denver, CO. He was the runner up in the 2019 Comedy Works New Faces competition. He has performed on The Chief Comedy Festival, High Plains Comedy Festival, and that's about it as far as festivals. Noah has performed with the likes of Sam Tallent , Kyle Kinane, Josh Blue and Jackie Kashian. His podcast "Chicken and The Nuggets" is part of The Basketball Podcast Network and Co-Hosted by fellow Comedian Jacob Rupp. He is a regular at The World Famous Comedy Works in his hometown of Denver.
About Shanel Hughes - Shanel Hughes is a gorgeous, hilarious, and ridiculously talented human being. Born and raised in Denver, Colorado, she has now grown up to be a Regular at Comedy Works Denver. She has perfomed and hosted at various venues all across Colorado, including The Comedy Fort, Loonees Comedy Corner, the Denver Improv, 3E's and in several states across the country, including New York Comedy Club in New York, The Comedy Store in LA, and The Bird Theater in Missouri. She has opened for comedians such as Ms. Pat, Maria Bamford, Amy Miller, T. Murph, AhmedAhmed, Greg Morton and Mope Williams. Her comedy style can be described as an evening with your funny and super relatable best friend. Her warmth and contagious energy fills each room she enters. To the stage, she brings years of improv and acting skills. Shanel was a semi-finalist in the annual Comedy Works New Faces Competition during her first year, and has been accepted to perform in comedy festivals in states including Alaska (where she won Best of Fest), Colorado, Texas, New York, Ohio, Atlanta and Oregon. Shanel currently resides in Denver, Colorado with her wife and son.
About Mark Masters - Mark Masters is Colorado's 2nd cleanest comedian, a comedy club headliner and a lovable goof. He has appeared on AWE Network and is a regular on OutsideTV. He is a headliner on the Pro Comedy Tour and an enthusiast of making the trivial funny.