Loctite-Hantel Joint Webinar (Part 1 of 2): Considerations for Medical Adhesive Joint Design and Plastics Selection

Thursday, March 28, 2013 from 11:30 AM to 1:00 PM (PDT)
Event Details
Hantel Technologies is pleased to announce the first seminar in the 2013 – 2014 Hantel Tech webinar series:
Loctite-Hantel Joint Webinar
(Part 1 of 2): Considerations for Medical Adhesive Joint Design
and Plastics Selection
Speaker:   Kyle Eales (Henkel-Loctite)
Date:  Thursday, March 28th, 2013
Time:   11:30 AM – 1:00 PM PST
Location:   Hantel Technologies | 703 Sandoval Way | Hayward, CA

The first 30 minutes will be used as a networking session, and the seminar will begin at noon. The webinar link will be sent out the morning before the event.
You are cordially invited to attend in person at Hantel Tech (lunch provided / limited number of seats), to join live via Webinar, or to view at a later date (links will provided to registrants and to those who request notification). Please register on Event Brite for this free seminar - and select how you would like to participate.
-----------------------------------------------------
Abstract:
Medical adhesives are crucial in medical device development, especially for consideration in devices geared for high production where hardware fasteners are not a viable option. In this initial part 1 of 2 series from Henkel Loctite, responsible for medical adhesives specified by medical device manufacturers for over two decades with products tested to the industry's most comprehensive ISO 10993 biocompatibility standards, we will focus on design aspects to consider for medical device development. Topics include adhesive joint design (e.g. the forces and failure modes), bonding plastics and adhesive/plastic selection (e.g. surface treatments and exercise in using the design guide), resistance to both ethylene oxide (EO) and gamma sterilization, as well as biocompatibility testing.  This discussion is designed to equip those in medical device development to increase product quality and reliability, and to avert potential preventable failures rooted in the understanding of adhesives in medical device design. 
Kyle Eales is the Medical Focus Account Manager (Western Region, including CR, and MX border towns), and started her nearly three decade career with Henkel Loctite as an OEM Territory Sales Representative for Orange & San Diego Counties and Tijuana, MX, and then also been an OEM Specialist and Market Manager positions. She has received multiple Henkel awards for her services, including Top NA Growth and Excellence for Customers Awards. She also has years of experience calling on large medical device manufacturers and Design Centers, as well as startups, and has trained over 50 Henkel sales representatives  and provided over 1,000 training seminars to medical device engineers.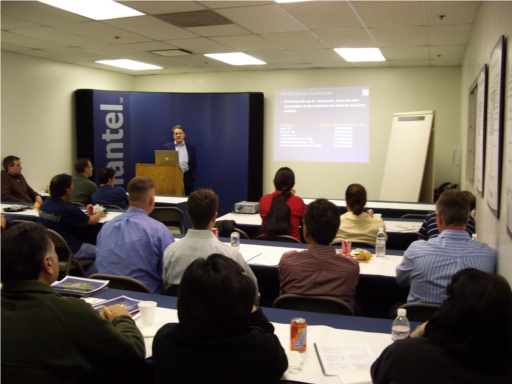 Since 2007, Hantel Tech has hosted a webinar series forum for the medical device community in the Bay Area generally on the fourth Thursday (noon) of each month. Please feel free to peruse former seminars in the series available via the hanteltech.com website and contact us at webinar@hanteltech.com for more information.
Have questions about Loctite-Hantel Joint Webinar (Part 1 of 2): Considerations for Medical Adhesive Joint Design and Plastics Selection?
Contact Hantel Technologies
Organizer
Hantel was founded in 1999 with a vision of a company that would bring medical devices to market, with all services provided under one roof. Since then, Hantel has become a leader in contract design and manufacturing, having developed hundreds of products for a wide array of applications. Hantel retains a highly qualified and diverse workforce with expertise in all aspects of medical device development and manufacturing. Located near the heart of Silicon Valley, Hantel is convenient and accessible to a wide array of device and bio-tech firms. Providing fast and flexible service, Hantel was built to meet your needs.