Multiple Dates
Locking the Good to release the Great - Women's International Conference
Description
Locking the GOOD to release the GREAT!

'The Power of the Mind' is an international women's Motivational conference that takes place every year in different cities around the world.
It's not only a learning conference, but also an opportunity for women to be exposed to a cultural networking and creative environment.
They can also speak to their passion, awaken their dreams and connect with strategic, visionary like-minded women from around the world to build long-lasting relationships. Network is our thing!
Our Goal:
Our main goal is to transform minds and touch lives of women, inspiring them to think BIG and do BIG. We use coaching techniques to deliver valuable knowledge about differen areas of life in order to impact the mindset and change unfruitful behaviors.
Please note that it's a 2 day event:
Day 1: Conference
03.16.18
Local:Mindwarehouse
111 NE 1st Street, 8th Floor
Miami, FL 33132, United States
Time: 8:30am-2pm
Conference agenda: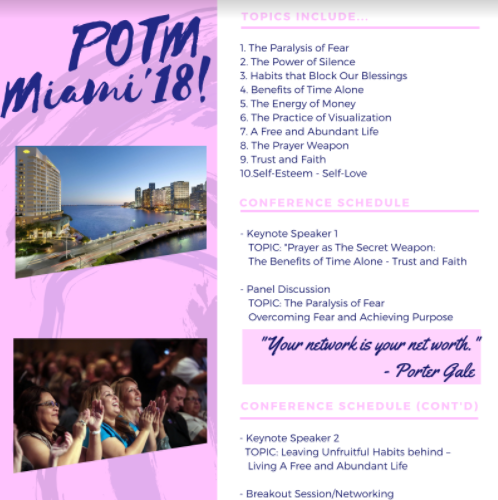 Breakout sessions
1. The paralysis of fear
2.The power of silence
3. Habits that block our blessings
4. Benefits of time alone
5. The energy of money
6. The practice of Visualization
7. A free and abundant life
8. The Prayer weapon
9. Trust and faith
10.Self esteem - self love
Day 2: Networking Brunch
03.17.18
Local: Miami Area 31
270 Biscayne Boulevard Way
Miami, FL 33131, United States
Time: 12pm - 3pm