With Chef Mark Noguchi, Chef Kealoha Domingo, Dana Shapiro and winners from the CB Recipe Challenge.
About this event

During this virtual event wrapping up the CB Recipe Challenge, Chef Mark Noguchi of Chef Hui and Pili Group will be joined by special guests Chef Kealoha Domingo of Nui Kealoha and Dana Shapiro of Hawaii Ulu Co-op for a celebration of locally-sourced food.
Congratulations to the first place winning recipe Maia Ulu Mochi by Joei Tyra whose dish will be featured in a cooking demo by Chef Mark Noguchi.
You can find that recipe and more on Civil Beat's Hawaii Grown Recipes page and mahalo to everyone who submitted their recipes and votes.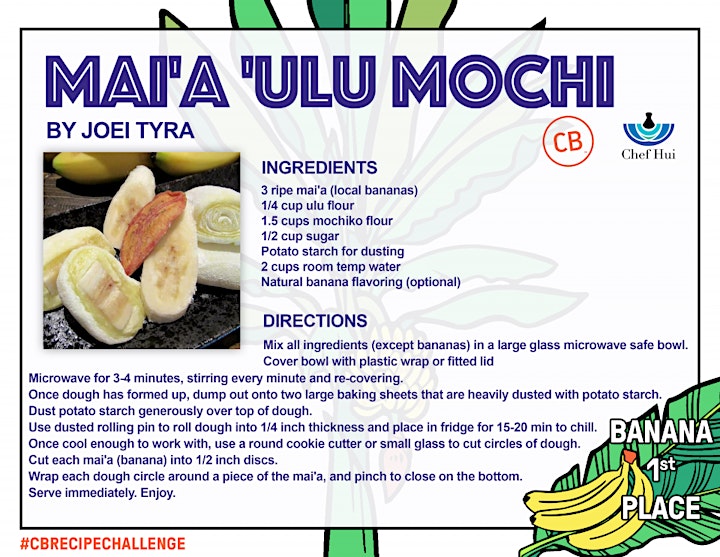 Looking for ulu fruit, ulu flour or other ulu products? Order online or use Hawaii Ulu Coops product locator.
This virtual event will be recorded and sent to everyone who registers, including those who cannot make it live. Transcripts will be available by request following the event.
By registering for this event, you'll receive a subscription to Civil Beat's free e-newsletters and Chef Hui's weekly newsletter. And don't worry, we hate spam too! You can unsubscribe any time by clicking the link at the bottom of each email.
For event sponsorship opportunities contact Ben Nishimoto, Vice President of Operations and Philanthropy, at bnishimoto@civilbeat.org.
Organizer of Locally Sourced: The Civil Beat Recipe Challenge Goes Live