Description

In this two-day Inspired Community Adventure, we explore how local village entrepreneurs design and produce products services inspired by both Mother Nature and their own sense of creativity. We will meet a group of farmers who came together to grow cacao and produce organic chocolate, a woman who makes her own virgin coconut oil using a special recipe calling for 11 types of coconut, a group of farmers who raise gurami fish in their rice terraces, a community of educators who have designed and developed an innovative early childhood educational curriculum intended to inspire local self-sufficiency and sustainability, and a social enterprise focused on promoting and preserving songket fabrics, a time-honored skill that is in danger of being lost and forgotten.
Day 1 (Gumbrih Village, West Bali)
0800-1100: Journey to West Bali (Stop at a beautiful rice terrace along the way.)
1100-1200: Lunch at a secluded beach
1200-1400: Chocolate farm and factory (Learn to make chocolate.)
1400-1600: Virgin coconut oil production site (Learn to make virgin coconut oil.)
1600-1700: Wildlife rescue site (Meet rescued monkeys, snakes, and other animals.)
1700-1800: Dinner at a gurami fish farm
1800: Check into a hotel/resort
Day 2 (Pendem Village, West Bali)
0800-1000: A creative and innovative preschool
1000-1100: Balinese songket production site
1100-1300: Lunch with a local village leader
1300-1400: Meet a local priest (Learn about local spiritual beliefs and receive a blessing.)
1400-1800: Return trip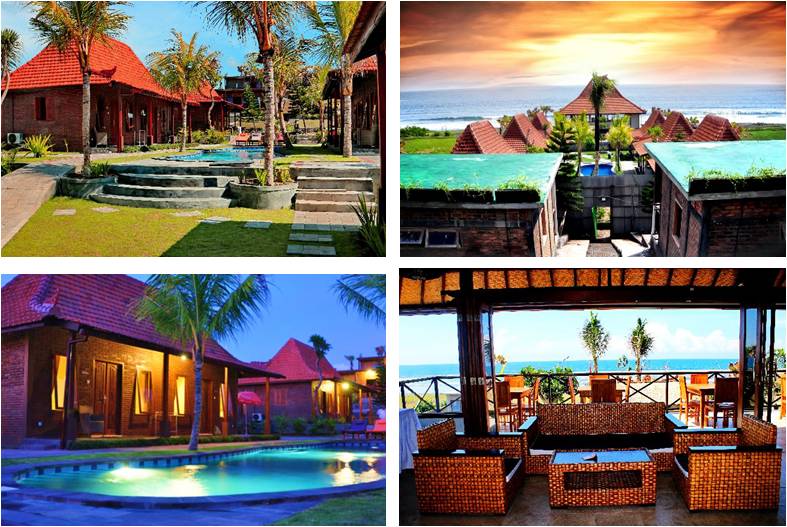 Sea Medewi Resort, Yeh Sumbul Village, West Bali
Participants on two-day excursions to West Bali will stay at Sea Medewi Resort. Sea Medewi Resort is a moderately priced resort located in front of a secluded beach. The resort has two beautiful swimming pools, meeting space, two swimming pools, two restaurants featuring local and Western cuisine, and a billiards table. Special amenities available for additional cost include surfing lessons, massages, and cream baths.
Typically participants share a room with another participant. However, individuals may request their own room for an additional charge of 32 USD.
Excursion includes:

Private transport with air-conditioning and cushioned seats
Breakfast, lunch, dinner as well as snacks and drinks at all village stops (Most of the food will be vegetarian.)
Facilitated intercultural dialogue with Balinese communities
Introductory Indonesian language and Balinese customs/manners course
Reflective dialogues and storytelling
Things to Bring

Phone and/or camera (fully charged)
Sunscreen/sunglasses
Your own water bottle (Host community members have been requested not to provide packaged bottled water to guests but to offer refilling stations instead. If you do not have a water bottle, a container can be loaned to you.)
Swimsuit/towel (optional)
Curiosity and a taste for adventure
Umbrella (It is the rainy season.)
Meeting Point
Please meet inside the HUBUD Coworking space on Monkey Forest Road at 7:00am We will have small breakfast and coffee together before departing no later than 7:30.
This excursion is limited to 14 participants.

Cancellation policy: Should you need to cancel, please contact us phone (+6283119501359) for a full refund. Cancellations must be made 3 days before the event and no exceptions.