Local OpenGov Innovation Summits 2012

Thursday, March 1, 2012 at 12:00 AM

-

Wednesday, March 7, 2012 at 11:55 PM (GMT)
Event Details
Note: Thank you to the 40+ organizers who signed up when we were initially gauging interest in 2011.  
We didn't get enough interest in 2012 to make this happen.  If you'd like to help plan this event in the future, please drop me a note at lucas@barkbest.com.  Good luck in your work!  These are exciting times.
Lucas Cioffi
Member, Central Planning Team
Overview
The Open Government Partnership launched last week with 40+ member countries working toward national open government action plans.  The Local OpenGov Innovation Summits will be ambitious experiments to assess the level of interest in opengov (transparency, public participation, and collaboration) at the local level worldwide.
We're looking for 100 individuals who are capable of organizing an open, 2-hour meeting with local government in their part of the world anytime during the week of March 1-7, 2012.  Local organizers will be able to choose the exact time and place that works best for them.
Because these are only 2-hour meetings, we will need to have a large number of them to have a substantial effect; if we do not have a minimum of 100 organizers who sign up by October 31, 2011, then we will cancel these events without anyone spending any time planning them.  With 100 cities committed by October 31, it will be much easier for each organizer to get the support they need from their local government, and the event will be more successful.
As the organizer, you will design the type of meeting that is right for your community.  The goal is to simply organize the opengov community around a collective action.  All 100 of these meetings will take place in a one-week time period to have maximum impact.
This plan will continue to evolve as we build momentum.  Please add your questions and suggestions in this open Google Group or email Lucas Cioffi at lucas@onlinetownhalls.com to take a more active role in the Central Planning Team.
Who Has Signed Up Already?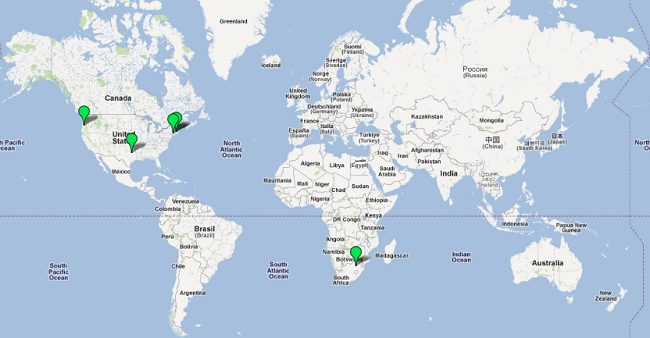 Organizers have signed up from the following countries so far: United States and South Africa.  The above map will be updated every 24 hours.  Click on it to see more details.
What is the Purpose of these Summits?
Demonstrate the strong support for open government at the local level worldwide.
Help individuals in local governments share their effective practices in transparency/participation/collaboration with local governments in other cities.
Connect local officials to the resources of the broader opengov community (such as the Open Government Partnership, CityCamp, GovLoop, CivicCommons, Sunlight Foundation, etc).
Key Tasks for Organizers
By October 31, 2011: sign up as a local organizer at the top of this page.
By November 30, 2011: Find an individual in your local government that can help you organize the event.
By March 1, 2012: Design a 2-hour meeting that is right for your city.  If you can and want to hold an event longer than 2 hours, you should.  Here is the evolving plan for organizers who want to hold more complex events that last a 1/2 day, full day, or 2 days.  That plan is on a wiki; and you can edit and improve the plan directly.
March 1-7, 2012: Hold the 2-hour event during this time period.  Record the questions and suggestions generated at your local summit to be shared with the broader opengov community.
Benefits for Organizers
To build and strengthen an open government community of practice (and passion!) where you live.
To establish your reputation as a leader of that community.
To connect with local government officials and learn about upcoming opportunities.
An event like this is necessary to jumpstart opengov in more local communities; we want to be bold, but we also want to get this right.
Nothing is happening with these events until we reach 100 local organizers.  If we don't reach that many by October 31, 2011, then we won't waste anyone's time.
If we do reach 100 organizers, then organizers have until November 30, 2011 to find a local government agency that will host the event.  All 100 of these events will be held in government facilities to show the public commitment of that local government.
Local organizers will be able to share the plans for their events so that no one has to plan alone.
Earlier this year, we ran this same experiment and organizers from 42 cities in 11 countries signed up.  We postponed the events because we didn't reach our target of 100 cities.  Now is an even better time to launch, given all that has happened with the Open Government Partnership.
What Could a Sample Agenda Look Like?
These events will require a simple design because we're all volunteers who are likely involved with many other projects that require our time.
Time

Activity

1 week before

Distribute materials which will be discussed at the event

9:00am

Welcome by the organizer and presentation of the agenda

9:05am

Remarks by a senior local public official

9:10am

Collaborative exercise

9:35am

Brief OpenGov presentation

(this can be created by the organizer or borrowed from another organizer)

9:45am

Small group discussion #1 (groups of four)

10:05am

Small group discussion #2 (groups of four)

10:25am

Small group discussion #2 (groups of four)

10:45am

Closing discussion
Final Thoughts
We are in the middle of a window of opportunity to advance the values of transparency, public participation, and collaboration.  For every one of us, there are many more people that have not yet heard about opengov and the exciting innovations taking place at all levels of government.
This is our chance to bring opengov home to the local communities where we live.  If we don't make it happen, who will?!
More info and frequently asked questions are on the wiki page for this project.
Attendee List
Sort by:

Date

|

First Name

|

Last Name
When & Where

In Your City
(if you make it happen)



Thursday, March 1, 2012 at 12:00 AM

-

Wednesday, March 7, 2012 at 11:55 PM (GMT)
Add to my calendar
Organizer
If you are an organization that would like to be part of the core organizing team, please email lucas@onlinetownhalls.com.