Location
Living Classrooms (Bearman Gallery)
1417 Thames Street
Baltimore, MD 21231
Local Live(s) is a national storytelling event that brings together journalists and locals for a night of entertainment and conversation.
About this event
The Baltimore Sun and Back Pocket Media have teamed up for a night of storytelling and poetry. Hear the riveting stories behind stories covered in the news plus a performance by Baltimore's youth poet laureate, all revolving around the theme "Desire: Stories about hidden motives, impossible odds and the pursuit of change." Think of it as a podcast, but live and on stage.
Doors open at 6:30 p.m. Show begins at 7 p.m. Come to be entertained and leave feeling more connected to your city.
Meet the performers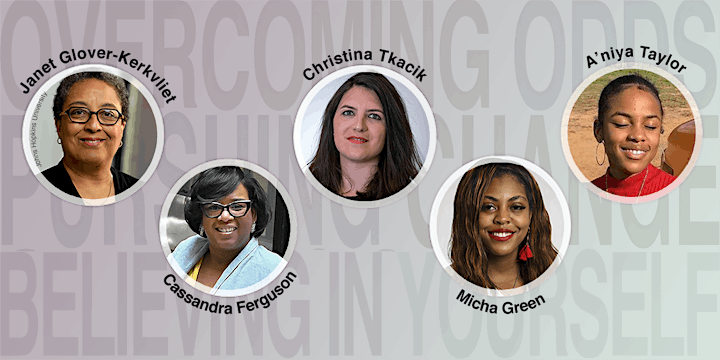 For Janet Glover-Kerkvliet, supporting older unemployed workers through the Baltimore Job Hunters Support Group is personal. Career development has been a focus of hers from a young age after her father's layoff led her family to live in a hotel. What's often framed merely as an economic story is also a social and emotional one: With one pink slip, a lifetime of desires — including, simply, the desire to be desired — can feel out of reach.
Many follow Christina Tkacik to keep up with latest food trends. But The Sun's dining reporter also has a knack for surfacing often overlooked stories from the past. She takes audience members to the Eastern Shore and behind the scenes of processing the crustaceans so many Marylanders crave. There, a group of former Crisfield crab pickers are working to honor the memory of a massive strike led by Black women, who, coming out of the Great Depression, braved mob intimidation to fight for better pay.
Her mother's desire to start a new life brought Cassandra Ferguson to Baltimore as an adolescent. Ultimately, it was a pastor's words here that set on her on her path. With her dad imprisoned for robbing a bank, Ferguson says it was a painful childhood, and the weight followed her until a sermon about forgiveness shifted her perspective. Now using her voice to inspire others, the radio host, entrepreneur and former mortgage industry professional shares how she gained confidence to work in finance despite her father's conviction.
With experience on stage, behind a mic, and in front of a camera, Sun features content editor Micha Green displayed a knack for storytelling before she could even fully talk. Over the hurdles of a non-linear career path, she's stayed true to her desire for expression, even when others said she was spreading herself too thin. She hopes her own story shows, "You can do everything you want."
A'niya Taylor is Baltimore's youth poet laureate. The 2021 graduate of Baltimore City College High School won first place in the 2021 Brave New Voices individual poetry slam and in 2020 The Baltimore Sun editorial board named her a Marylander of Year finalist for her social justice activism. Poetry, she says, "has opened me up to so many different ways to express myself."
A quick note about tickets: We want this to be an inclusive event. If the admission cost is an issue or if you are seeking to reserve tickets for more than five people, please get in touch by emailing coordinators@baltsun.com.