Local Government Sustainable Energy Coalition - March 2017 Quarterly Meetin...
Description
You are invited to a quarterly Local Government Sustainable Energy Coalition networking meeting for California local government energy professionals on Wednesday, March 29 from 10:00am-4:00pm in Benicia, CA.
We are pleased to highlight Dan Sperling, Board Member at the California Air Resources Board and Founding Director of the Institute of Transportation Studies at the University of California, Davis, as our keynote speaker! Dan will discuss the implications of federal actions on state policies and goals relating to electric vehicles, what the future will look like, and where we go from here.
This meeting will also feature:
An in-depth climate and energy regulatory update;
An update and introduction from the Local Government Statewide Energy Efficiency Best Practices Coordinator;

A panel of experts on transportation electrification and electric vehicles; and

Group discussions and workshopping around transportation electrification issues facing local governments today.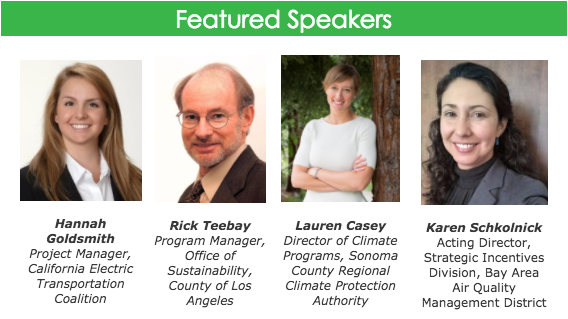 LGSEC Quarterly Energy Networking Meeting
Wednesday, March 29 - 10:00AM - 4:00PM
City of Benicia Senior Center
187 E L Street
Benicia, CA 94510
The registration deadline for this event is Friday, March 24th. To help offset meeting costs we are charging $25 for LGSEC members and $50 for non-members. Morning coffee and lunch will be provided.
LGSEC members traveling more than 200 miles each way are eligible for travel reimbursement, up to $300. Please email Alicia Brown at abrown@lgc.org if you are interested in this opportunity or if you have any questions about this event.