Sales Have Ended
Registrations are closed
Thank you for registering in Vijay Computer Academy webinar! Vijay Computer Academy (VCA) is a 30-year old global education and training institute founded in 1990. We offer various, basic and advanced career and workforce - oriented IT courses. Our team is very happy to help you with our expertise in teaching IT Workshops, Bootcamps and Courses; personalized career consultation; competitive tuitions & scholarships; job search assistance and much more. Find VCA Catalog here: https://workdrive.zohoexternal.com/external/71q5xtDrp1n-MtYvL Learn more about Vijay Computer Academy here: https://linktr.ee/VijayComputerAcademyGlobal For inquiry, do not hesitate to fill this form: https://docs.google.com/forms/d/e/1FAIpQLSd06dZHjLIhIvPrAOUOruXaRAUzH-TIa5aMNGb6StppK7NNvw/viewform See you on the day of the event! The event time zone is CST. Do not forget to join us and follow us on social media !!! With Regards, Team VCA info@vijaycomputer.com +1-832-500-4136
Sales Have Ended
Registrations are closed
Thank you for registering in Vijay Computer Academy webinar! Vijay Computer Academy (VCA) is a 30-year old global education and training institute founded in 1990. We offer various, basic and advanced career and workforce - oriented IT courses. Our team is very happy to help you with our expertise in teaching IT Workshops, Bootcamps and Courses; personalized career consultation; competitive tuitions & scholarships; job search assistance and much more. Find VCA Catalog here: https://workdrive.zohoexternal.com/external/71q5xtDrp1n-MtYvL Learn more about Vijay Computer Academy here: https://linktr.ee/VijayComputerAcademyGlobal For inquiry, do not hesitate to fill this form: https://docs.google.com/forms/d/e/1FAIpQLSd06dZHjLIhIvPrAOUOruXaRAUzH-TIa5aMNGb6StppK7NNvw/viewform See you on the day of the event! The event time zone is CST. Do not forget to join us and follow us on social media !!! With Regards, Team VCA info@vijaycomputer.com +1-832-500-4136
Virtual Career Connect. Get information about current local and global workforce demands , career opportunities and career pathways
About this event
Innovation Requires a Different Way of Learning and Working
This pandemic has shined a light on some areas for technical growth. Whether it's student, parents, administrators, educators, professionals , business owners , or group participants – learning digital skills is essential.
Technology is a part of our daily life and IT is the fastest growing , high growth & highest paying industry.
Five years from now...
1.4 million Jobs will be open in US in computing related fields 29% of these jobs will be filled by US graduates Out of which only 3% will be filled by women.....
Skills gap & talent shortage and gender gap in ICT are two biggest problems in today's digital economy.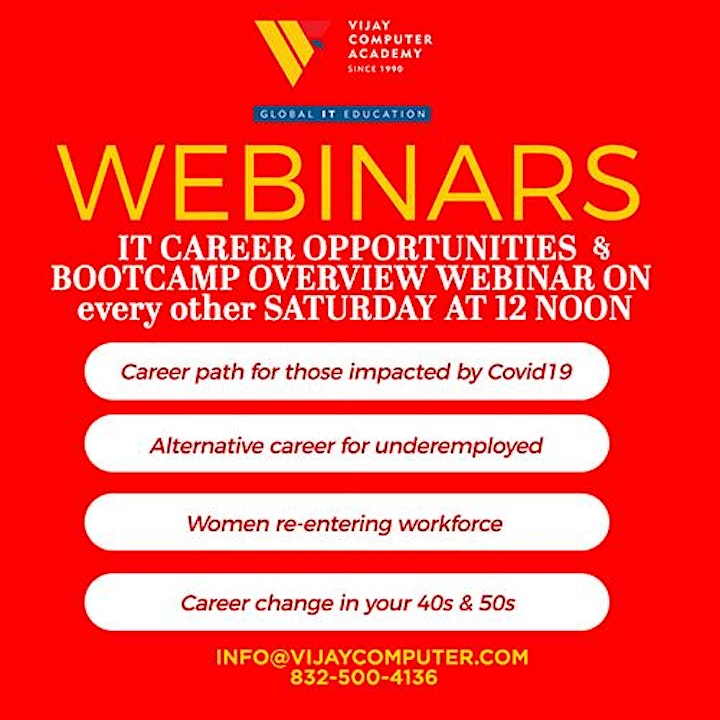 Did you know Information Technology is the fasting growing and one of the highest paying industries in the job market?
So ........Are you ready for the future of work?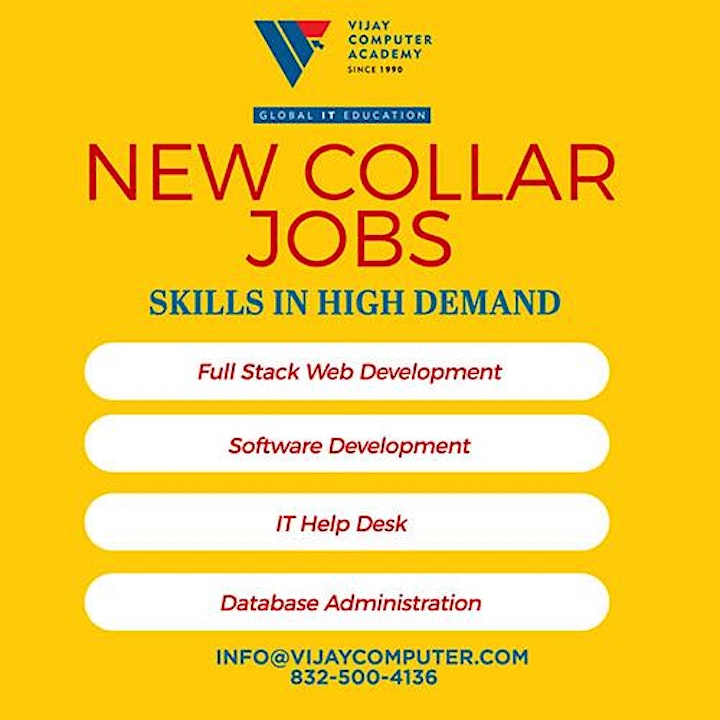 Let Vijay Computer Academy guide and help you get ready!
Since its inception, VCA has been working on closing the skills gap and gender gap in ICT with its world-class IT education and training programs.
The key focus of VCA has been to nurture the pipeline of computing professionals and help to prepare future generations for the ever-changing and dynamic world of computing and information technology.
VCA can help anyone advance or start their ICT career.
• College students
• No college diploma , High school drop outs
• IT professionals looking to upgrade skills or earn an IT certification or badge
• Professionals looking to diversify into IT
• Stay-at-home moms
• Women looking to re-enter the workforce after extended leave
•Unemployed
Plus more!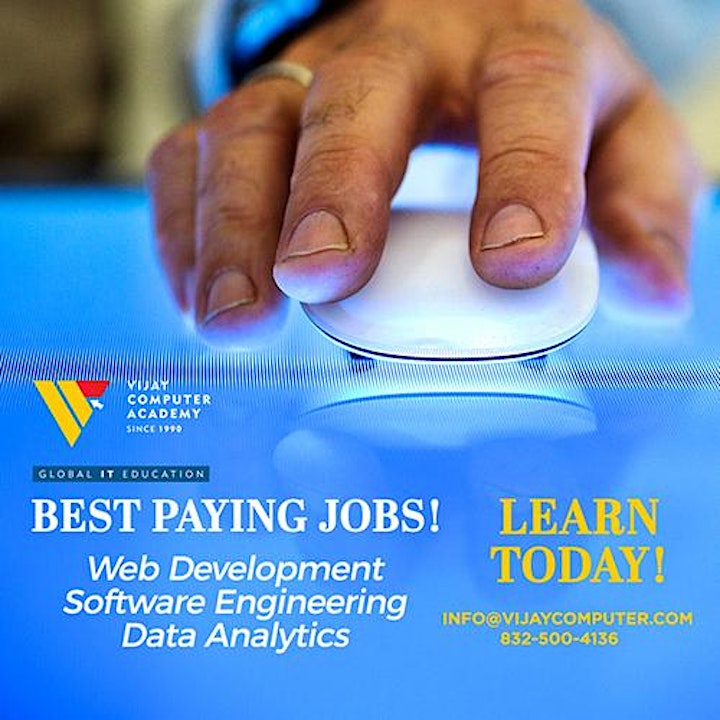 VCA proudly present FREE IT CAREER WEBINAR to give the first-hand information on potential local and global IT career opportunities with essentials IT skills and certifications pathways.
VCA founder Ms. Shefali will be presenting this seminar herself. Shefali has more than 36000 hours career advising experience.
Transforming & empowering lives through world-class IT education & training to build a better tomorrow!
Curious about a high paying career in tech but don't know where to start?
Vijay Computer Academy is here to help.
Schedule your discovery call TODAY to learn more about TECH opportunities!
For any further details , reach out to us :
Phone : 832-500-4136,
Whatsapp No : 832-469-1314 ,
Email : info@vijaycomputer.com
Our Address : 10701 Corporate Drive, Suite #387 , Stafford - TX - 77477
Organizer of Local & Global IT career opportunities and pathways - FREE webinar
 VIJAY COMPUTER ACADEMY (VCA) is a global IT institute dedicated to providing world-class IT education and training to individuals (from ages 9 to 90), small and medium scale businesses, corporations, nonprofits, government agencies, financial institutions and higher education institutes.
VCA has been accrediated to offer AICTE approved NIELIT courses recognised by MCIT, GOVT. OF INDIA .
Our 29 years old IT academy offers career and workforce development, and corporate and community empowerment through IT certification and diploma courses. Our mission is to tackle global sustainable development goals 4, 5, and 8 – quality education, gender equality, and decent work and economic growth.
For nearly 3 decades, we have been on a social mission to bridge skills and gender divide through our quality, but affordable, IT programs.
Since inception, our tailored IT training to businesses and their employees have improved company production, increased company revenue, and enhanced the skills of employees.
Please contact us at 832-500-4136 or info@vijaycomputer.com to learn about our programs and services offered online with live instructors and our campus located in STAFFORD , TX.