Description
You're invited to join us for a Local Business Event at Local Biz Networking Groups Springfield!

Discussion Topic & Presentation - Impact of Stress on our Long Term Health & Wealth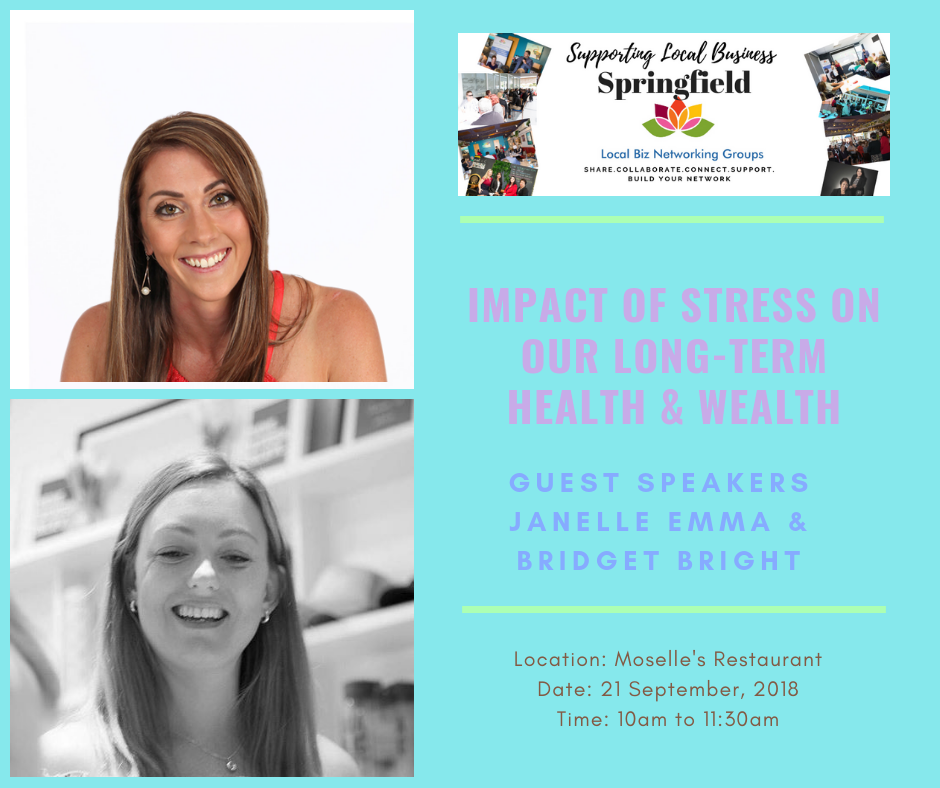 About our Speakers
Janelle James -Mum of two gorgeous girls 4 and 6 years old. -Lives on the sunshine coast up in glass house mountains, Originally from Tasmania and before kids, she use to drive dump trucks in coal mining for 5 years, but knew this was never going to be a long term career as she has always wanted to have a profession that was flexible and fitted into their family life. -Janelle is A very passionate wellness educator who thrives on all things proactive health and is extremely passionate about educating others, especially mums, on how they can be in their best health, their best self and re-gain their identity by teaching these mums that when they look after themselves first, that is what causes the positive ripple effect that flows through the family.
Bridget Bright is a Mum of 2 boys, 5 & 2, and has a love of cooking, wine and a weakness for The Block and The Bachelor! As a Primary School Teacher of over 10 years, Bridget has seen the impact stress plays on our physical, mental and emotional health and wellbeing. Since becoming a Mum, Bridget knew that the demands of her role as a special education teacher didn't fit with her values and desires to be present as a Mum. Bridget has now followed her life long passion for health and wellness, is a qualified personal trainer and is now a nutrigenomics educator, teaching others how to create a lifestyle that allows our bodies to be resilient to the long term impacts of stress.
Springfield Business Leaders
Be warmly welcome by our two Business Leaders Ann Sisodia and Paulina Nowak who are both very inspiring and encouraging with a wealth of Business experience not only in their Professional field but in Business in general. They love the Springfield Community and are passionate about connecting Businesses, community engagement and encouraging connections.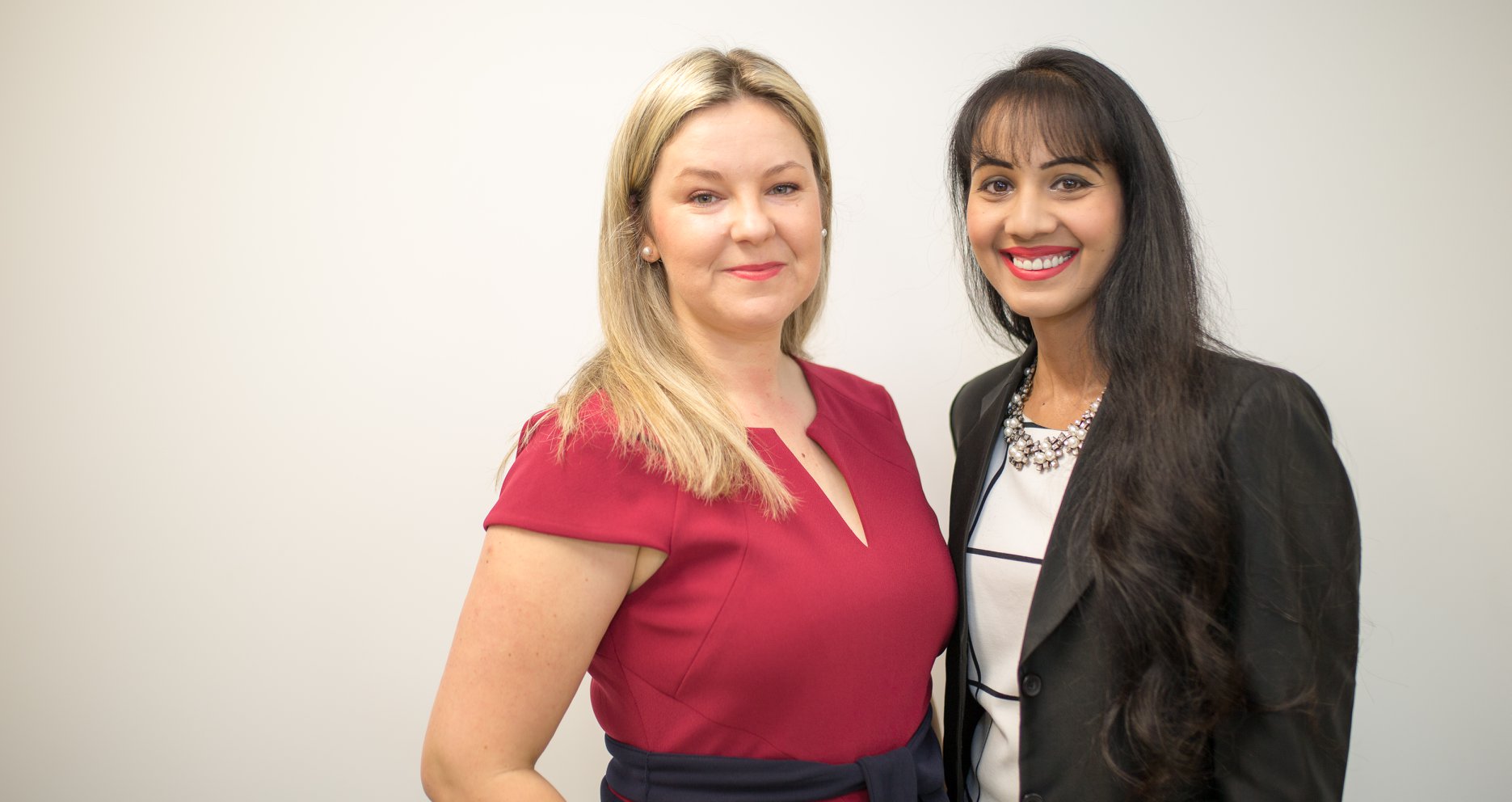 Networking in Springfield
Doing Local Business is what we are about! When you Network Locally you can cultivate relationships with local clients, businesses, supplies that can strengthen your Business and the Community.
When you join us as at LBNG Springfield, you will greeted by our wonderful Business Leaders, share ideas and collaborate with other Business owners plus gain knowledge with a special workshop by our Team Leader Ann Sisodia.
LBNG Springfield meets every 3rd Friday every month from Registrations at 9:45am for a 10am start to 11:30am.
About the Event Location
Location: LBNG Springfield is located at Moselle's Restaurant. It is an elegantly appointed restaurant located lakeside at Springfield Lakes with gorgeous lake views that offers Western and Vietnamese cuisine. We can enjoy high quality food and coffee while we Network by the lake.
Cost
Casual Membership
We understand you are busy and you are only able to attend a few events. Our Casual Membership is only $15 per event. Bookings Essential Below.

Full Member
We offer many benefits for a full Membership with Local Biz Networking Group. Full Members have access to other Groups accross Brisbane, they have their Business Name and Photo on the Website Portal, have access to a private monthly online session called Pow Wows and private Facebook Group. You will have a supportive team behind you. We have a referral programme for our LBNG Members where they can bring a new guest for free. Bookings are limited to spaces available.

If you find the LBNG valuable to your Business after you can come along as either a casual member or use the benefits of a paid membership. Bookings Essential Below. Membership details are listed on our Website plus welcome to discuss further at our event.https://www.localbiznetworkinggroups.com.au/
A Networking Group that supports Local Business and is focused on you the Business owner.
We want to warmly welcome you to feel part of a supportive local Network Group that cultivates, nourish and helps you grow both personally and professionally. Our Events is about connecting, gaining knowledge, building relationships, sharing business ideas and challenges while being supportive to each other.
When you arrive, you have the opportunity to share your business card and promotional material. Grab a coffee and feel welcome by our members in a warm and friendly atmosphere. We allow each Business the opportunity to introduce themselves. Our Members are divided into smaller table groups that are more intimate way to discuss, share and collaborate on our Business topics. Each event has Network opportunities to create connections and build relationships with other Local Businesses.
Through our Local Business Networking Groups platform we have designed it so both your network and business can grow and flourish.
Lucky Door Prize
If you would like to donate a lucky door prize & spotlight your Business please contact the organisers below.
FAQs
What can I bring into the event?
Bring along your business cards, promotional material, pen, paper, smile and enthusiasm.
How can I contact the organizer with any questions?
Ann Sisodia on Ann.sisodia@jimspestcontrol.com.au.
Paulina Nowak on info@nowakmigration.com.au.
**Terms and Conditions - Agreeing to attend our Event you agree to the below Code of Ethics, Standards and Privacy.**
Local Biz Networking Groups Code of Ethics:
This Code of Ethics sets out the principles and practices of professional conduct to be observed by the members, casual members and visitors of the Local Biz Networking Groups.
Upon attending any event by Local Biz Networking Groups you agree to:
1. Provide the highest level of service for all members, referrals and other clients.
2. Adhere to the highest Code of Ethics for our respective industries.
3. Be unbiased, supportive, open, honest, respectful and courteous to the Directors and Members of LBNG always.
5. Treat guests, venue owners with respect, fairness and in good faith.
6. Take responsibility for any referrals given and contact within 24 hours of receiving.
Standards
1) As a Local Biz Networking Groups Member, Casual Member of Visitor you must not act in an unlawful, abusive, defamatory manner towards any Local Biz Network Groups Members, Visitors or Presenters.
2) Local Biz Networking Groups will not in any circumstance be responsible for any dispute arising between You and another attendee at Local Biz Networking Groups Events. Any dispute will be resolved between the persons with the dispute.
3) Each member, casual member and guest agrees not to take any action against Local Biz Networking Groups or make a claim against any member for any matter relating to Local Biz Networking Groups.
4) LBNG accepts no liability in relation to any Business conducted between Members, Casual Members or Guests.
5) All Members, Casual Members and Guests understand and acknowledge that any Business conducted is at their own risk and decision.
6) No public statement, publicity or press release is to be made concerning Local Biz Networking Groups without written consent of LBNG.
Privacy
1) Without limiting you consent to LBNG publishing and promoting your Identifying Details and Networking Group on it's Website and other Social Media Pages.
3) LBNG may invite you to different Networking or Social Events.
4) As an attendee of LBNG Events you will not send any unsolicited e-mails, direct mail or by any other means spam, harass, abuse or cause any harm to any members, casual members or guests.
5) You agree to protect each member's and non-member's right to privacy and confidentiality with respect to any personal information.
6) You acknowledge and consent that as a Member, Casual Member or Guest you may be photographed or filmed at a LBNG event.
Defined Terms and Interpretation
LBNG means Local Biz Networking Groups.
Visit our Website https://localbiznetworkinggroups.com.au/ and find out the value Local Biz Networking Groups has to help support your Business.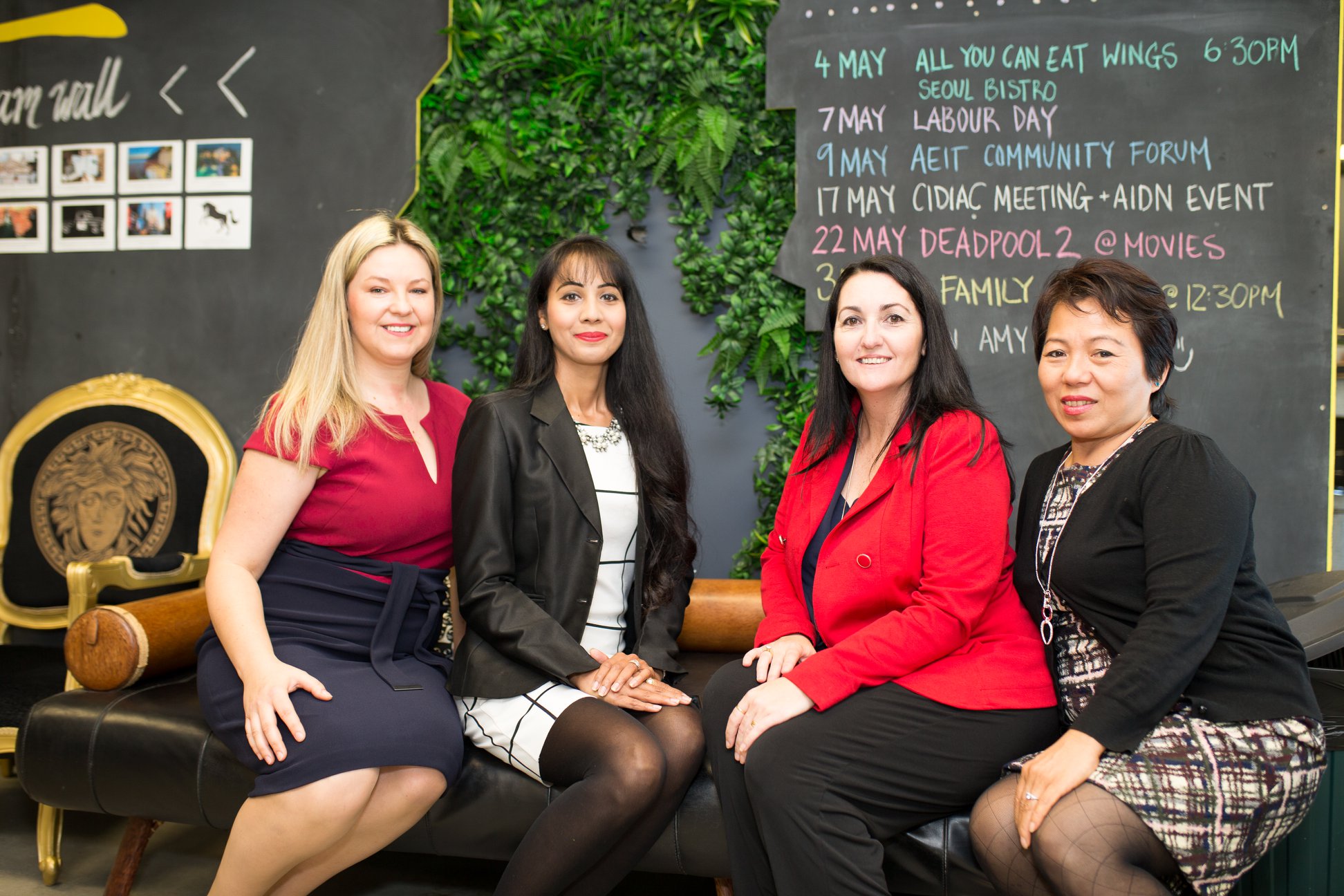 Visit our Website https://localbiznetworkinggroups.com.au/ and find out the value Local Biz Networking Groups has to help support your Business.

We look forward to seeing you there.