Description
Join us for an afternoon of inspiration, collaboration & growth
Local Biz Camp is a great opportunity to come together with your peers, gain practical insight into real, feet-on-the-ground growth strategies for your business and engage in powerful conversations with colleagues and local leaders. This event is for small businesses and nonprofits - We're all in this together.



YOUR HOST - JULIE NIEHOFF
Speaker, Author & Marketing Leader Julie Niehoff will be your host. Julie is the former Director of Education for Constant Contact and Julie has coached more than a million small businesses and nonprofits at events like this one. She is known for her relaxed, approachable speaking style and can help anyone understand seemingly complicated technology and marketing strategies with ease. You'll leave empowered and inspired!

SOME OF THE TOPICS WE"LL COVER
How to make sure your marketing looks good on a cell phone or tablet, like an iPad
Ways to get more people to stop and actually read your emails & social media posts
Creative ways to scale your business; putting in the same amount of time but making more money
Making the most of the marketing budget you have today while getting even better results
Content curation; how to stop reinventing the wheel and build on your reputation as a leader
Free tools that can help you work smarter, not harder; apps and sites we love, truly not a sales pitch

FEATURED SPEAKER - GOOGLE'S CORISSA SAINT LAURENT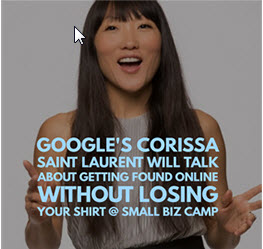 THANK YOU TO OUR EVENT PARTNERS!!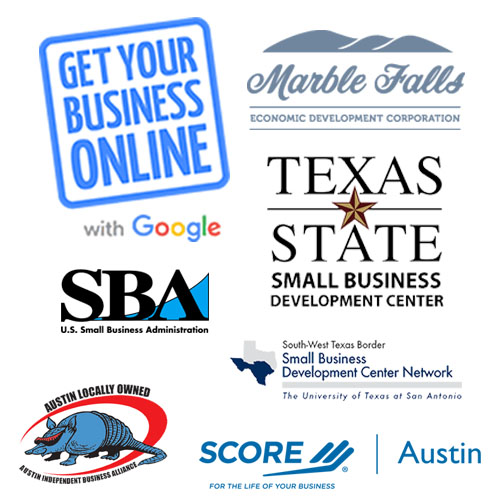 FREQUENTLY ASKED QUESTIONS:

WHO SHOULD ATTEND?
Any small business owner, staffer or nonprofit professional looking for great tips and strategies for managing the day-to-day, co-marketing and collaboration opportunities to help you unlock more doors together, information about the many free resrouces available to smaller organizations in the Central Texas area and whether you are the owner, the executive director, the marketing manager, the boss or the employee, your voice is welcome here.

WHAT SHOULD I WEAR?
We are keeping it casual. Be professional but comfortable. This is a local event, so be yourself. Just remember that there are other businesses in the room and there will be discussion of collaboration, co-marketing, finding great partners for various promotions, events and other opportunities so - be you and come ready for growth.
* Maybe bring a light jacket or sweater, sometimes event rooms can get chilly

CAN I BRING A FRIEND?
Of course, include them in your registration or have them sign up. We do recommend that you bring two people from your business, as it might help you have more conversations or sometimes the owner and the marketing person come at solutions from two different perspectives. More voices in the room = greatness.
IS THERE AN AGE REQUIREMENT?
No, there is not a specific age limit. We do ask that participants have a sincere interest in managing and growing their business or nonprofit organization. Please do not bring children to this event unless they are specifically involved in the management of your business. (We have had new moms bring babies to past events and that tends to work out fine because they generally walk into the hall if baby starts crying, so new moms don't talk yourself out of attending. This will be a welcoming group)

IS THERE FREE PARKING?
Yes, we always make sure there is free parking available.

SHOULD I BRING A LAPTOP?
You are welcome to bring a laptop or tablet but be advised that there are sometimes not many outlets. You can also bring something to take notes.All presentations and materials will be provided to participants online as well.

DO I NEED BUSINESS CARDS?
It's not a requirement but probably a good idea.. It's not going to be a room of commercials, so don't bring a convention booth, but yes, you might have some real conversations with other businesses and it might be useful to have your card or a brochure handy. We want you to leave with some real new opportunities.
DO I HAVE TO BRING MY PRINTED TICKET?
For swift entry, it is best to bring your ticket. It makes it so we can check you in without looking you up on the list. But if you walk in without it, we'll still let you in. If do not have your ticket, please bring a business card.

The name on the registration/ticket doesn't match the attendee. Is that okay?
It's fine. Bring a business card that does reflect the correct name/information.