Description
Local Biz Camp is a powerful experience. Learn growth strategies for your business, get inspired by local leaders and engage with your peers. This is not like other business conferences.

We promise:
- No long, boring PowerPoint slide decks
- No over-your-head tech speak
- Absolutely no pushy sales agenda

WHO SHOULD ATTEND?
Local business owners, small business, nonprofits, freelancers, consultants, retailers, artists, musicians, self-employed, entrepreneurs, franchisees, writers, designers and more... if you're running your own business, thinking about starting a business or have a side hustle that you want to grow into a full time gig, come to camp.


Local Biz Camp founder, Julie Niehoff, is a seasoned marketing pro with 20+ years in tech and development, a celebrated speaker and trainer, named a Top Small Business Influencer in 2011 by Small Business Trends magazine. Julie has coached more than 1,000,000 business owners across the US, Canada and the UK.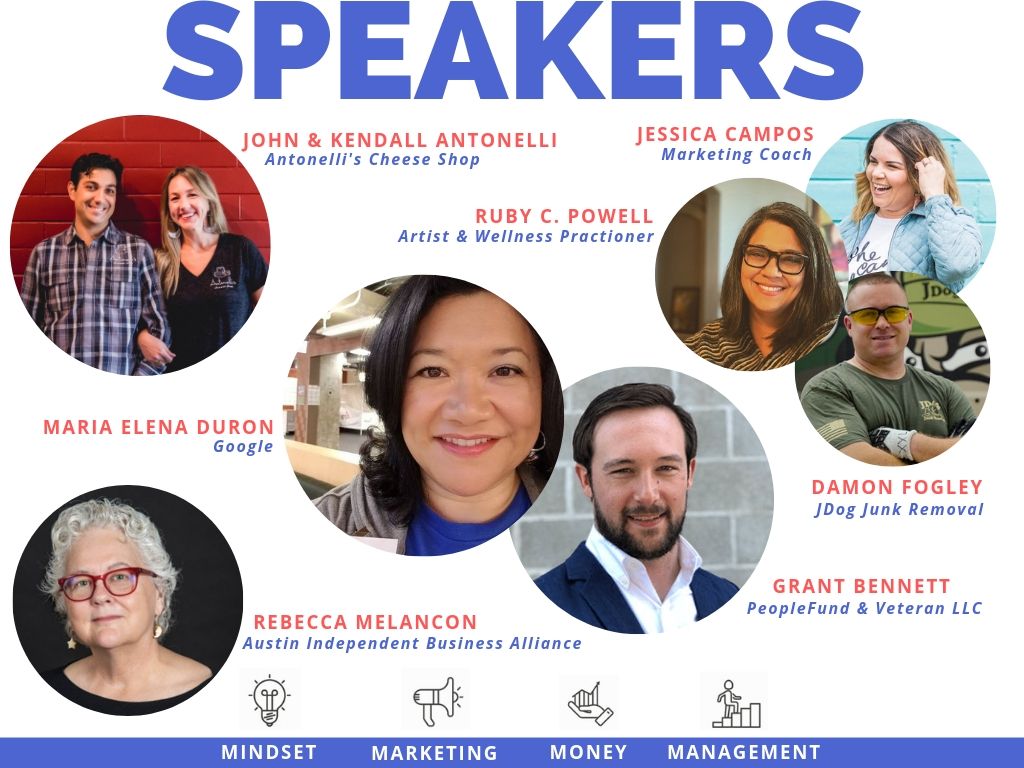 You'll leave with a full collection of free and low-cost tools, templates and resources to grow your biz!

ON THE AGENDA:
Reach Your Customers Online
Presenter: Maria Elena Duron, Google
Maria Elena Duron is one of Google's top speakers in the country. She will talk about ways customers can find your business online and how to promote your business using search engine optimization, smart campaigns and other no-cost and very low-cost tools.
Keynote: Passion With Purpose with John & Kendall Antonelli
Presenters: John & Kendall Antonelli, Antonelli's Cheese Shop
The dynamic Austin couple known around the globe for the success of their gourmet cheese shop will talk about what they have learned about how to create a meaningful life - when both your professional and personal lives intersect in a way that brings you and others success and joy.
Access to Capital
Presenter: Grant Bennett, PeopleFund & Veteran LLC
This session will review a variety of funding options for small businesses and nonprofits including traditional banks financing, crowdfunding, government-guaranteed loans, alternative lenders ,and veteran-owned business options. We'll discuss the pros and cons of each, and provide insight on which might be right for your business.
Local Success Stories - Making it Happen in ATX
We'll introduce three successful locals. One is an artist, wellness practitioner and hummus wholesaler, juggling it all while keeping a full time job, successfully. Another is a veteran-owned junk removal business growing fast and taking names. And the third is an attorney turned marketing coach with a great network and a passion for local. We'll find out what's working for them and what tools or resources they cannot live without.
The Power of Local
Presenter: Rebecca Melancon, Austin Independent Business Alliance
Rebecca will brief us on the latest stats and impact of local business on the Central Texas economy. She brings great insight, helpful resources for local business owners, info on advocacy and what's happening at City Hall.

Tools We Love, Marketing , Growth Hacks & More
Throughout the day, we'll stop to share great tips and tricks to get more done in less time, tools we use to make marketing easier and more affordable, simple ways to update your online image, easy ways to improve reach and awareness, bring in more customers or clients, get them to stay longer and spend more.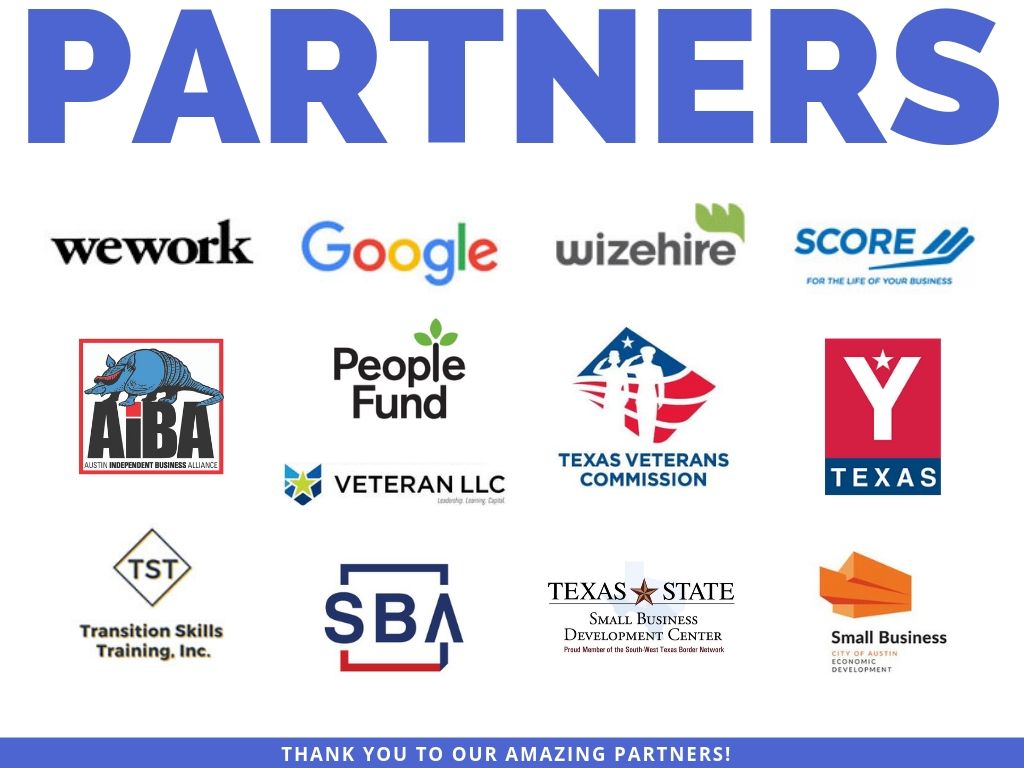 WeWork | WizeHire | PeopleFund | YTexas | City of Austin Small Business Program | SCORE Austin | Austin Independent Business Alliance | Texas Veterans Commission | Transition Skills Training, Inc.
NOTE - VETERANS, ACTIVE DUTY & SPOUSES / FAMILY
Thanks to our partners, we have a limited number of scholarships provided by Transition Skills Training, Inc. a 501(c)3 nonprofit providing access to training and education for veterans and their families. Veterans use promo code TXVETS10 to get a free ticket.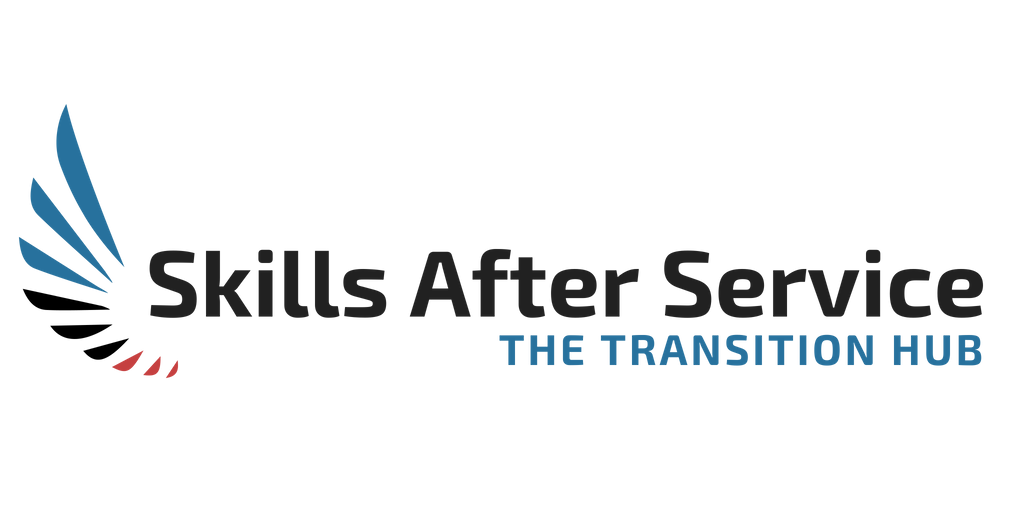 Local Biz Camp is presented by Skills After Service
Skills After Service provides education and training resources for veterans making the transition from active duty to the civlian workforce. We're building The Transition Hub, a state-by-state field guide to help make that transition easier. Whether they seek out education, training, a new job or want to start a business, we are focused on helping military personnel forge a path to work with purpose that truly leverages their experience and time in service to the country. We believe Local Biz Camps are a great way to bring veteran and civilian business owners together, grow a network, learn from each other, leaving empowered and inspired.
SkillsAfterService.com