Local Atlanta TV Legend JOHN PRUITT Celebrates His New Book TELL IT TRUE
Join local Atlanta TV legend JOHN PRUITT as he celebrates his new book TELL IT TRUE.
When and where
Location
Alpharetta Branch Library 10 Park Plaza Alpharetta, GA 30009
About this event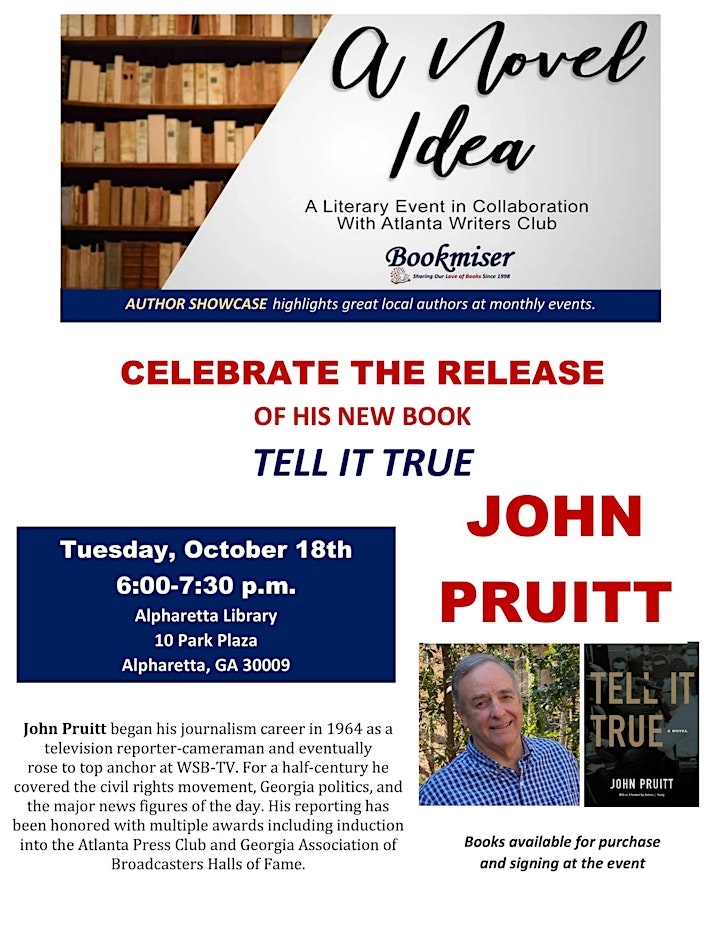 ABOUT THE BOOK
An African American serviceman is gunned down on a rural Georgia road in July 1964. This shocking murder ensnares a wide range of characters including the journalists who cover it, the lawmen who must solve it, the civil rights leaders who capitalize upon it, the politicians who exploit it, and the Atlanta magnate who fears its impact on the New South image he desperately wants to protect. TV news cameraman Gil Matthews and AP reporter Mindy Williams team up to follow the twists and turns of the murder investigation as rural, state, and federal lawmen clash, a civil rights leader fends off a black power challenger, and voters take sides in a governor's race pitting virulent racist Roscoe Pike against moderate underdog Harrison Parker. Focusing on the challenges faced by journalists as they covered a societal revolution and brought the dramatic and sometimes violent scenes to television screens around the world night after night, TELL IT TRUE takes us to a time when the future of the South hung in the balance. Readers will no doubt recognize that many of those same troubles are still with us today. Veteran journalist John Pruitt bases the story on his experiences over fifty years as a television news reporter and anchor in Atlanta, Georgia. "There were many momentous stories I covered during my career," says Pruitt, "but none equaled the magnitude of the struggles for racial equality in the South."
Review by: Andrew J. Young, civil rights leader, former Mayor of Atlanta, U.S. Ambassador to the United Nations, U.S. Congressman, and co-chairman of the Centennial Olympic Games - May 17, 2022
"In 1964, a decorated war veteran was murdered by Klansmen in Georgia for driving while black. As a freshman reporter, John Pruitt covered the event, and in the decades since, his name has been synonymous with truth and accuracy, a reputation he lives up to even in his powerful, unexpected, and important debut novel. I have always admired Pruitt's honest, fearless reporting of our struggle and I also believe members of the news media are among the greatest unsung heroes of the civil rights movement. Although the characters and events have been altered, TELL IT TRUE does in fact "tell it true," and in as compelling a way as you're likely to find."
Review by: Monica Kaufman Pearson, journalist and former WSB-TV news anchor - May 17, 2022
"In his debut novel, John Pruitt takes us back to a time where black lives truly didn't matter in the South, but it was a time black votes began to matter. The characters in this novel tell the story of the media's role in changing race relations in the South, and the behind-the-scenes political alliances that helped to bring change. Pruitt's meticulous character development and scenery depiction put me right there in the story. Gripping from beginning to end and hard to put down."
Review by: Steve Oney, author of AND THE DEAD SHALL RISE and A MAN'S WORLD - May 17, 2022
"TELL IT TRUE is the rare work of fiction that does justice to an important historical event. In a narrative inspired by the brutal 1964 murder of Colonel Lemuel Penn, a black Army reservist, in rural Georgia, veteran Atlanta TV newsman John Pruitt brilliantly brings to life a cast of activists, politicians, clergy, and law enforcement officers caught up in the case. At the heart of the novel are two brave, young journalists who at great risk tell the story true. This is a book that will keep you up nights."
Review by: Maria Saporta, founder of SaportaReport and a Georgia journalist since 1980 - May 17, 2022
It's not surprising that John Pruitt's debut novel, TELL IT TRUE, draws upon his real-world experiences covering Georgia in the 1960s. He has done a remarkable job capturing the tensions that existed among those who wanted immediate change and those who welcomed a more gradual approach. This is a captivating book that will take you back in time, through the words of one of our state's most-trusted journalists.
Review by: Philip Lee Williams, author of THE HEART OF A DISTANT FOREST - May 17, 2022
This is an important book, beautifully written, and more necessary now than ever. John Pruitt has written a novel that shows us how we really are, not how we wish to be. And from that dark and lost place, he has given us a map away from ruin, if only we have the courage to take the right path.
ABOUT THE AUTHOR
John Pruitt began his journalism career in 1964 as a television reporter-cameraman and eventually rose to top anchor at WSB-TV in Atlanta, Georgia. For a half-century he covered the civil rights movement, Georgia politics, and the major news figures of the day. His reporting has been honored with multiple awards including induction into the Atlanta Press Club and Georgia Association of Broadcasters Halls of Fame.