An outdoor stand-up comedy show featuring Texas talent
About this event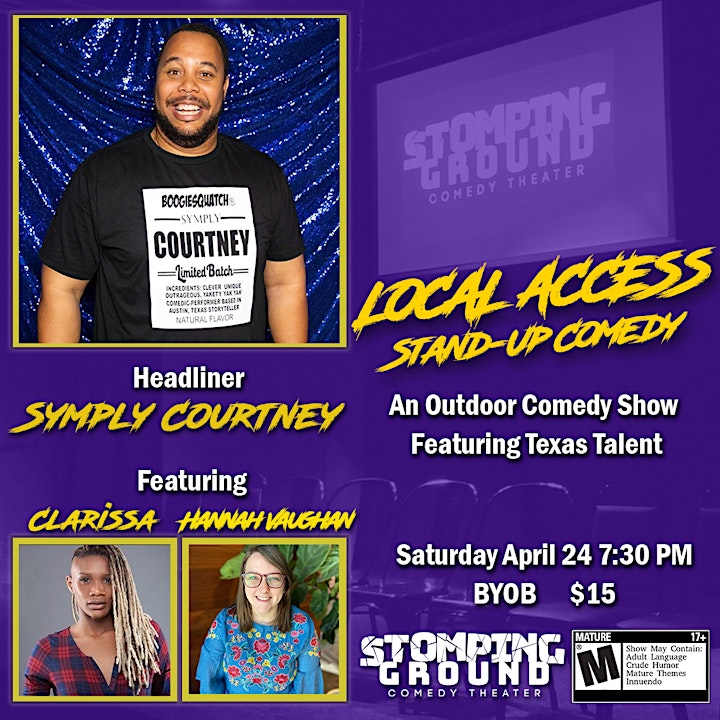 Local Access Stand-Up Comedy, the stand-up comedy show featuring Texas' best talent, is back for the first show of 2021.
Audiences will enjoy local comedians Clarissa and Hannah Vaughan under the Texas stars. Clarissa is a rising star who has performed locally at Hyenas Fort Worth, Addison Improv, Hyenas Dallas, Addison's Comedy Kitchen, and many more. Vaughan, a 2017 semi-finalist for Funniest Comedy in Texas, was a regular performer at Dallas Comedy House, Amphibian Stage, and Addison Improv. Hannah has performed at comedy festivals across the country and opened for Daniel Van Kirk and Rhea Butcher.
Headlining the evening will be Austin's Symply Courtney, a comic, storyteller, and beatboxer who has performed all over Texas in comedy clubs, bars, churches, community centers, a gun store, and even a train. He can also be seen performing all over Texas stages with the award-winning group Sugar Water Purple.
Courtney effortlessly weaves social commentary and quirky personal anecdotes about fatherhood and growing up with a unisex name. Courtney's onstage poise and playful off-the-cuff interactions with audience members leave the crowd feeling like they just spent the evening with their (really funny) best friend.
Rated M for Mature/18+. Audience members will be seated outdoors in their parties with a 6-ft distance from all other parties. Restrooms are available for use with masks required and COVID precautions and cleaning procedures will be in place.
Must have a mask or approved PPE to attend. The show will be held weather permitting. Performance is BYOB and food and drink will not be sold at the box office due to safety precautions. Coolers are permitted. Alcoholic beverages are allowed for all attendees over 21 years old; patrons are asked to enjoy them responsibly.