Description
Join us for a Lobster Bake fundraiser to benefit the restoration of Gloucester's oldest fishing vessel, the Phyllis A.

Catered by Passports Restaurant, of Gloucester, adult meals include a lobster, or half bbq chicken, New England clam chowder and native corn for $40 per person.
A child's hot dog and chips option is available for $5 each.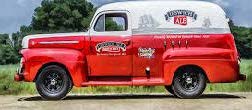 The Ipswich Ale Tapmobile will be available for cash purchases of Ipswich Ale craft beers, Mill River Winery wines, and Mercury Brewing sodas.
Visit the Phyllis A. See what work is being done and what is coming up next!
Check out the oldest continuously operating marine railway in the United States, since before the Civil War.
Enjoy fun people and great waterfront scenery and breezes!